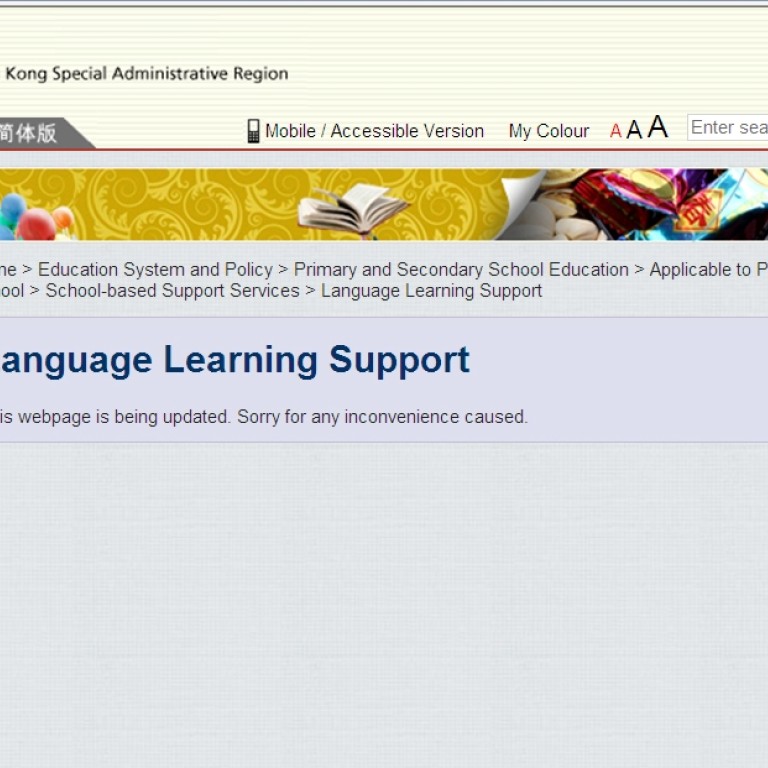 Education Bureau rapped over Cantonese 'not an official language' gaffe
Claim Cantonese 'not an official language' leaves public lost for words
An article on the Education Bureau's website claiming "Cantonese is not an official language" has been removed after criticism.
The article was posted on the website's Language Learning Support section on January 24.
It aimed to promote the importance of bilingualism and trilingualism as the city "develops alongside the rapidly growing China" and "the daily usage of Mandarin [in Hong Kong] becomes common".
It said: "Although the Basic Law stipulates that Chinese and English are the two official languages in Hong Kong, nearly 97 per cent of the local population learn Cantonese (a Chinese dialect that is not an official language) as their commonly used daily language."
The article was removed yesterday. The webpage is now "being updated".
Education sector lawmaker Ip Kin-yuen said the bureau had "done wrong" because it was not its business to define what language was official. But he commended it for quickly removing the article and apologising.
People took to various online forums to express their anger. "Another issue after the national education saga?" wrote one user.
Horace Chin Wan-kan, assistant Chinese professor at Lingnan University, said the bureau had fuelled mainland-Hong Kong tensions.
"The bureau's move is to promote teaching Chinese in classrooms using Mandarin, which violates the bilingualism and trilingualism policy," Chin said.
"Defining Cantonese as not official doesn't make sense. We never say if British English is official, although many prefer the British accent and spelling."
A Facebook group "Hong Kong language learning" has appealed to people to e-mail the bureau to urge the government to admit "a blunder" and "apologise to the public".
Another bureau article posted yesterday said it had made "an inaccurate interpretation of Cantonese" in the feature and apologised for any misunderstanding.
The Basic Law says that as well as written Chinese, English may be used by the executive, legislature and judiciary. But there is no rule about verbal language, such as Cantonese.
Eric Cheung Tat-ming, principal law lecturer at the University of Hong Kong, said the law related only to the written word in terms of "official languages".
"There have never been attempts to define what official languages mean in the oral context," Cheung said. "And in Hong Kong courts, as well as other official circumstances, the choice of the spoken language has been one based on commonality, so Cantonese is preferred."
To say Cantonese was not an official language therefore had "no legal justification".
It would have been safer to call Cantonese "a non-official language in the People's Republic of China", Cheung added.
This article appeared in the South China Morning Post print edition as: Bureau acts after language gaffe