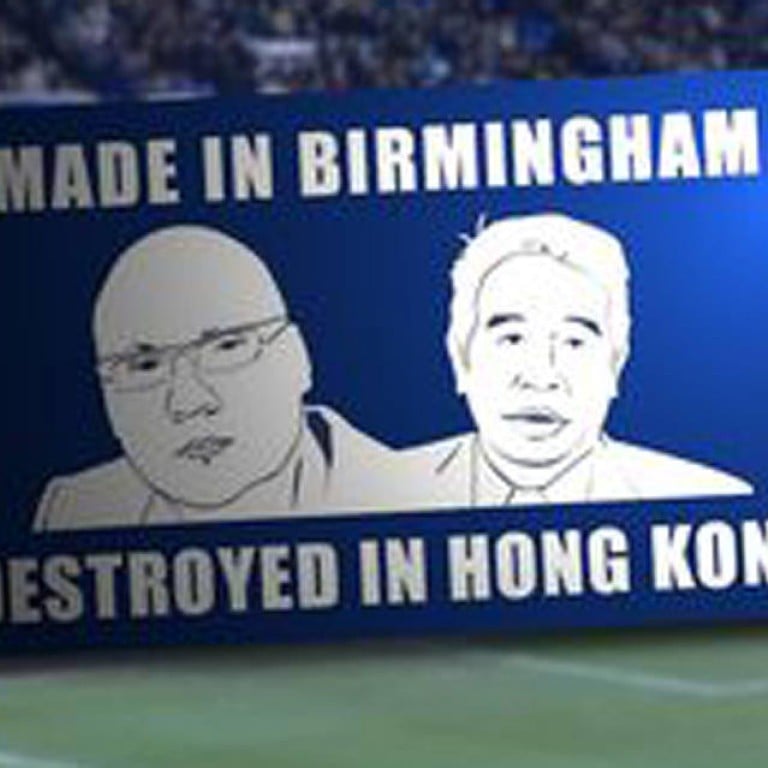 Carson Yeung quits all posts with English soccer club Birmingham City
Birmingham City in UK reveals decision ahead of verdict in money-laundering case
Beleaguered Hong Kong businessman Carson Yeung Ka-sing has resigned from all his positions with English soccer club Birmingham City, its holding company announced yesterday.
The 53-year-old, who took over City in 2009, has spent a lot of time in Hong Kong courts since 2011, when he was charged with five counts of money laundering involving HK$723 million.
The resignations come as Yeung awaits verdicts on the charges, to which he has pleaded not guilty.
A statement released by Birmingham International Holdings yesterday said Yeung resigned "to devote more time to his other personal commitments".
Unusually for a company statement, it also bestowed the ability to see into the future upon the colourful tycoon.
"Mr Yeung with his foresight, aspiration and clairvoyance has steered the board successfully through landmark projects such as the acquisition of Birmingham City Football Club, for which the board is profoundly indebted," it wrote.
The company, registered in the Cayman Islands, said Yeung had no disagreement with the board and there were "no other matters relating to his resignation that are required to be brought to the attention of the shareholders of the company".
There was no mention of Yeung's son, Ryan, whom he appointed to the board of directors as an 18-year-old in 2011.
Hongkongers Cheung Shing and Ma Shui-cheong, both executive directors, were appointed as chairman and vicechairman yesterday.
In 2009, when Yeung took over City for HK$731 million, he made lavish promises of huge spending on player transfers.
But in 2011, the club was relegated from the Premier League, and Yeung was arrested in June of that year.
Yeung's assets were frozen and he was ordered to give up his house on Barker Road on The Peak after allegedly defaulting on the mortgage. He was also barred from leaving Hong Kong.
The District Court hearings ended on December 12. The verdict is due on February 28.
This article appeared in the South China Morning Post print edition as: Carson Yeung quits as soccerclub boss