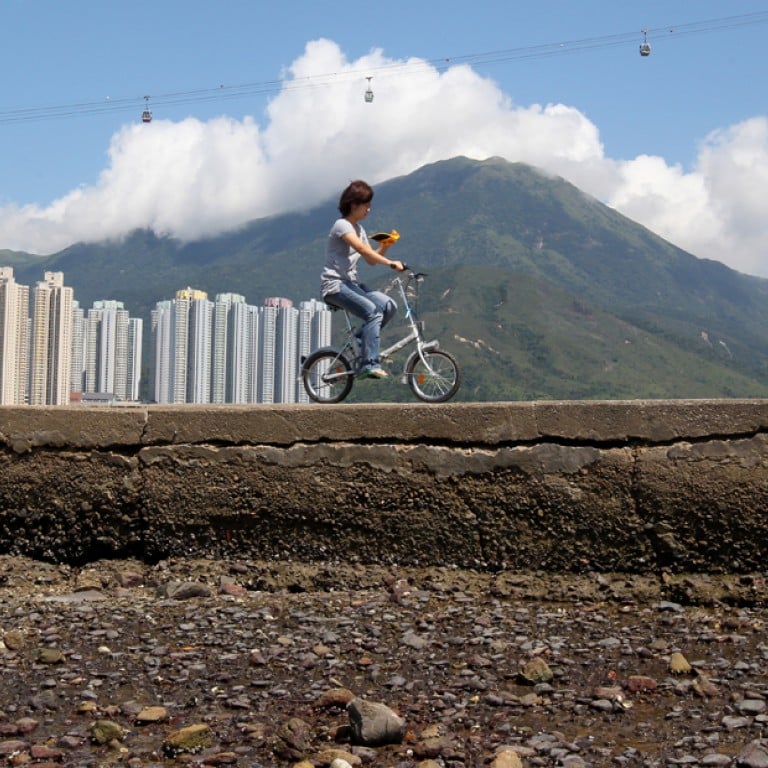 Building in Lantau country parks a green option, Franklin Lam says
Former Exco man Franklin Lam, an adviser to the government on Lantau's future, says developing protected areas could be green
Outspoken former Executive Council member Franklin Lam Fan-keung has reignited the row over the future of country parks by suggesting those on Lantau could be ripe for development.
Five months after development minister Paul Chan Mo-po stoked controversy by floating the idea of allowing development in country parks, Lam risked a new outcry by suggesting building in Lantau's two parks would improve the environment.
Lam, a government appointee to the Lantau Development Advisory Committee, said the potential existed to upgrade the environment "millions of times" over by building homes for 300,000 people and creating jobs, reducing residents' carbon footprint by cutting their commute.
Chief Executive Leung Chun-ying set up the committee after touting an "East Lantau Metropolis" on an artificial island as a new commercial hub in his policy address last month.
Lam questioned whether the country parks that make up 69 per cent of the island's 146 square kilometres should continue to be a no-go area for developers, and whether they really were a "back yard" for the public as advocates claim. Figures show that 1.84 million people visited the north and south Lantau parks in 2012.
"Not many Hongkongers went to the country parks on Lantau before [the airport] development began, since the mountains are really high," Lam said, adding the island's marine environment was of greater value than its land, where there were "not even many trees". "So I won't judge [environmental protection] by its impact on one or two patches of grassland," said Lam.
Lam said Lantau had the potential to transform from an "ugly duckling" to a "white swan", with further development at Tung Chung transforming it from the city's "little toe" to the "centre of the Pearl River Delta" when the Hong Kong-Zhuhai-Macau bridge opens in 2016.
The sacrifices necessary for development "may not be as painful as imagined", he added.
Lam quit Exco last year despite being cleared by graft-busters of using inside information to sell two flats before new property taxes were introduced.
Exco member Bernard Chan, chairman of the Council for Sustainable Development, said he was not against country park development as long as it did not affect "major parts" of the parks.
But Democratic Party lawmaker and Lantau commission member Wu Chi-wai said developing any country park would set a "very bad precedent". "Hongkongers chose to preserve these two large areas of pristine mountains as the city's back garden," said Wu.
This article appeared in the South China Morning Post print edition as: 'Build in Lantau's country parks'