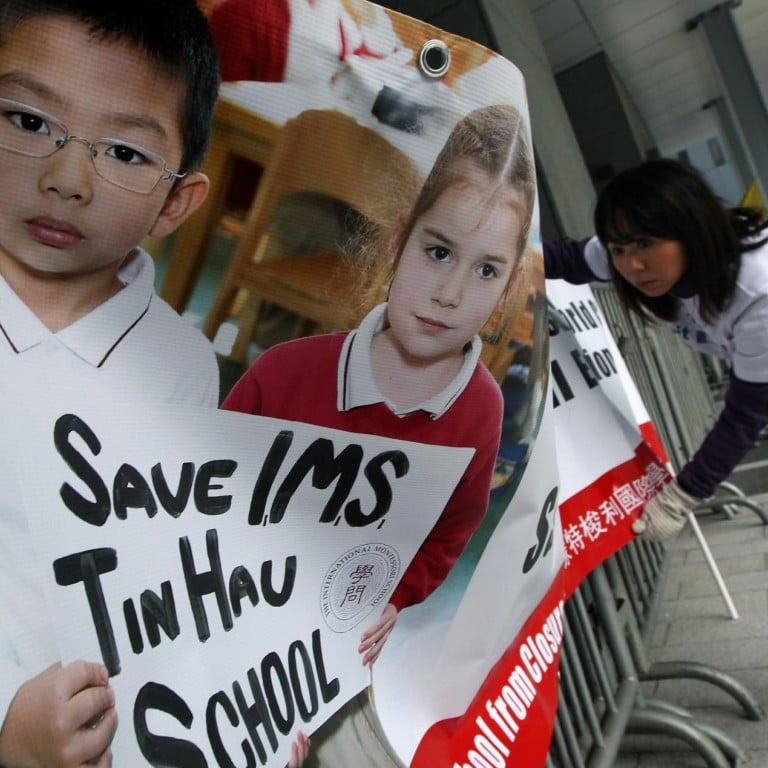 International Montessori School's future in doubt again over lease
Future of International Montessori School in doubt again as education chief says students from Tin Hau campus must move to Stanley
The future of an international primary school in Tin Hau was plunged into further doubt yesterday after the education minister said it was occupying the site only temporarily.
Eddie Ng Hak-kim's words stunned parents at the International Montessori School in Tin Hau. They said it had been made "crystal clear" that a site in Stanley given to the school was for expansion, not as an alternative to its existing premises.
The school's co-founders agreed, adding that they were still hopeful of securing a new lease at Tin Hau with the site's owner, the Construction Association. They were responding after Ng said the school had been given the vacant school building in Stanley as a permanent campus "with the premise that its Tin Hau site is not permanent".
Speaking as about 20 parents and four lawmakers demonstrated at government headquarters, calling on him to step into the lease talks, the minister said the government had no power to force the parties to sign a renewal.
He said his bureau would "do its best to offer assistance" if the school needed to "look for another temporary campus".
But he added: "If the [Tin Hau] site is no longer used for educational purposes, the government has the power to reclaim it."
The 12-year-old school moved to its present site - which houses 350 pupils - three years ago. Its lease expires in July.
Yip King-sze, chairwoman of a parents' concern group set up to support the school's development, said she was "speechless".
"It's crystal clear that Stanley is an extension site for us to meet the demand for international school places," Yip said. "If we had said we would move from Tin Hau to Stanley, I don't believe we could have got the premises." Education sector lawmaker Ip Kin-yuen said Ng's offer to help find another temporary site was the "ultimate implication" that the school would have to move and he suspected the government wanted to revive an earlier plan to use the site for a youth hostel.
"It's worrying," he said. "What's the priority? An existing school or the housing needs?"
School co-founders Karin Ann and Anne Sawyer said that in allocating the Stanley site, the government specifically required them to create new school places.
"New students and families have already registered in Stanley. It is not feasible to relocate the entire Tin Hau community to Stanley at this stage," they said.
A Facebook page, "Save IMS Tin Hau School from closure", created by the parents' group, has secured more than 2,500 "likes", while an online petition has more than 4,200 signatures.
The landlord said yesterday that it had received the school's "formal notice seeking a lease renewal" only last month and was still considering it. But the co-founders said they had met the association four times in the past 12 months to discuss the tenancy.
This article appeared in the South China Morning Post print edition as: Shock as school told its site is 'temporary'