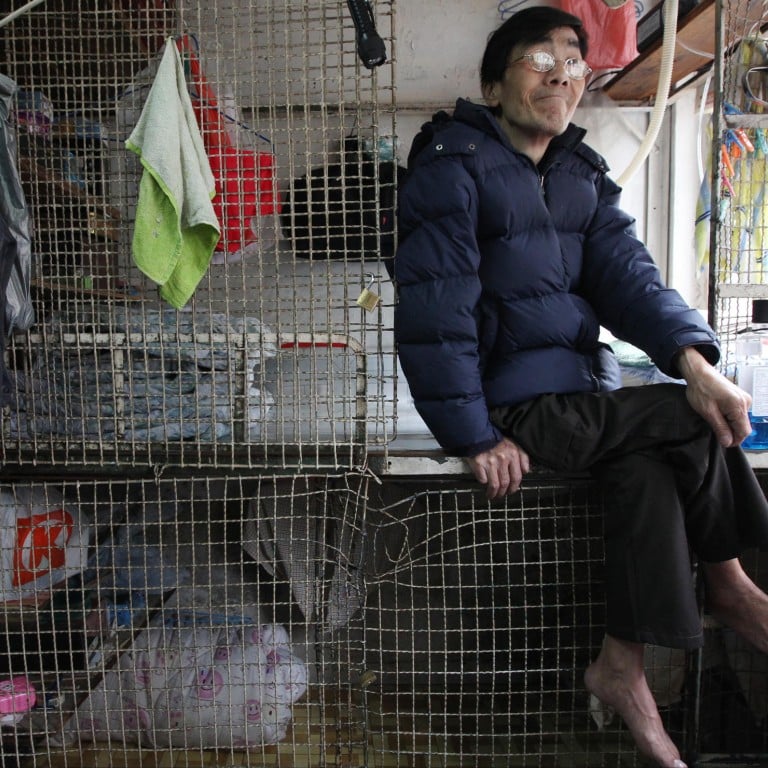 Plight of Hong Kong's cage-home dwellers 'worse now than 25 years ago'
Ten-year queue for public housing put Tang Man-wai off even applying. He is one among many thousands who have grown used to life in a cage
More than 25 years ago, Ho Hei-wah took up advocacy work after witnessing the plight of Hong Kong's cage-home dwellers. Back then, he had never thought the problem would still be around a quarter of a century later, with no signs of improvement.
Standing in a dirty flat in Sham Shui Po where eleven cage homes were stacked on top of each other, Ho - who heads the NGO Society for Community Organisation (Soco) - said the problem was getting worse, especially for a new generation who had grown up in such conditions.
"A home is not just about a place to sleep. It affects the emotional and psychological well-being of a whole family," he said. "It's not a new topic."
This year's Hong Kong ArtWalk, to be held on March 12, features eight shocking photos of cubicles and cage homes titled Living at Limit. The photos, by Hong Kong photographer Benny Lai, will accompany an installation recreating a cage home at The Space gallery on Hollywood Road.
ArtWalk is an annual fundraising event in which over 60 galleries in Central open their doors to the public. Proceeds from ticket sales are donated to Soco.
Tang Man-wai has lived in cage homes for 30 years. He had never even applied for public housing until a few months ago, when doctors found mould in his lungs and warned him that living in a cage home was hazardous to his health. Tang, 64, now needs an oxygen mask to breathe.
"Living alone is boring," Tang said, adding that he felt bad about asking the government for so much, as he was already on welfare. "But now, a lot of the other people have left. If they offer me public housing now, I'd go immediately."
The public housing waiting list for single people like Tang can easily stretch to more than a decade. Such a long wait was a major deterrent to applying, he said.
Soco knows of at least 1,000 cage homes, subdivided flats and cubicle units, close to 70 per cent of which have been recently constructed, said Soco's Sze Lai-shan. Far more are thought to exist. There are no official figures, but it is thought that at least 200,000 of Hong Kong's poorest people are living in such conditions, she said.
The government made poverty alleviation a focus in this year and last year's policy address, including giving out one-off living subsidies. But construction of public housing has been slower than promised and the government has been unwilling to take actions such as introducing rent control to solve the issue, Ho said.
"[In terms of] poverty alleviation, nothing will work if you don't deal with the housing situation," Ho said. "And so far, what the government has done is vastly inadequate. The situation will get worse in the coming four to five years."
This article appeared in the South China Morning Post print edition as: 30 years in a cage, but wait has just begun