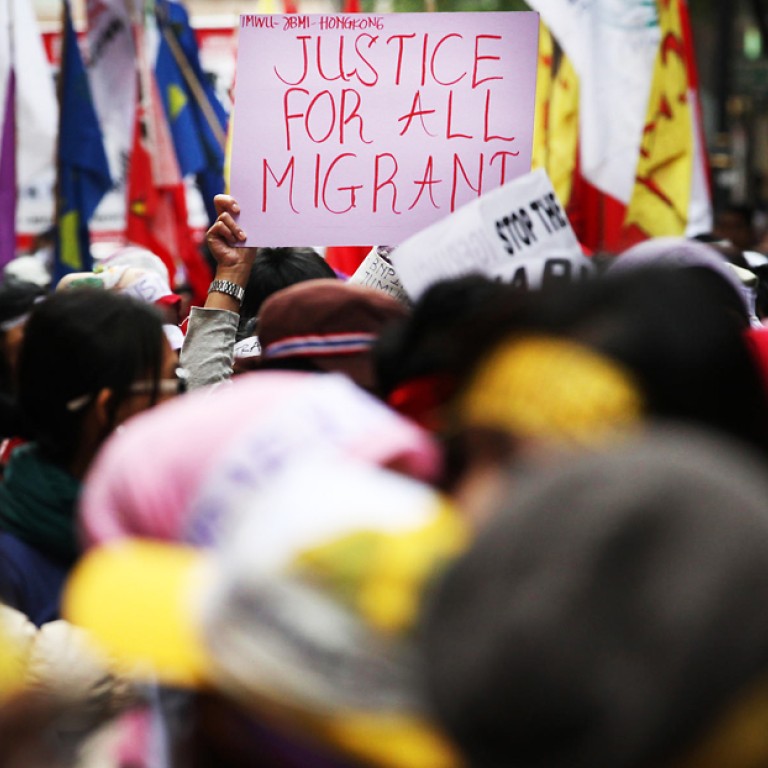 'We are workers, not slaves!' Hundreds of maids march on Hong Kong government HQ
'We are workers, we are not slaves', chants crowd as two groups meet at government HQ
Hundreds of Indonesian maids marched through the streets yesterday to call for better labour rights - with some likening their working conditions to slavery.
They also demanded Jakarta's action to crack down on unscrupulous employment agencies, which they say charge maids exorbitant fees equivalent to seven months' pay.
Waving flags and placards, the maids chanted slogans like: "We are workers, we are not slaves" as they marched from Victoria Park to the Indonesian consulate in Causeway Bay and on to the government headquarters in Admiralty.
Outside the headquarters, they were joined by a group of domestic helpers from the Philippines who were also staging a rally for better labour rights.
The march, which comes after a series of cases featuring allegations of maid abuse, also marked International Women's Day, celebrated globally on Saturday.
Organisers claimed 1,000 maids took part; police said the turnout was 410.
A spokesman for the protest organisers, Eni Lestari, of Asian Migrants' Co-ordinating Body, blamed the government for rejecting the maids' demands. They want to scrap rules requiring them to live with their employers and to leave the city within two weeks of contract expiry.
Addressing the protesters, Lestari said: "Hong Kong remains a hotbed of social exclusion and policies that put our livelihood, security, safety, and even lives, at risk.
"We have suffered too long. Hong Kong officials ignore our rights. They ignore our dignity, and they ignore our contribution to Hong Kong's economy."
Public concern has grown amid a series of maid abuse allegations. Indonesian maids Erwiana Sulistyaningsih, Tutik Lestari Ningish and Nurhasanah claim to have been abused by the same employer.
Another maid, Anis Andriyani alleges abuse by another employer. The accused will appear in court later this month and in April, respectively.
Sringatin, of the Association of Indonesian Migrant Workers, said the live-in rule deterred maids from filing complaints.
"If they do so, they could lose their job and they would not even have a place to live in," she said.
Foreign domestic helpers have long been a contentious issue. While unions say physical abuse and sexual harassment are common, some employers say maids hop between jobs to collect flight money.
This article appeared in the South China Morning Post print edition as: Maids march in their hundreds to seek better rights