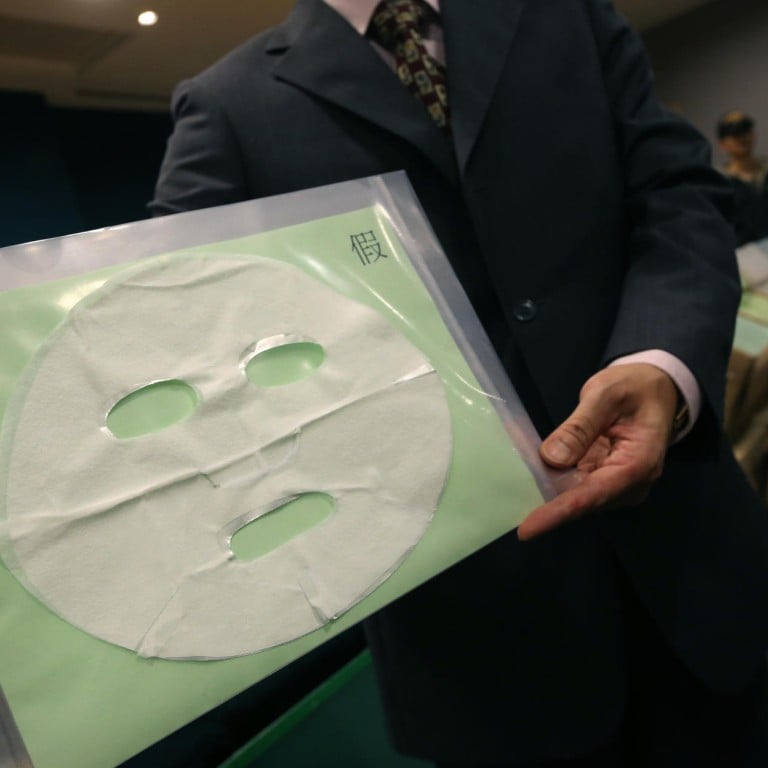 Customs officers bust syndicate supplying fake masks of popular Taiwanese brand
More than 5,000 boxes of fake Taiwanese beauty products seized
Customs officers say they have smashed a syndicate supplying fake cosmetic masks after arresting 12 people and seizing more than 5,000 boxes of counterfeit products.
The fake My Beauty Diary masks, valued at HK$266,000, were taken from a number of pharmacies and storage centres last week in what customs says is the largest such seizure in years.
"We believe we have smashed a syndicate of fake facial mask suppliers and arrested the main supplier," Guy Fong Wing-kai, customs' acting chief of intellectual property investigation, said.
Fong said the counterfeiters had mixed boxes of the fake masks with the popular Taiwanese brand's genuine products to make them harder to detect.
The seizure came after officers, acting on a complaint, took 245 boxes from a Tsim Sha Tsui pharmacy. They then found 4,500 boxes in two storage centres in Tai Po and Sheung Shui, and seized a further 370 in raids on two Yuen Long pharmacies.
Each box had 10 masks and sold for about HK$60, Fong said.
"The fake masks and the real ones are quite similar," he said, adding that the pharmacies sold the fake boxes with real ones at roughly a 7:3 ratio.
"Laboratory analysis showed the counterfeit masks did not contain harmful ingredients," he said. But officers came across three mouldy samples in about a thousand tested, he added.
Fong said My Beauty Diary counterfeits had been seized before, but never in such great quantity. Consumers can check for fakes by looking at the lot number printed on the box.
"The merchandiser has told us that all products with a lot number ending in 'D.B.' are counterfeits," he said.
But My Beauty Diary, owned by Taiwanese conglomerate Uni-President Enterprises, contradicted Fong, saying it had batches of genuine products also with lot numbers ending in "D.B.". This was not an effective way to identify counterfeits of its product, the company said.
Customs officers believe the Sheung Shui storage centre was the syndicate's main warehouse and that a man aged about 50 arrested there was the main supplier. The department is still looking into where the fake masks were manufactured but "has ruled out Hong Kong", Fong said.
Nine sales staff and shop owners from the three pharmacies were also arrested. Fong did not reveal the names of the pharmacies, but said they were not outlets of any chains.
My Beauty Diary said its only authorised retailer in Hong Kong and Macau is Mannings.
This article appeared in the South China Morning Post print edition as: Mask-querading as the real thing