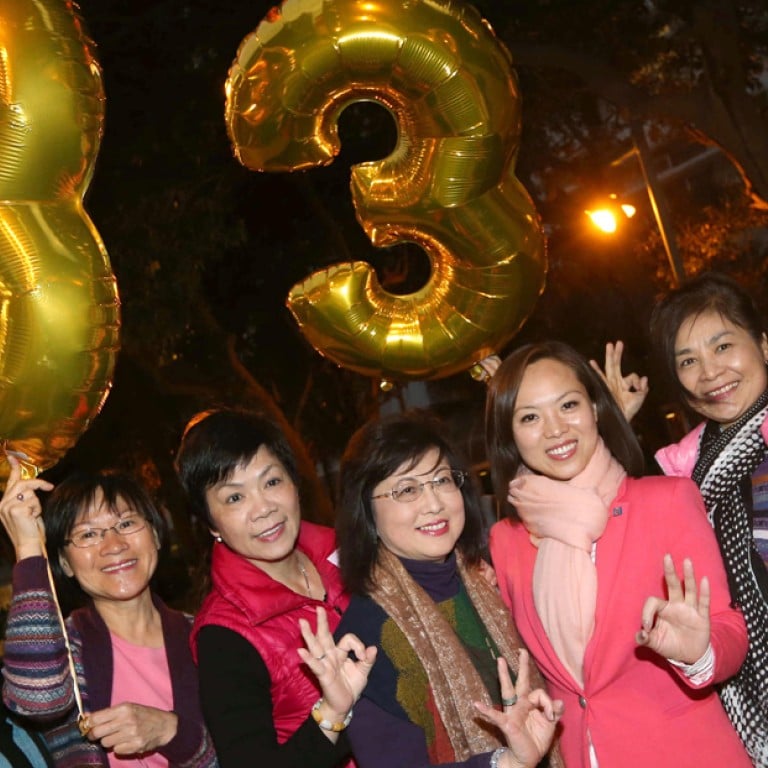 Democratic Party ponders future after 'crushing' by-election defeat
Veteran candidate lags far behind in vote count as former beauty pageant contestant comes second and People's Party freshman takes seat
The Democratic Party is in soul-searching mode after veteran lawmaker Sin Chung-kai came away with the lowest number of votes among the three candidates in Sunday's Southern District Council by-election.
Former Miss Hong Kong finalist Erica Yuen Mi-ming, chairwoman of the People Power group, secured 163 votes more than Sin - the first time the radical pan-democratic group has beaten moderate pan-democrats.
New People's Party freshman Judy Chan Ka-pui took the seat with 2,023 votes in the by-election at South Horizons West constituency - beating Yuen's 1,083 votes and Sin's 920 votes.
Sin said the "crushing defeat" had been unexpected and the Democratic Party would conduct a thorough evaluation, adding it was getting harder for the party to insist on its middle-of-the-road approach.
"Pan-democratic supporters who regard the Democratic Party as being too radical appear to have switched to the side of the New People's Party; those who think we are too moderate would have supported Yuen instead," said Sin.
The by-election was triggered when former democrat Andrew Fung Wai-kwong resigned his seat last year to become the information co-ordinator for the Chief Executive's Office.
Democratic Party insiders said the result was unexpected as South Horizons was a traditional conservative and middle-class district where radicals did not previously appeal to voters.
"We understand that Yuen was very diligent during the election period," said a source. "But we are still figuring out whether it was Yuen's diligence and celebrity effects that led to the results - regardless of how the radicals had harmed the democracy battle in the past - or do the voters really dislike our party."
Fung's controversial switch of roles and the scandal of Democrat Albert Ho Chun-yan - who got caught flicking through pictures of scantily-clad women during a budget speech - might also be a factor in Sin's failure, another source said.
Chinese University political scientist Ivan Choy Chi-keung said Yuen's "unique" character helped her success. "Yuen enjoys citywide popularity and her character is very different from the antagonistic attitude of People Power," said Choy.
Sin may have suffered from a perception that Legco members would be "halfhearted" when dealing with local issues, he added. The result also suggests support for moderates has dropped, which may have implications for the reform debate.
This article appeared in the South China Morning Post print edition as: Democrats wonder why by-election went so badly