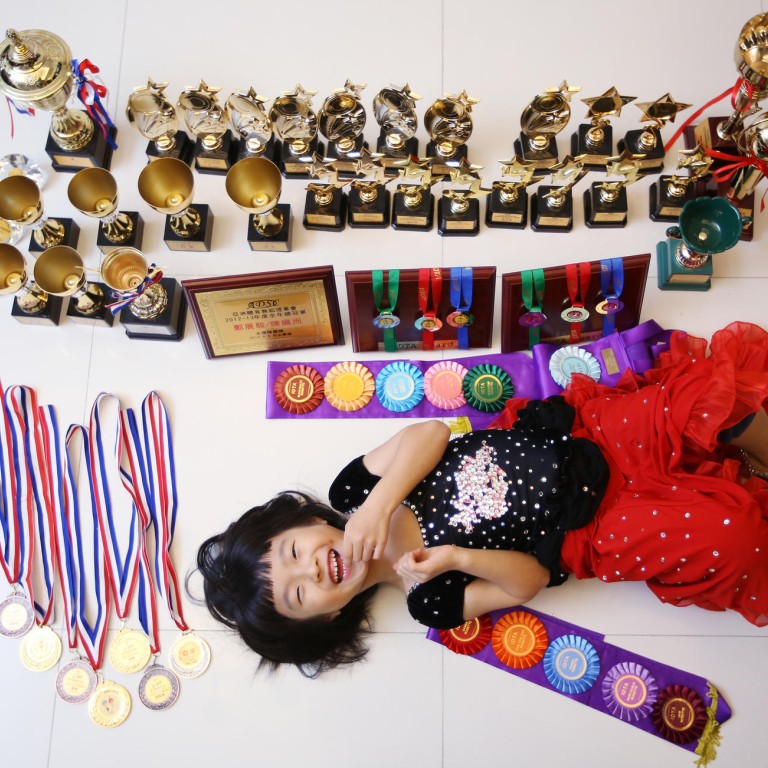 Hong Kong child prodigy, age 5, passes 11 international dance exams in one day
Children are thrown into break-neck competition almost as soon as they can walk. In the first of a series, the Post talks to the mother of a prodigy
At the age of three, she started to learn Latin and ballroom dancing. At four, she became the youngest person in Hong Kong to pass 11 international dance exams in one day.
Now, at the age of five, she has become the youngest person in the city to earn a gold, a silver and a bronze medal from the same body, the Britain-based International Dance Teachers Association.
Soon, when she turns six, she will take another exam, for a pre-associate licence qualifying her to be an assistant dance teacher.
Pearl Chan Pui-yee's is the story of a typical child prodigy. Her mother, who has spent tens of thousands of dollars on Pearl's activities, is one of the many caring and constantly worrying mothers in Hong Kong.
"I want her to go to a boarding school in America or Canada, but the competition these days is so huge," says Selina Lam Sai-yan, Pearl's mother. "Being able to play piano is like being able to type. You're abnormal if you don't learn."
Lam says she once called a prestigious US boarding school and asked if her child could get admitted to the school if she earned a Grade 8 in piano.
"She said, 'So what? Everyone has a Grade 8 nowadays'," says Lam, who is in her 30s. "She asked me where I lived. I said Hong Kong and she said everyone in Hong Kong knows some instrument."
So does Pearl. Not only outstanding in dancing, she has won awards in singing, piano, harp and even golf. She is learning violin as well, but Lam says she has not done well enough to win anything.
Lam lays out all her daughter's trophies and medals on the floor of their home - 45 of them, not counting awards in the form of certificates.
"No one can force her to do this. She wouldn't have won so many awards if she was forced to learn," Lam says. "If you don't allow her to dance, she'll lose the interest of her life."
Lam says her daughter likes watching Disney cartoons and always imagines herself being a princess, wearing ballroom dresses and dancing.
"She wants to own those beautiful dresses herself," says Lam, adding that she had bought five dresses for her daughter the previous week.
She keeps buying new clothes for Pearl, sometimes with matching handbags, because she says the child gets bored with one outfit very quickly.
Pearl has the love of music in her genes, says Lam, as her husband likes to dance tango and salsa, mix music and play violin and piano. She says her daughter dances naturally when she hears music and writes notes to herself in music theory books. And she begged her parents for a violin for two years.
"We have to deal with huge economic pressure for her to learn so many things," says Lam. "She likes playing instruments more than playing with toys. We can't ban her from learning if she has talent, can we?"
Previously a merchandiser, Lam quit her job to focus on her daughter's education as her homework load increased.
Pearl studies at one of the city's most expensive international schools, Yew Chung, which charges about HK$16,000 a month.
On top of the tuition fee, Lam and her husband spend more than HK$20,000 a month on their daughter's after-school activities and tutoring.
"Would you be happy if you didn't win awards?" asks Lam.
"No," Pearl smiles, shaking her head.
"Would you be happy if you didn't dance?" asks Lam.
Another negative.
Although Pearl is accompanied by their domestic helper when her parents are not at home, they installed a CCTV camera in their house in Tai Po.
"She jumps around all the time. You don't know what she'd do when we're not here," says her father, Peter Chan Tsz-man, who works in information technology.
To get the pre-associate licence, Pearl has to memorise page after page of postures and techniques. She also has a tutor in music theory. Knowing this would be a challenge for a five-year-old, Lam says she can take two years to pass the exam.
Believing that China will dominate the world's economy, Lam recently hired a Putonghua tutor for her daughter.
"Real teachers are not in the school, but after school," she says.
"You can only be sure when you have a tutor."
This article appeared in the South China Morning Post print edition as: Prodigy dancing her way to success