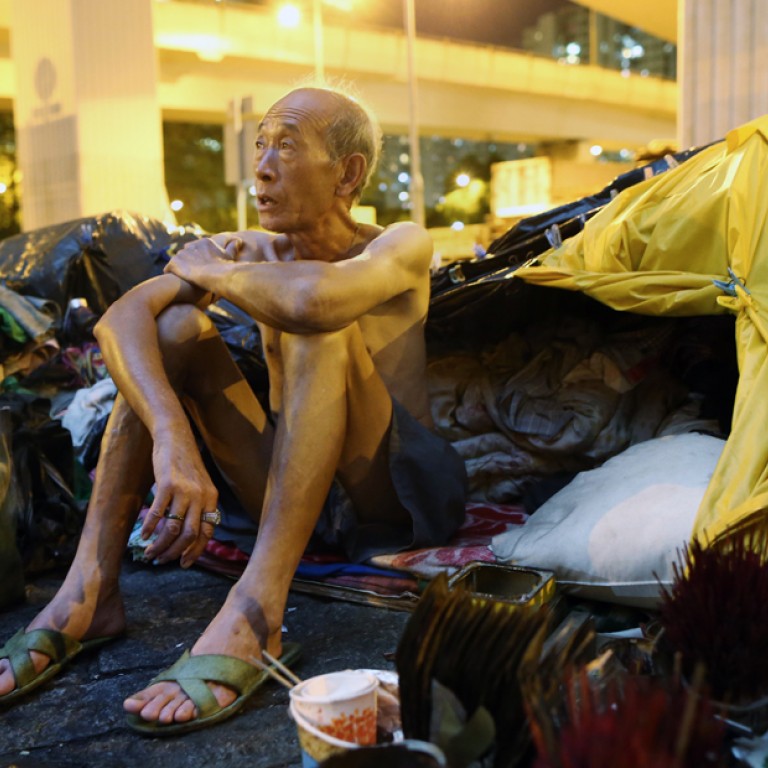 1,400 homeless sleeping on Hong Kong's streets, double government estimates
CityU study finds twice as many street sleepers as government estimates
The number of homeless people in Hong Kong is likely to be double that of previous government estimates, a City University study has found.
The university, with the help of three other community organisations, puts the figure at 1,414 - far higher than the government's last citywide tally of 674 made more than 15 years ago.
The eight-month Homeless Outreach Population Estimation project involved a count at 180 locations, including temporary shelters and 24-hour restaurant chains. The university also surveyed 323 homeless people and found 40 per cent were supporting themselves through low-paying jobs, with an average salary of HK$5,688. About half the respondents had attended high school.
Constance Ching Wing-lok, project supervisor of the City-Youth Empowerment Project, which organised the study, said rising rents and perpetually low incomes had forced many working people onto the streets.
"Many of these homeless people don't earn enough even for a subdivided flat, which costs at least HK$3,800 these days."
Ching said previous government figures did not accurately depict the problem as they did not include those living in temporary shelters or other temporary accommodation.
"The [government's] total number of homeless people is believed to be an underestimation, given the highly mobile nature of the homeless," she said.
The last citywide count was conducted by the Social Welfare Department in 1999. It now obtains its data from the Street Sleepers Registry, which counts street sleepers but ignores those living in shelters. Some 555 street sleepers were recorded in 2012.
Yau Tsim Mong and Sham Shui Po had the highest number of homeless people. Two-thirds were aged above 50, the youngest being 21, the oldest aged 89.
About 93 per cent of those polled were male and the average respondent stayed homeless for about four years. One said he had been homeless for 36 years.
Ng Wai-tung, of the Society for Community Organisation, urged the government to provide more shelters for single homeless people and to extend the duration they could stay, to allow time to apply for public housing.
This article appeared in the South China Morning Post print edition as: Homeless numbers 'double government estimate'