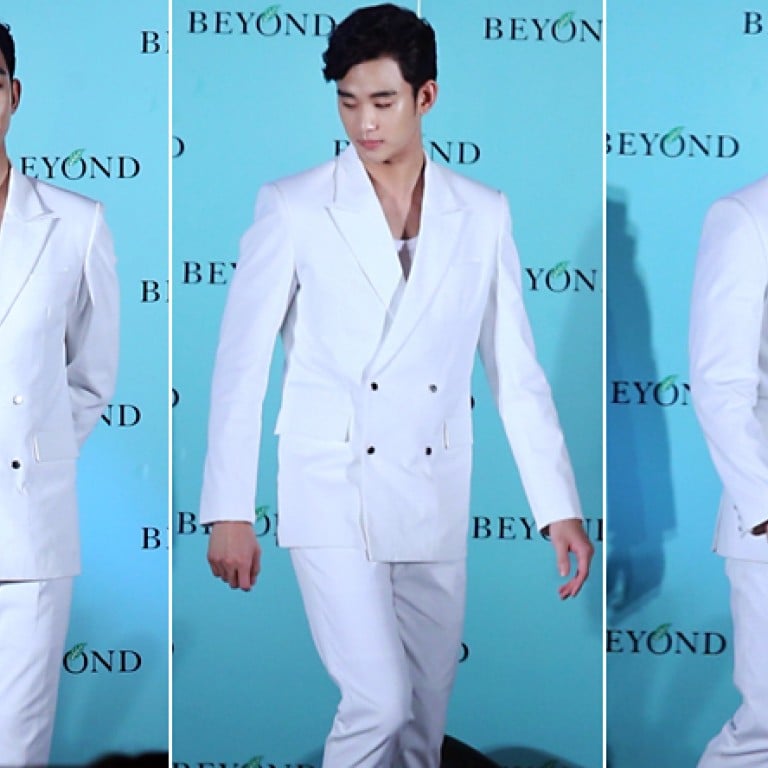 Fans disappointed as Kim Soo-hyun spends just 10 minutes with 220 Hong Kong competition winners
Competition winners had waited hours to meet the star
Hundreds of Hong Kong fans of South Korean pop star Kim Soo-hyun were left disappointed today when he spent just 10 minutes with competition winners, cancelled a Causeway Bay event and kept a low profile at his hotel.
The My Love from the Star performer was due to meet 220 winners of a competition as part of his three-day visit to the city - but few got the chance to even shake his hand.
Scottic Yung, 26, who spent HK$400 on cosmetics in order to take part in the competition, where users posted pictures online of themselves using the products, said: "I feel the meeting wasn't worth it. I won't follow him during the rest of the time when he's in Hong Kong because I can feel he's unhappy."
Sang Xiaoqing, who travelled to the city from Anhui province to claim her prize, echoed the sentiments, but said she could understand the toned down nature of the trip in the wake of the South Korea ferry disaster.
A spokesman for the singer earlier said that a scheduled trip to a Causeway Bay Sasa store had been cancelled due to the disaster.
Other fans who queued for hours outside the Mira Hotel in TST where Kim is staying were also frustrated as the star evaded the group of mainly teenage girls and young women.
Liu Li and her friend Liu Ying, both aged in their 20s, travelled to Hong Kong from Shenzhen last night after applying for leave from their employer in the hope of meeting Kim. They said they knew the chance of a meeting was slim but pledged to continue their vigil.
Luo Xinju, 46, accompanied her 23-year-old daughter to the hotel from their home in Tuen Mun.
"I'm not really into him but my daughter really loves him," said Luo. "We may wait all the way into evening until we see him, or my daughter's [work] leave will be wasted."
During a meeting with media and local celebrities prior to the competition winner event Kim refused to take questions.
"I felt really great when I saw so many fans greeting me at the airport," he said. "It was so different from 2011," he said of his previous trip to the city to shoot a film.
During the brief press conference he added that he hoped to once again sample the local cuisine and have a chance to travel the city.
His representative said he was saddened by the ship tragedy but he had decided to honour his pre-arranged Hong Kong trips so as not to disappoint fans.
Kim arrived at Chek Lap Kok airport on Tuesday, where he was greeted by hundreds of fans who had waited up to 16 hours in the hopes of getting close to the heartthrob.
Airport security guards were forced to set up a special waiting area with barriers outside the arrivals terminal.
More than 100 security guards have been hired for the visit after Kim was mobbed by fans in Taiwan and mainland China.
Kim spent three months living in Hong Kong while making the 2012 crime thriller The Thieves.
But it is the hit science-fiction series My Love from the Star that propelled him to fame.
This article appeared in the South China Morning Post print edition as: Fans disappointed by distant star from the Star