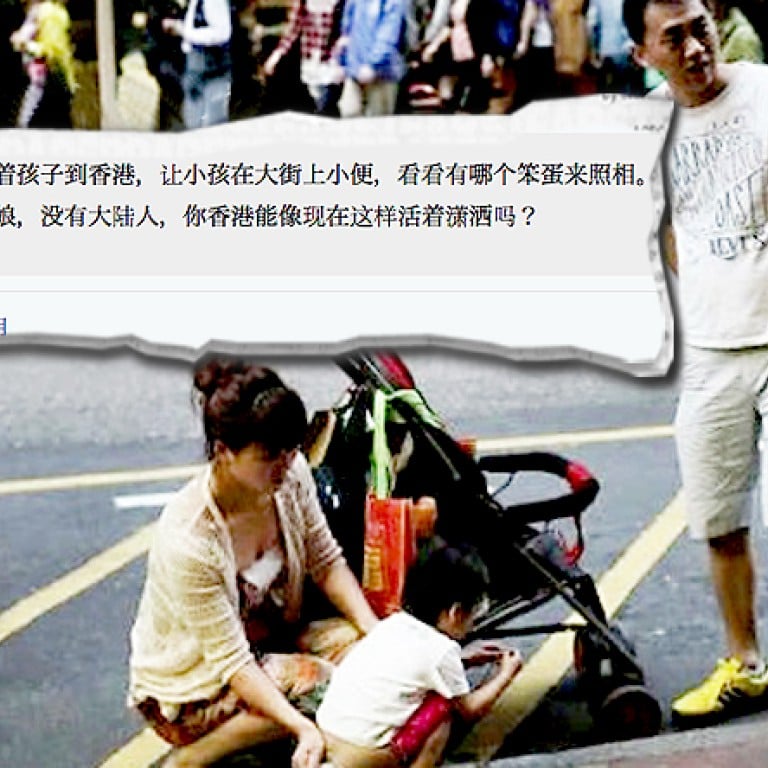 Update
'Bring children to pee in Hong Kong': Mainlander starts campaign after public urination clash
Call for action may break mainland law; call of nature may cost HK$2,000
Internet users calling on mainlanders to let their children relieve themselves in Hong Kong streets - in protest at this week's photographing of a toddler doing just that - have been warned they could end up in trouble, along with anyone who takes part in the protest.
Mainland law prohibits encouragement of such disruptions of public order even if it takes place elsewhere, a veteran lawyer with experience in both jurisdictions said yesterday.
The warning came as controversy continued to snowball over the incident in which a video of a mainland couple allowing their toddler to urinate and defecate on a busy Mong Kok street was posted online.
Solicitor Thomas So Shiu-tsung said Articles 290 and 291 of the mainland criminal code outlawed "assembling a crowd to disrupt social order" and "assembling a crowd to disrupt order of public places".
Article 7, meanwhile, allowed the state to punish citizens who commit such offences outside the mainland.
"It depends on the size of the activity," So said. "If there are only a couple of people turning up, it is unlikely that amounts to an offence."
Hong Kong's Public Cleansing and Prevention of Nuisances Regulation prohibits those in charge of a child under 12 from permitting the child, without reasonable excuse, "to obey the call of nature in any public street". Violators face a HK$2,000 fine.
Meanwhile, the controversy spread to Taiwan - possibly reflecting concerns there about an influx of mainlanders similar to those experienced in Hong Kong.
News about the suggestion of the "pee and poo" protest went viral on Taiwan media outlets.
Back across the strait, the top post on popular mainland forum
Tianya.cn
featured a mainlander who claimed to be working in Hong Kong.
"Are [the Hong Kong people] psycho?" one user, who went by the name Round Face Tomato Ghost Devil, quoted her Spanish friend as asking.
The comment was widely echoed by other mainlanders. "People should help people in need, not take photos and post them online," wrote one.
In the video, the mother was seen telling the crowd of onlookers: "The child was going to pee in his pants, what do you want me do?"
A scuffle then broke out and the parents tried to take the memory card from the camera of the young man filming the incident. State media had earlier criticised those who took the pictures as being as uncivilised as the toddler's parents.
A commentary in the overseas edition questioned whether the bystanders had acted properly, while saying there was a need for "mutual civilisation and understanding" between tourists and Hongkongers.
This article appeared in the South China Morning Post print edition as: Pee protest could land proponents in poop