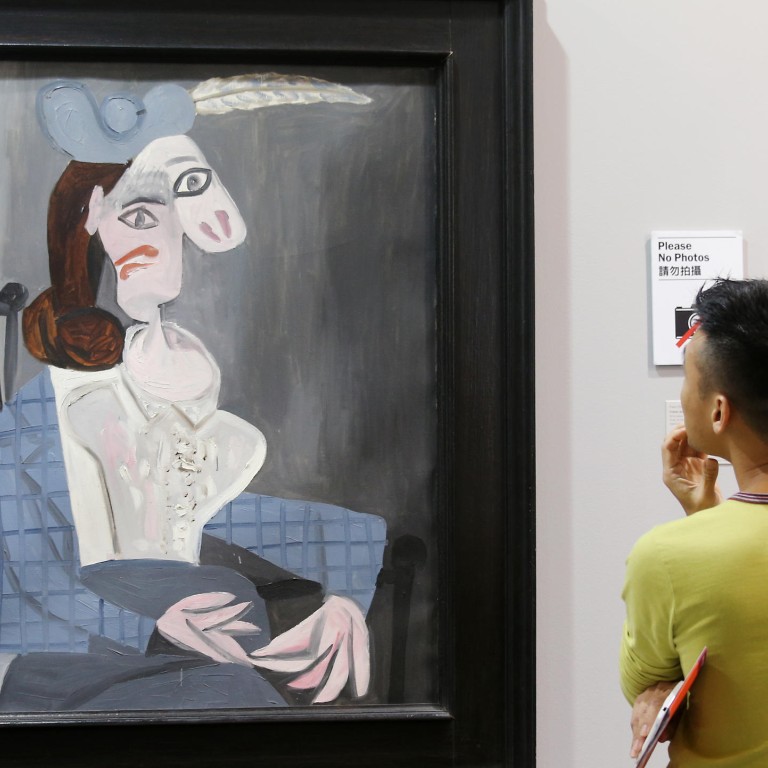 The best of Art Basel revealed: New boys sit alongside Old Masters
Art Basel HK novices aim to please with a little help from Picasso
Newcomers to Art Basel Hong Kong are hoping to make a big impression by bringing out some of the biggest names in the art world - Picasso, Renoir and Zao Wou-ki.
As the fair opened to the public yesterday at the Convention and Exhibition Centre, 20 new exhibitors made sure they would get their share of attention among the 245 galleries from 39 countries by putting out their best.
Watch: Global art world arrives in Hong Kong for Art Basel
Hammer Galleries from New York is exhibiting paintings by Picasso, Renoir, Henri Matisse and Marc Chagall with a total worth of about US$100 million, which gallery president Howard Shaw said would easily fall into the top three exhibits of the fair, which runs until Sunday.
"A great artist speaks a universal language, and we bring all the biggest artists," he said.
The company's founder, industrialist Armand Hammer, met Deng Xiaoping in 1979 and exhibited his private collection in Beijing in 1982. But the gallery had never joined an art fair in Hong Kong until now.
Antoine Lorenceau, from French gallery Brame & Lorenceau, said visitors were very receptive but showed more interest in works they already knew, such as those of Chinese-French painter Zao.
"Europeans like Wou-ki, but it's the Chinese who are supporting the market," said Lorenceau.
The gallery chose the fair to extend its reach to Asia, his brother Thomas said.
"Art Basel HK is the focal point of art in Asia."
Click pictures to enlarge
Others are more interested in testing the waters with less well-known exhibits.
Angelika Stenico, from Galerie Nikolaus Ruzicska in Salzburg, introduced visitors to Austrian artist Brigitte Kowanz, whose lighting installation presents the word "glow" in Morse code.
"I'm not sure minimalism is well received," Stenico said.
Adnan Manjal, of Athr Gallery in Saudi Arabia, said they had sold several photos by Ahmed Mater that show the view of Mecca from a military jet. One was bought by a European who lives in Hong Kong.
"There is a lot of interest as there are not many photographs in the fair," Manjal said.
Click pictures to enlarge
Local galleries are divided about this year's outlook.
Daphne King Yao, of Alisan Fine Arts, said she saw more visitors from Europe, the mainland and Taiwan but fewer serious collectors. "Last year people rushed into buying things on the first day," she said. "It could be that they were excited about Art Basel coming to Hong Kong for the first time."
Ginie Shi-Collins, of Osage Gallery, said most visiting collectors were from Asia. The gallery had sold several works on Wednesday to VIPs, compared with only one last year.
Click pictures to enlarge
This article appeared in the South China Morning Post print edition as: New boys enlist old masters for winning edge