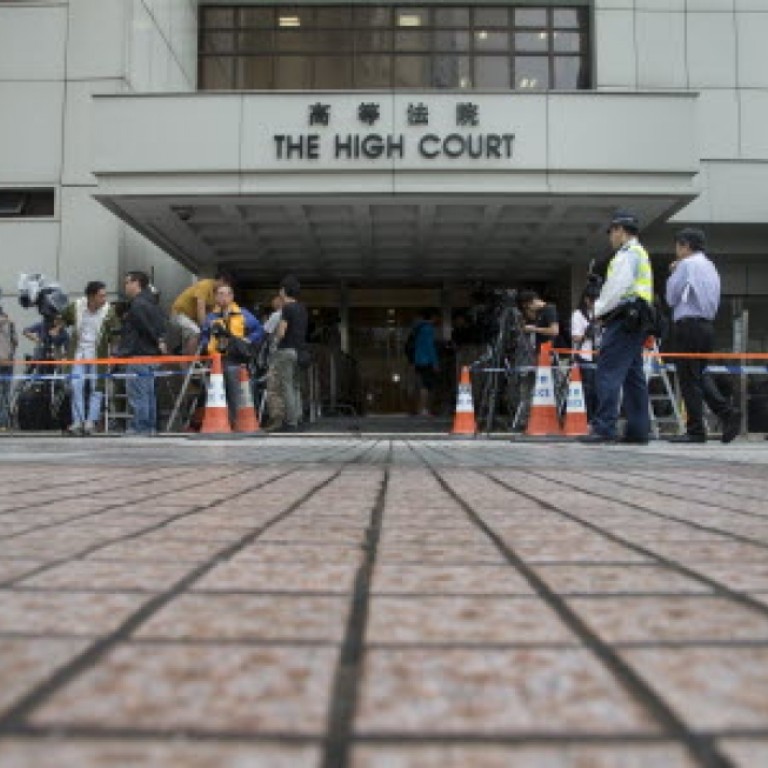 Man accused of murdering elderly couple during robbery 'very sorry' they died
Tse Chi-shing, who denies two counts of murder, said his intention was to steal and not to kill; victims' son says Tse 'should be shot'
A man accused of murdering an elderly couple during a burglary of their home told a court on Friday that he was sorry they had died, and that he never thought the robbery would end in their deaths.
Tse Chi-shing, 53, told the police in a recorded interview that it was never his intention to take the lives of Tsui Bing-cheung, 82, and Ip Cheung-tai, 75, on December 13, 2012.
"I did not expect the robbery would become a killing. I feel very sorry about it," Tse told the police.
The prosecution played a video of Tse's interview to the jury at the Court of First Instance on Friday morning.
Tse said he took drugs with a friend in his public housing flat in Wong Tai Sin on the day of the robbery.
As he was low on money, Tse suggested to his friend Wong Chi-kwong, 51, that the pair "try their luck" and see whether any of Tse's neighbours had forgotten to lock their doors, the court heard.
Tse said he walked downstairs and tried every door on each floor. Three floors down, they found the door to Tsui's flat unlocked, Tse said.
While Wong stood at the staircase outside, Tse entered the flat alone. Inside, Ip was lying in bed and she began shouting at Tse, the court heard.
"I slapped her face and pushed on her chest," Tse told police. He agreed that he had warned Ip that if she continued to shout, he would tie her up. Ip then became quiet "like a good girl", Tse said.
As Tse was removing a wallet from Ip's pocket, Tsui returned home and began shouting at him.
Tse said he pushed Tsui against a wall. He saw Tsui's head hit the wall and it began to bleed. Tsui then fell to the floor, Tse told police.
Scared, Tse rushed back to his own flat and changed his clothes, he said. He then left the apartment building and slept rough on the streets for two nights. He was arrested by police on December 15, 2012.
On Friday the court was told that Tsui sustained serious head and brain injuries and died two days after the attack. Ip suffered fractures of her ribs, wrists and eye socket. She died on January 23, last year.
Chui Choi-foon, the elderly couple's son, told the court that his parents were in the habit of not locking the flat's door. He identified the wallets, a mobile phone and some personal belongings of his parents in court.
"[Tse] killed my parents, he is a scum," Chui said. "He should be shot," he added before leaving the witness stand.
Tse denies two counts of murder. The trial continues before Mr Justice Alan Wright.
This article appeared in the South China Morning Post print edition as: Burglar 'regrets theft that killed old couple'