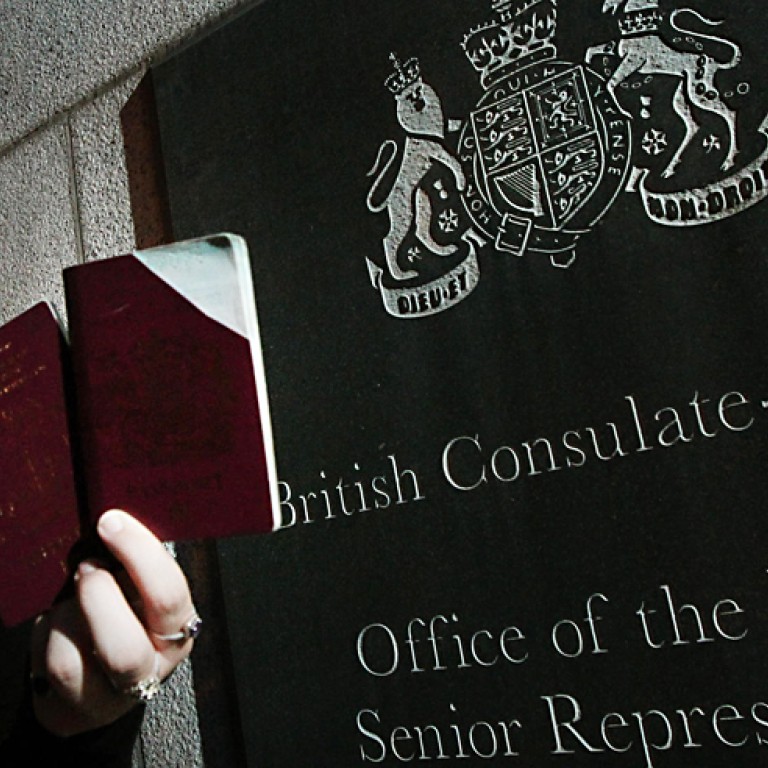 Travel warning for British expats living in Hong Kong over passport 'mess'
Applications are taking as long as three months to process, due to London's new policy of issuing all travel documents from Liverpool
British passport holders in Hong Kong have been warned not to make any plans to leave if they are waiting for a replacement travel document.
British nationals and holders of British National (Overseas) passports find themselves in limbo after a switch from a locally based passport-issuing system to one based in Liverpool.
Consular officials have declined to say how many people have been affected, but the number is believed to be in the hundreds. According to the 2012 consular census, there were 250,000 full British nationals and 3.4 million British National (Overseas) passport holders in Hong Kong.
A spokeswoman for the government in London said: "It is to do with transferring from the Foreign and Commonwealth Office's regional passport processing centres to Her Majesty's Passport Office."
The delays extend to all types of British passport holders renewing internationally.
Some expatriates in the city have already had to wait up to three months for a new passport.
Events organiser Greg Hunt, who applied for a new passport on March 17 and is still waiting, said the situation was a "mess", and he had made a complaint to the British government.
"They can't even tell me where along the process my passport is. The service, for want of a better word, is a disgrace and it's affecting many, many people," Hunt said.
The consulate originally promised the "cost-cutting" closure of its passport centre would not affect processing times.
Renewals previously took up to four weeks. However, consular officials have warned that renewals would now take at least six weeks and first-time applications could take eight weeks or longer.
"If you are planning any overseas travel in the coming weeks and months, please do not leave it until the last minute," acting consul general Karen Bell warned this month.
Last night, Consul General Caroline Wilson branded the delays "unacceptable".
A British government spokesman said security checks were "significantly longer" for overseas applications.
"We recommend customers should not book travel until they have received their passport," the spokesman added.
Some expatriates who need new passports within four weeks are being forced to buy an emergency passport, which costs HK$1,200 and allows only a single trip. Normal application fees for a 10-year passport are HK$1,340 for a 32-page passport and HK$1,450 for 48 pages.
Katherine Horgan, an exchange student on an education visa expiring on Monday, was told to wait three to six weeks, and now has no choice but to apply for an emergency passport.
"I sent my application on time, they gave me a time frame, and I worked to it. I booked flights - non-refundable - for [Sunday], and my visa runs out [on Monday]," she said. "They are forcing me into a position where I will be staying in Hong Kong illegally against my will."
This article appeared in the South China Morning Post print edition as: Passport snag angers city's Brits