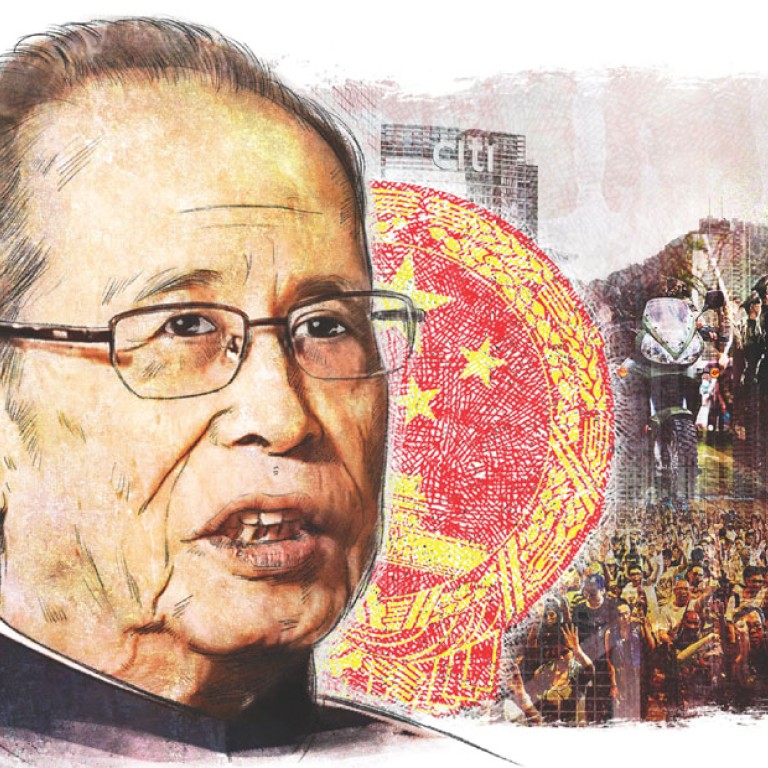 'Poet diplomat' Zhou Nan takes aim at Occupy Central
Former Xinhua director and thorn in the British side back in the news for warning that PLA could suppress pro-democracy movement
Nicknamed the "poet diplomat" thanks to a penchant for sprinkling his comments with lines from classical Chinese poetry, Zhou Nan raised eyebrows recently with his outburst over protests planned by the Occupy Central pro-democracy movement.
In an unusually explicit manner, Zhou - a former top Chinese official centrally involved in the Sino-British handover negotiations - warned that the People's Liberation Army would be deployed if the proposed sit-in degenerated into riots.
"Occupy Central … is illegal and violates Hong Kong's rule of law," Zhou told two local TV stations. "This has demonstrated that a portion of the anti-China forces inside and outside Hong Kong are conspiring to usurp the jurisdiction of the city, which should never be allowed."
Zhou quoted former Communist Party leader Deng Xiaoping as saying that one of the PLA's functions is to handle riots. "[The party] would not allow Hong Kong to turn into a base to subvert China's socialist regime under the guise of democracy," Zhou added.
While some in Hong Kong may have laughed off the suggestion that foreign powers might take advantage of Occupy in order to seize control of the city, veteran analyst Johnny Lau Yui-siu said Zhou's words represented China's bottom line - and should be taken seriously.
In his book , journalist Mark Roberti wrote that Zhou "was witty and urbane and liked to charm people by quoting classical Chinese poems". Roberti, who covered Hong Kong in the 1980s and early 1990s for the now defunct magazine, also described Zhou as "a sophisticated international diplomat".
Lau, Beijing bureau chief for in the 1980s, also noted Zhou's fondness for dropping quotes. "He can send you to hell but he is still able to make you believe that you are going to have fun there.
"But it is only the rehearsed reading of the script prepared by the party organ," Lau continued. "As a party member, he would not be allowed to speak his mind, or have his own style."
When needed by the party "he can carry out instructions ruthlessly and won't bargain", Lau added.
Lau recalled an occasion when Zhou, heading a Chinese delegation, walked out of a round of Sino-British talks in Beijing after 10 minutes. "He was unhappy the British side was not quick enough to make concessions," Lau said he later learned.
Some people may see Zhou as yesterday's man; after retiring from his last post in Hong Kong as director of Xinhua, he has spent most of his time in Beijing.
He made headlines in 2007 when his memoirs revealed that the central government considered using "non-peaceful means to get back Hong Kong".
Born in Changchun city, Jilin province, in 1927, Zhou studied literature at Yenching University in Beijing.
After the communists took power on the mainland in 1949, Zhou worked as a teacher at the Beijing Foreign Languages Institute and in the prisoner-of-war management regiment of the Chinese People's Volunteers, among other jobs.
For most of the 1970s, he was a member of the Chinese delegation to the United Nations, before becoming deputy permanent representative to the UN in 1980. He was appointed assistant foreign minister in 1983.
Zhou witnessed the entire process of Hong Kong's return to Chinese rule. He was the head of the Chinese delegation during the Sino-British negotiations from January to September 1984. He was appointed vice foreign minister and signed the draft of the Sino-British Joint Declaration on behalf of the Chinese side in the same month.
"The experiences … since Hong Kong's return showed that the principle of 'one country, two systems' is feasible," Zhou told Xinhua in 2007.
He was posted to Hong Kong in 1990 as director of Xinhua in the city after his predecessor, Xu Jiatun, fled to the United States.
Zhou set about attempting to charm the Hong Kong people.
Asked at a conference in 1990 if the PLA to be based in Hong Kong could be given a different name, amid fears among Hongkongers, Zhou replied: "What's in a name? A rose by any other name would smell as sweet."
His days at Xinhua were best remembered for orchestrating resistance to then governor Chris Patten's political reform efforts.
A ceremony to inaugurate the gigantic bronze Buddha statue at Po Lin Monastery on Lantau Island in 1993 brought together Patten and Zhou. When the governor held out his hand to greet the Xinhua director, Zhou declined it, instead clasping his hands together in a traditional Buddhist greeting. Patten responded in kind.
Zhou later said that he did blame Patten personally for Sino-British tensions at the time, adding that the Conservative government of the time in Britain was responsible.
Zhou Nan

86, born in November 1927 under the name of Gao Qinglian

Graduated from Yenching University

Joined Communist Party under nom de guerre Zhou Nan
Official in the prisoners-of-war management regiment of Chinese People's Volunteers
Third secretary and then second secretary of Chinese embassy in Pakistan
Second chief in department of West Asian and North African affairs at Ministry of Foreign Affairs
First secretary and councillor of China's first ever delegation to United Nations
Deputy permanent representative to UN
Vice-minister for Ministry of Foreign Affairs
Director of Hong Kong branch of Xinhua news agency, predecessor of central government's liaison office

Wife Huang Guo, daughter Zhou Hong and son Zhou Yuan
This article appeared in the South China Morning Post print edition as: 'Poet diplomat' takes aim at Occupy