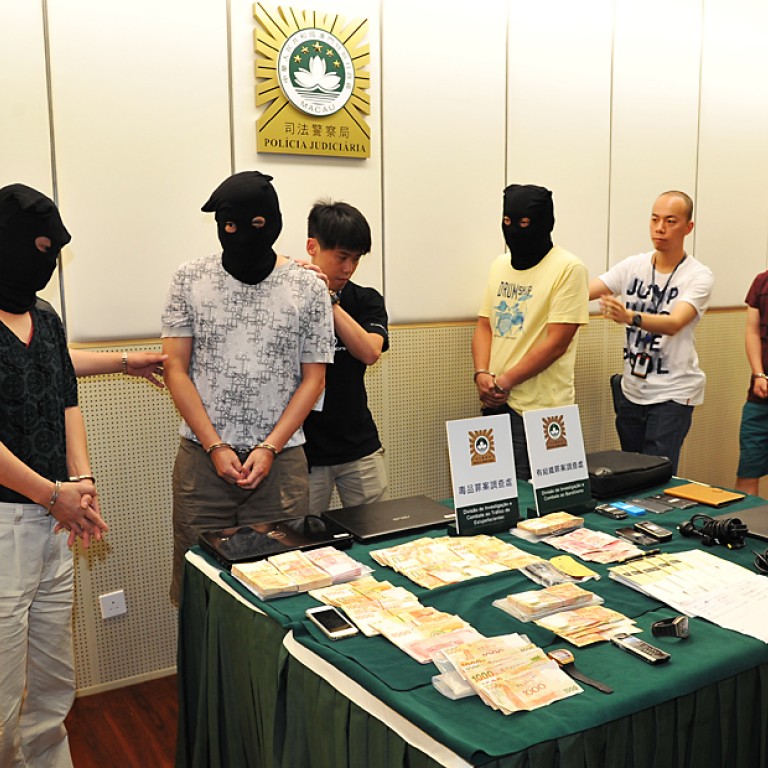 Macau police smash illegal betting ring that took HK$5b in World Cup wagers
Hongkongers arrested in Macau hotel bust as evidence suggests single bet of HK$40m staked on one match. Hours later hotel is raided again
A bookmaking racket that allegedly took HK$5 billion in illegal bets on World Cup football matches in a week - including a single HK$40 million bet - has been busted by police in Macau.
The syndicate was yesterday described by police as the biggest illicit soccer-betting ring uncovered in the gambling haven.
A raid on a hotel on Thursday found the syndicate had turned three rooms into its operations base, taking online bets and telephone orders from around the world, Macau police revealed yesterday.
Four Hong Kong men were among the 22 people, aged 23 to 50, arrested.
Two women were among the nine Malaysians and nine mainlanders also arrested, and police said the suspects included the two alleged ringleaders of the syndicate - a Malaysian and a mainland man.
Officers are now looking into who was placing the bets.
In the early hours of Friday, a second raid netted four members of another illegal gambling syndicate operating out of the same hotel. Police refused to give any details about the hotel.
Yesterday, the 22 hooded and handcuffed suspects from the first raid were paraded before the press as details of the syndicate's operations were revealed.
Macau police spokesman Suen Kam-fai said: "Information indicates that this syndicate accepted bets before and after the matches kicked off. That's why they needed a lot of manpower to take bets via the internet and telephone."
Officers removed betting slips and accounts from the three rooms along with more than HK$2 million in cash, 17 computers and at least 10 mobile phones.
Suen said initial investigations showed about HK$5 billion in World Cup bets had been taken and officers had found evidence of a single HK$40 million bet on one match.
The second syndicate raided is believed to have taken about HK$5 million in illegal bets on World Cup matches in a single day. Four mainland men were arrested and betting slips and HK$500,000 in cash seized.
A Macau police spokeswoman said: "The arrests are part of a continuing crackdown on illegal bookmaking in Macau."
Early last week, Hong Kong police smashed an illegal bookmaking syndicate, with a senior officer describing it as probably the biggest bust of its kind in the city's history.
In a joint operation with mainland police, officers seized records from its bases in Hong Kong and Guangdong showing HK$767 million taken in bets on soccer matches and horse racing.
Since the World Cup kicked off in Brazil in the early hours of Friday last week, Hong Kong police have arrested 39 suspected illegal bookmakers and confiscated betting slips worth nearly HK$85 million.
In the first four months of the year, raids on illegal bookies netted records showing they had taken HK$54.2 million worth of bets on soccer.
Hong Kong police have set up a task force with Macau and Guangdong authorities and are also working with Interpol across eight Asian countries to fight illegal betting during the World Cup.
Hong Kong's illegal sports betting market is believed to have generated HK$500 billion in turnover last year - four times that of the racing and soccer betting operations of the Hong Kong Jockey Club, which has a government monopoly on gambling.
This article appeared in the South China Morning Post print edition as: Raid smashes HK$5b World Cup betting ring