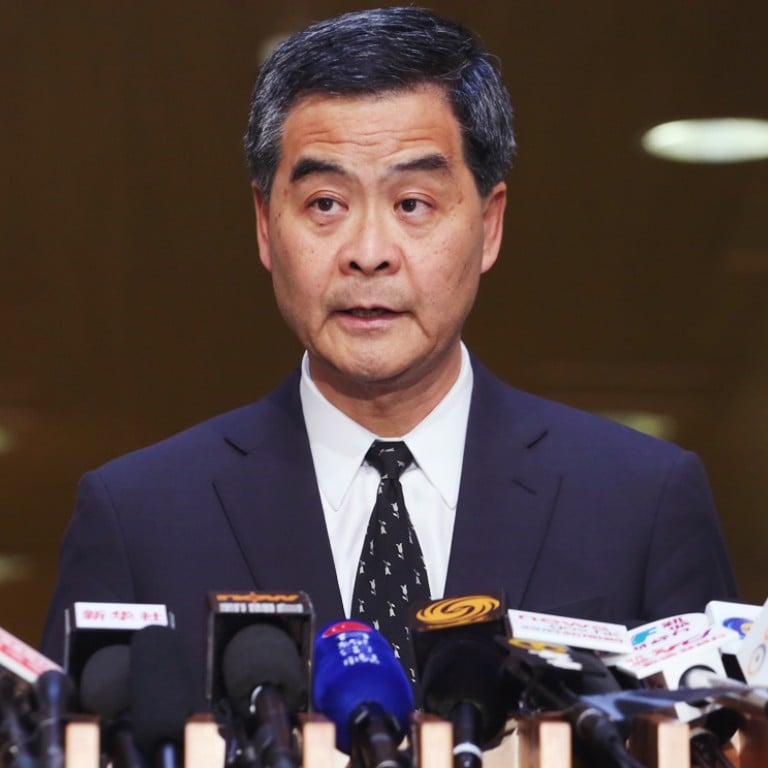 Rare disagreement as CY Leung takes issue with Global Times editorial on Occupy poll
Chief Executive speaks out against state-run newspaper that belittled 700,000 voters in unofficial plebiscite as 'no match' for 1.3 billion
In a rare example of a top Hong Kong official not following Beijing's script, Chief Executive Leung Chun-ying yesterday said he disagreed with an editorial in the state-run newspaper which described the enormous turnout for Occupy Central's reform poll as "no match" for the 1.3 billion population of China.
Leung, who went on leave from yesterday until Friday, said it was wrong to put "the people of Hong Kong and China on confronting sides".
In a strongly worded editorial published on Monday, the warned that since "the Basic Law reflects the will of the whole nation … more than 1.3 billion people have the right to speak on Hong Kong's political reform".
Leung said that "no matter how many people voted", and no matter whether the number was "inflated", the majority of residents who took part were expressing their wish to elect the city's leader by universal suffrage in 2017.
The described the Occupy poll as "illegal", but Leung clarified that the people who voted would face no criminal liability.
However, he reiterated that public nomination "does not comply with the Basic Law", saying that there were no grounds for people to call for universal suffrage to be compatible with international standards.
"[The phrase] 'international standards' is not found in the Basic Law … Elections in Hong Kong must be conducted according to our actual situation and the [city's mini-constitution]."
More than 738,000 people had voted in Occupy Central's unofficial referendum by midnight yesterday on three options for how the chief executive should be elected in 2017. All three options allow the public to nominate candidates - an idea Beijing has repeatedly rejected.
The huge turnout for Occupy's unofficial referendum is thought to have been fuelled by a backlash against Beijing's assertion of its sovereignty in a white paper two weeks ago.
That controversial document also appeared to affect the local government's popularity.
The University of Hong Kong interviewed about 1,000 residents last week, and found that only 37 per cent were satisfied with how the local administration handled its relationship with Beijing, while 38 per cent said they were not.
The minus-1 net satisfaction rate was nine percentage points lower than three months ago, and the lowest since September 2012. Leung's latest popularity rating was 45.6 points, 0.2 points lower than two weeks ago.
Meanwhile, Leung unveiled in his blog a letter he wrote to the Taiwan-based , which ran an article written by Hong Kong commentator Jacky Lim Hung-tat on June 13.
Lim criticised the white paper for "abolishing" the 1984 Sino-British Joint Declaration, which promised Hong Kong "a high degree of autonomy, except in foreign and defence affairs".
In his blog, Leung countered that the joint declaration also made it clear that China would stipulate its policies on Hong Kong in the Basic Law. That stated that apart from its roles in foreign and defence matters, Beijing had the power to appoint the chief executive and principal officials, as well as to interpret and amend the Basic Law.
This article appeared in the South China Morning Post print edition as: Reform poll: Leung strays from the script