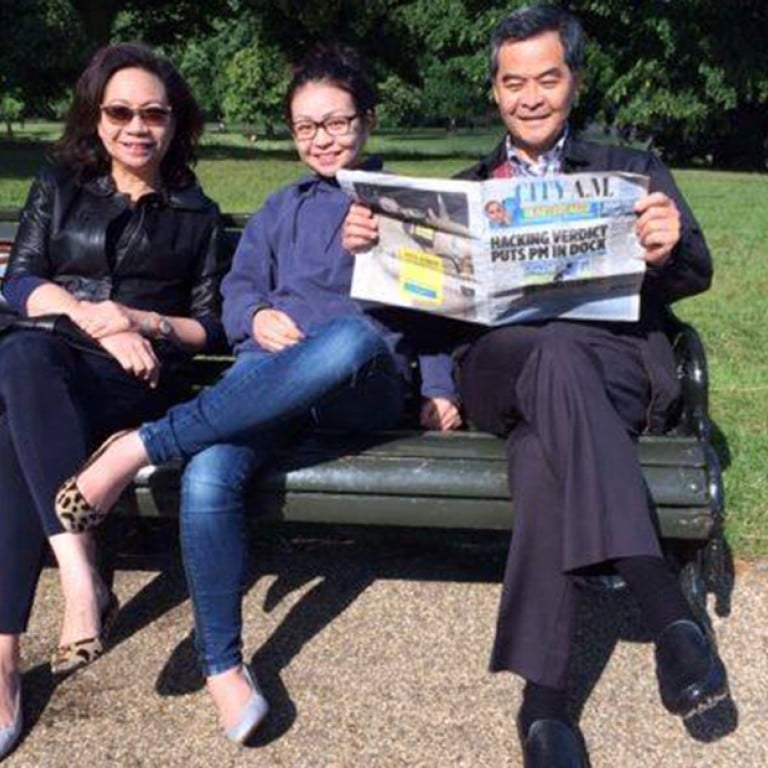 'Will I bleed to death?' CY Leung's daughter posts pictures of slashed wrist on Facebook
22-year-old's 3am Facebook posts came as chief executive was flying to join her in London
Chief Executive Leung Chun-ying's daughter posted a photograph on Facebook at 3am yesterday that appeared to show her lying in a bathtub with a slashed wrist and the water tinged with red. Next to it she had written: "Will I bleed to death?"
The 22-year-old, who is based in Britain, posted a second picture an hour later - about 11am Hong Kong time - showing a hand covered in what appeared to be blood and wrote: "I love blood."
Leung Chai-yan's messages, which were open to the public, came as her father was on board a plane headed to Britain so he could join her at the graduation ceremony of her younger sister, Leung Chung-yan, who has just finished her economics degree at Cambridge University.
The Chief Executive's Office would not comment on the incident, but website Bastille Post later uploaded a picture showing the chief executive and Chai-yan smiling in the London sunshine as they sat on a park bench. Chai-yan is seen cuddling a bulldog perched like a child on her lap. Her wrists cannot be seen.
Another picture on the Speak Out Hong Kong website, often regarded as a mouthpiece for the chief executive, shows Leung, his wife, Regina Leung Tong Ching-yee, and Chai-yan in Hyde Park. The caption reads: "They had big smiles on their face and the atmosphere was harmonious. Obviously, they weren't affected by various unfavourable rumours on the internet."
Government sources said Leung had responded calmly when he heard of his daughter's posts after landing in Britain.
"He said only that he would follow up [on the issue]," said one of the sources. "Leung seldom talks about his daughters and son [Leung Chuen-yan] as it is personal."
The posts were deleted within a few hours of their appearance. By then, comments had been posted under the picture encouraging Chai-yan to "stay strong". But hostile comments accused her of seeking attention and said the cuts were "not deep enough".
It was not Chai-yan's first time to cause a stir on her Facebook page. In March, Chai-yan - who is believed to be studying at the London School of Economics - received thousands of abusive comments after stating that the stabbing of former editor Kevin Lau Chun-to was not an attack on freedom of the press.
"Why does the attack have anything to do with press freedom?! Come on people," she wrote. Despite the backlash, she continues to eschew tight privacy settings available on Facebook.
Labour Party lawmaker Dr Fernando Cheung Chiu-hung, who is a lecturer in social sciences at Polytechnic University, said Chai-yan's posts appeared to be a cry for help. "It suggests that a crisis is emerging," he added.
When asked whether any self-harm could be a reaction to the constant criticism directed at her father, Cheung said such cases were more likely to be related to personal affairs or depression.
* Feeling like you need somebody to talk to? Call The Samaritans on 2896 0000.