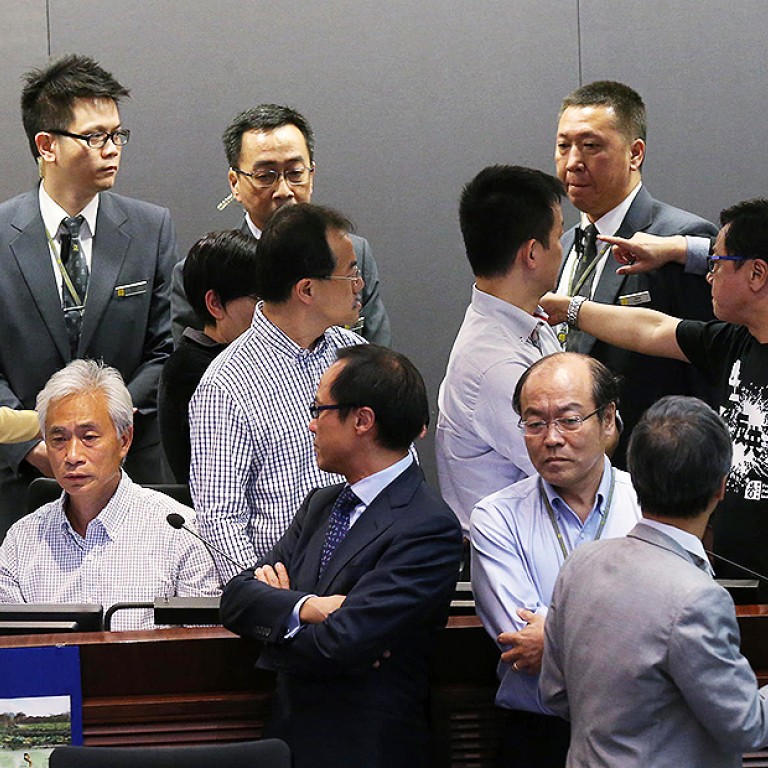 Update

|
Chaos as initial funding for new towns in New Territories approved by Legco panel
Pan-democrats, protesters cry foul but HK$340 million funding passes
Lawmakers last night finally approved the government's request for preliminary funding for work on controversial new towns amid chaotic scenes and vows of legal action from pan-democrats, who said the vote was illegitimate.
Members of the Legislative Council's Finance Committee voted 29-2 to approve the funding request.
But most pan-democrats did not vote, instead berating chairman Ng Leung-sing, whom they accused of breaching the rules of procedure.
Watch: Hundreds of protesters gather outside Legco for new-towns project vote
Most of the protesters who gathered outside the Legco complex in Admiralty dispersed after the vote but vowed to continue to fight the plan. Scuffles broke out after a protester refused to leave when police wanted to reopen Tim Mei Avenue to traffic. Police said 1,500 people turned out. Organisers put the figure at 5,000.
The six-hour meeting saw Ng twice accused of breaching committee rules. First, he refused to consider a no-confidence motion in himself, submitted by Labour Party chairman Lee Cheuk-yan, proposing instead to have a special meeting on the motion next month. Then, as the meeting neared its conclusion, he told lawmakers they would have only one minute each to ask questions before the HK$340 million funding request went to a vote.
Pan-democrats complained that Ng had contravened Article 46 of the rules of procedure, which dictates that "the chairman shall ask members if they have any further questions before putting an item to the vote". They said his refusal to discuss Lee's motion also breached the rules of procedure.
Ng cited advice from Legco's legal adviser and said Article 46 only meant lawmakers would get to ask questions.
Pan-democrats got up to berate Ng, but he refused to change his mind. While they were still complaining, the vote went ahead, with only two pan-democrats - the Civic Party's Ronny Tong Ka-wah and Dennis Kwok, who remained seated - able to vote against the motion.
Ng and Development Bureau officials were escorted out by security guards.
After the meeting, Lee said: "Ng repeatedly breached the committee's procedural rules … and the vote result is illegitimate. The only choice we have is to seek a judicial review."
The issue is highly charged. The government says the HK$120 billion new towns at Kwu Tung and Fanling North are vital to its homebuilding plans. But protesters say the plan will benefit big developers and involve mostly luxury flats, while villagers will see their homes and lifestyles lost for little compensation.
Protesters chanted angry slogans when they realised the vote had passed, and some even broke down in tears.
But protest leaders rejected the suggestion of radicals that they should try to storm Legco.
"Your enemies are not standing here on the stage," Cho Kai-kai, a member of one of the eight groups behind the protest, told demonstrators angry at that decision. "Your enemies are inside [government headquarters], land developers and the puppet regime headed by [Chief Executive] Leung Chun-ying."
Villager Lee Siu-wah said on stage that the next battlefield would be the Town Planning Board, and said 200,000 people would show up when the board came to discuss the plan. Cho said villagers would "stop the bulldozers with their bodies".
Some pan-democrats apologised for failing to prevent the vote. Dr Fernando Cheung Chiu-hung said they would fight on, while Albert Chan Wai-yip vowed to paralyse Central with a protest on July 2.
For the second week in a row, protesters were banned from the designated protest area outside Legco amid tight security.
A 17-year-old boy was arrested after he was found to have brought an awl as well as spray paint, a lighter and rubber hose with him.
Another protester, Billy Chiu Hin-chung, was arrested yesterday in connection with the June 13 attempt to storm Legco.
Watch: Undercover police officer discovered by protesters
A row broke out shortly before the voting when a protester demanded a man whom he claimed was a plain-clothes police officer show his credentials. The news caused an uproar in the crowd - there had been claims that undercover police infiltrated earlier protests and encouraged disorderly behaviour.
The protester said he saw the "officer" pushing rally goers from behind in an attempt to create conflict earlier in the afternoon.
The "officer" fled inside the adjacent Citic Tower, ahead of about 50 pursuing policemen, protesters, cameramen and reporters. He eventually left accompanied by police in uniform. He did not confirm whether he was a police officer.
This article appeared in the South China Morning Post print edition as: Chaos as new-towns cash approved