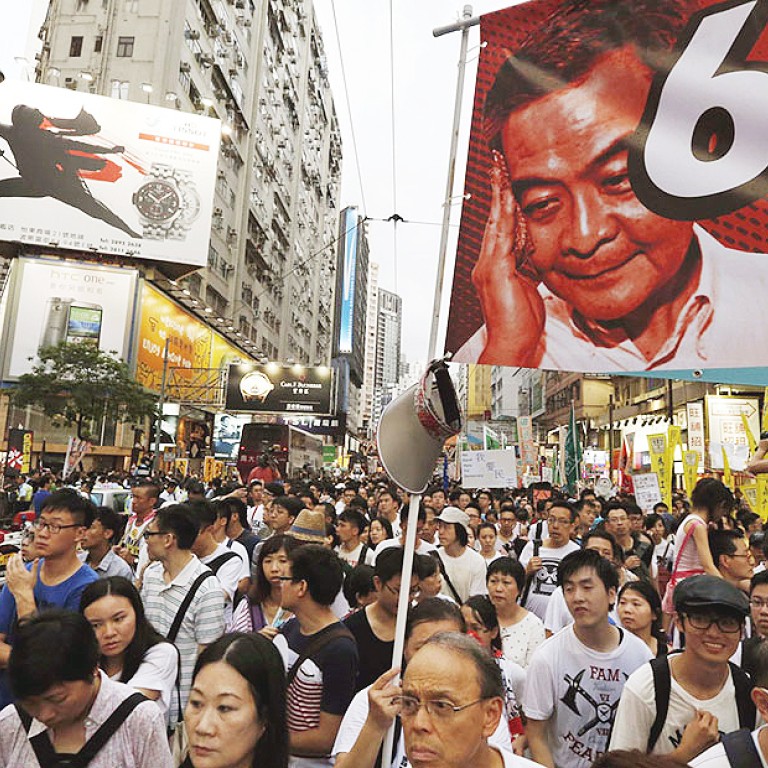 Most marchers surveyed motivated by desire for public nomination of 2017 poll candidates
Protesters motivated by desire for public nomination of 2017 election candidates and opposition to recent Beijing white paper, poll shows
An overwhelming 91 per cent of marchers polled by the yesterday stood firm on the public's right to nominate candidates to run in the next chief executive election.
A fifth also said they were prepared to join Occupy Central, while 36 per cent rejected the civil disobedience movement that will be launched if the government's proposals for electoral reform fall short of "international standards" for universal suffrage. Another 43 per cent were unsure.
Fifty-two per cent of the 823 respondents said they would rather retain a limited election for the top job than have a vote themselves if the nomination methods were unsatisfactory.
This despite officials' repeated calls for lawmakers to accept one man, one vote even if the nomination method is not as good as they want. Two-thirds of lawmakers, including some pan-democrats, will need to support whatever electoral reform proposal the government puts forward for it to pass.
Respondents were asked to give a maximum of two reasons for participating in the march. The reasons they could choose were: the desire for an election open to all; expressing discontent over the State Council's white paper; discontent with the local government; a desire to hit back at critics of last month's unofficial plebiscite on political reform; and any other reasons.
Among the options, fighting to elect the chief executive by universal suffrage in 2017 with no screening was cited by more respondents than any other - a total of 522, or 65 per cent.
"We have been waiting for an election for chief executive for decades," said 75-year-old Lau Yung, a lone marcher.
"But that doesn't mean we don't care about who is running. We shall decide who can run."
The second most popular reason for marching was protesting against the white paper - in which Beijing controversially asserted its "comprehensive jurisdiction" over Hong Kong and requirement that judges be patriotic. This was cited by 521 people as a reason.
"Even the usually laid-back barristers came out against it," said marcher Lucy Pang Wai-tsz, a 42-year-old teacher, referring to the 1,800-strong protest march organised by the Bar Association last week.
Bad governance was cited by many as a motivator. Dozens of respondents expressed anger at the chaos during recent meetings of the Legislative Council's Finance Committee to discuss preliminary funding for two new towns in the northeastern New Territories, which villagers oppose because some will lose their homes and which others see as a vehicle for developers to earn profits.
"I realised that if Hong Kong people do not make their voices heard today, the city will be in danger," said Paul Lau, a Chinese University electronics engineering student.
Lau joined the protests outside Legco last month against the plan to develop the new towns.
Public nomination was needed to curb poor government, social worker Ming Fan said.
"The government never listens to the people's voice. All we can rely on are the people themselves," she said.
Max Lau I-lung, a spokesman for student group Scholarism which proposes public nomination of chief executive election candidates, said Hongkongers' demands were clearly reflected in the findings.
"If [public nomination] does not happen, Hong Kong people's discontent will reach boiling point and explode," he said.
Public nomination, he reiterated, was needed to show respect for the people's demands.
The government showed no sign of deviating from its frequently stated stance. A spokesman reiterated that "proposals on political development should be, legally, strictly in accordance with the Basic Law and relevant interpretation and decisions of the [National People's Congress Standing Committee]." That rules out public nomination, the government says.
Fewer than 5 per cent of those surveyed agreed that public nomination could be forgone.
Pan-democrats believe public nomination would limit Beijing's ability to decide who can and cannot run in the 2017 election - intended as the first to be decided by universal suffrage.
Occupy Central campaigners are waiting to see whether the government's electoral reform proposal meets international standards of democracy. If it does not, the group will call on supporters to block roads in Central.
Ninety-three per cent of the marchers questioned said they voted in Occupy's informal referendum on electoral reform, in which nearly 800,000 people voted.
The word on the streets:

"We've been talking about democracy since the 1930s. So far Taiwan is the only place where Chinese people have managed to achieve it. But I hope to see it happen here in Hong Kong. I've wanted democracy for so many years - a real one with universal suffrage. I hope that the newest generations will get to see it while they are still young.

 

"You can feel how it's a lot more free here in Hong Kong. This is something we'd want, too, but right now I hope to use this platform to tell people about my husband's plight."

"The government has done a bad job since 1997. And this is the only place in China where people have the right to speak up. If we don't do it, and do it now, we will lose this right. And if enough people don't do it, the Hong Kong government and the mainland government won't listen, and our voices will not be respected."

 

"My friends said the effort is futile. Yes, maybe marching won't change anything, but not marching definitely means no change. I see this as a civic responsibility."

"The whole [New Territories new-towns] development benefits the rich and steps on the poor. Depending on how many people show up today; whether the government listens to our voices; and whether [Chief Executive Leung Chun-ying] steps down, I'll consider taking part in Occupy Central."

 

"If we don't come out to speak up now, we won't have the chance to in the future."

"If Hong Kong people don't achieve [public nomination of candidates for chief executive in 2017], we in Macau will also be doomed."

"Our society is becoming more and more polarised. I want to go and take a look at both sides before I reach a conclusion."

 

"It's useless [to march]. The government won't listen anyway."

"I won't join the march. It is not that meaningful, the things they are calling for, like public nomination, are not realistic. Hong Kong's political constitution will have to match the mainland's in 50 years. We should not be striving for democracy. It will not be given to us. We should work on improving people's livelihoods instead."

This article appeared in the South China Morning Post print edition as: Masses on the march