Macau
Get more with myNEWS
A personalised news feed of stories that matter to you
Learn more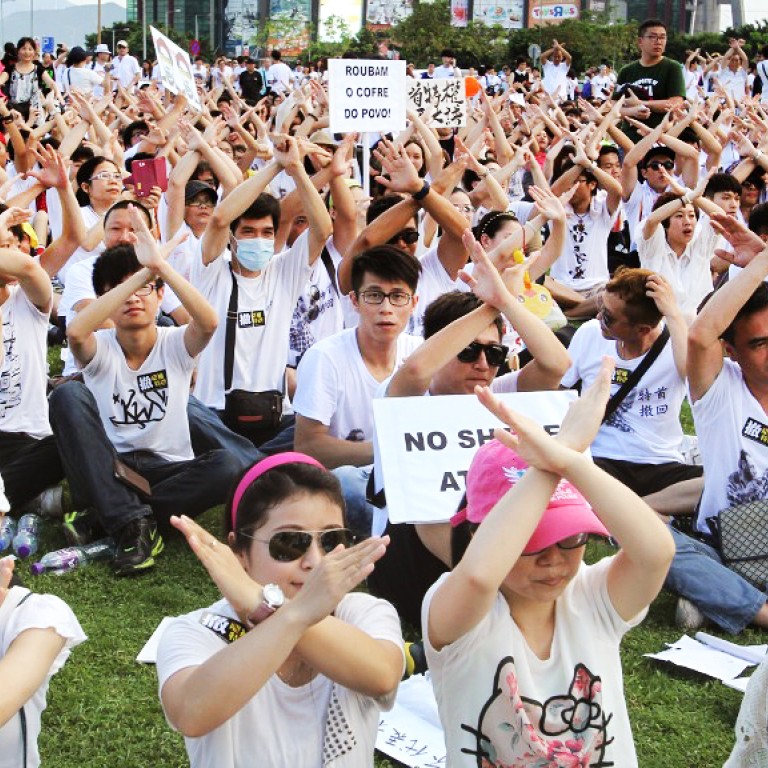 Occupy-style public vote on universal suffrage to be held in Macau
After massive protests in May against pensions for officials, public will be asked about 'one man, one vote' and whether they have confidence in city's leader
On the heels of Hong Kong's unofficial referendum on reform last month which drew almost 800,000 voters, a similar citywide poll is being planned for Macau ahead of the election next month of its chief executive.
Residents will be asked only two questions in the seven-day poll from August 24 to 30.
First, whether universal suffrage should be implemented by 2019 in Macau, and second, if they have confidence in the so-far unchallenged incumbent chief executive Dr Fernando Chui Sai-on.
If a challenger surfaces, however, the second question will expand to ask voters their choice of candidate for the August 31 election.
"It would be the very first referendum in Macau targeting the chief executive election," Sulu Sou Ka-hou, of Macau Conscience which initiated the poll, told the South China Morning Post on Monday.
"We hope to create a drastic and sharp contrast between the polling results of the 400-strong election committee and the public."
Sou said the group wanted to exert pressure on both the central government and Chui's administration to show that Macau residents also demand democracy, and to express their "discontent" with the incumbent chief executive.
Unlike Hong Kong's Basic Law, Macau's mini-constitution does not specify universal suffrage as the ultimate goal of its political system. And the government has no timetable for implementing "one man, one vote" for its chief executive and legislative elections.
In order to enter the race, hopefuls for the chief executive post need to secure at least 66 votes from a 400-strong election committee which is overwhelmingly dominated by pro-establishment members. The same members will then pick the winner.
Sou said Macau's democratic camp held a similar referendum two years ago to get people's opinion on political reform. However, only 2,600 citizens took part in the vote due to insufficient preparation and promotion.
He expected that the turnout for the planned referendum next month would be substantially greater following the massive rally in May to condemn a bill that would have lavished benefits on outgoing chief executives and certain other government officials.
That protest was attended by 20,000 people according to organisers, the biggest demonstration in the city since residents rose up in 1989 to oppose the bloody Tiananmen Square crackdown.
It was also seen as the "political awakening" of a city often viewed as apolitical.
Sou said they had planned the poll at the beginning of the year and it had no direct relationship with Occupy Central's referendum last month, which touched a nerve with Beijing and was labelled "illegal".
Macau voters will be able to cast their ballot via website from August 24 to 30, Sou said. Polling stations will also be opened on August 24 and 30, from 11am to 9pm, although locations are still being confirmed.
The results are expected to be announced on August 31, the day the official chief executive election takes place.
Poll organisers are consulting the public on whether holders of Macau ID aged 16 or above – or aged 18 or above – should be allowed to vote.
This article appeared in the South China Morning Post print edition as: Macau to get Occupy-style vote on reform