Focus
Get more with myNEWS
A personalised news feed of stories that matter to you
Learn more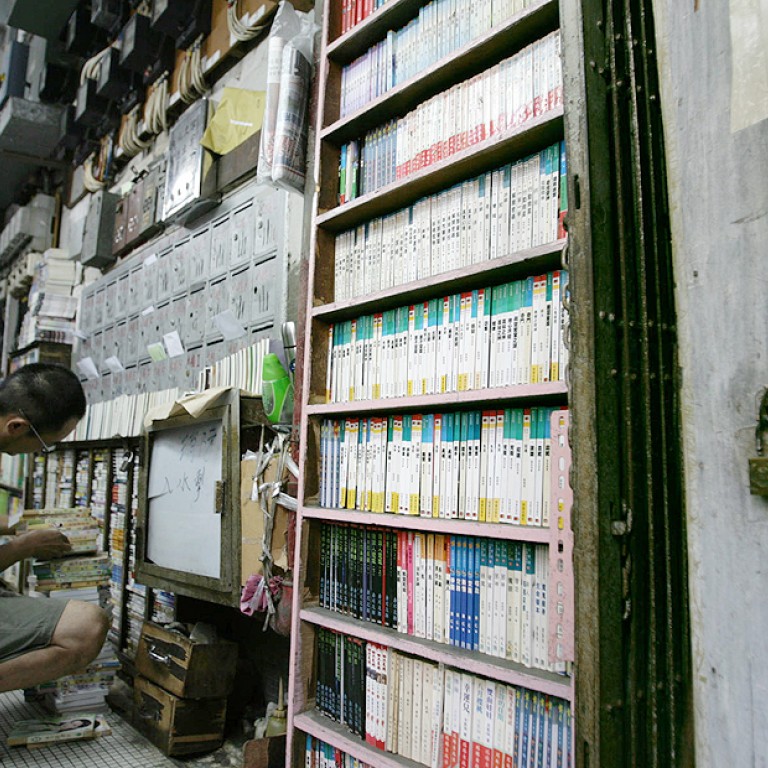 The death of books? Hong Kong publishers worry as readers become slaves to smartphones
Publishers and booksellers worry about declining sales as people spend more time on smartphones and tablets messaging and playing games
Lam Pik-fun read a book per month during her daily commute to and from Causeway Bay, where she manages Luck-Win Book Store.
This was until smartphones invaded her life two years ago. With a smartphone in hand, she said she could no longer read books as often.
"All those messages, it feels like you would die if you don't reply to them instantly. And there are all those games," she said. "We've become slaves of phones."
She is far from alone.
Over the past year, fewer people have taken the time to climb the stairs to Lam's shop. The general traffic was down, as was the number of regulars, she said.
"Some people came once a year before attending the June 4 vigil [in Victoria Park]. There were about 50 of them," she said. "As for this year, there were only about 10."
Declining sales for printed books had been a global phenomenon for years, said Dr Chan Man-hung, who is chairman of the Hong Kong Publishing Federation.
Demand for reference works and investment books plunged, as the information they contained became readily available on the internet, Lam said, adding that today the popularity of a bestseller, even one backed by a big film, could die fairly fast.
Reading books had changed from a mainstream hobby into a niche activity for the select few, including artists and those in the cultural scene, she observed.
"They need deep understanding of people in order to create works. Social science, philosophy works and novels give them inspiration," she said.
In the past, the annual Hong Kong Book Fair - this year's will run from tomorrow to July 26 - helped mitigate the readership loss. "But I'm not so sure about the last two years," Chan said - an ominous sign for a city that relished its glory days as the regional leader in book publishing.
During the second world war, Hong Kong was tasked with publishing books to be sent to the mainland. In the post-war years, it printed a lot of books in Chinese that were sent to Malaysia and Singapore.
Hong Kong was a trendsetter, Chan said.
"There was a lack of paper during the war, so the printed books were thin and small. That was way before small pocket books became a hit in Japan in the '70s," he said.
Hong Kong was also the first city in Asia to adopt modern publishing techniques in the 1980s, including automated printing and marketing. That was 10 years ahead of Taiwan and even further ahead of the mainland.
But now the local book market is in need of new energy for growth.
New book titles published in Hong Kong had dropped from an annual peak of 5,000 to 6,000 a decade ago to a range of 4,000 to 5,000 over the past two years, Commercial Press general manager Janice Yip Pui-chiu said.
For the city's biggest book chain, which celebrates its 100th anniversary in Hong Kong this year, growth in sales revenue dropped from double digits in 2008 to about 2 per cent last year, she said.
The year 2008 is, coincidentally or not, when Apple's groundbreaking iPhone became officially available in Hong Kong.
Smartphone and tablet penetration in the city increased last year to 87 per cent and 57 per cent respectively, the highest in the Asia-Pacific region, according to market research company Nielsen. Smartphone owners spend more than three hours per day on their phones, various surveys show.
With more reading taking place electronically, book publishers also increasingly have to compete with video, music and game content for attention, professional services company PricewaterhouseCoopers points out.
According to the firm's global entertainment and media outlook for 2014-2018, Hong Kong's book publishing market is expected to be among the underperformers, with slower growth than the mainland, United States or Singapore. In the five years to 2018, the sector is expected to see a compound annual growth rate of less than 1 per cent.
Bookstores would have to change, said Chan, who is also an adviser to Commercial Press. "We used to target the mass audience. Now we may have to go niche and professional."
Selling stationery and gifts could also drive bookstore revenue, he said. "The tradition of Commercial Press bookstores was to have 70 per cent of area going to books and the remainder to stationery. We won't shrink the bookselling area in favour of selling more stationery. Rather, we will increase the size of the whole shop," Chan explained.
Yip is still optimistic about the local market.
"We will improve our service and selection of books," she said.
With the opening of outlets at Chinese University in 2012 and the Museum of History in May, the proportion of specialised books the chain sells has increased. More social science books and novels by internet authors have been added to the collection, especially this year.
"Still, a bookstore is in the end a service chain. I hope the publishers upstream will continue to put out good works," Yip said.
Professor Tse Shek-kam of the faculty of education at the University of Hong Kong offers another perspective on the decline in book reading.
It is not the business of bookstores but the reading ability of students that is at stake, he says. Tse has been monitoring local children's reading ability compared to that of their global peers since 2001.
He is the principal investigator in Hong Kong for the Progress in International Reading Literacy Study, which looks at the performance and habits of fourth-grade students in various places.
In its last survey in 2011 - one is conducted every five years - local students ranked first in reading literacy among 45 countries and regions. Analysis showed they were better at understanding factual than literary texts.
Students who read and who had family members who were readers scored the highest, Tse said. "A family should keep at least 70 books at home. Those with good reading abilities usually have more than 100 books at home," he added.
Tse said the Education Bureau had been less than helpful by reviving the tradition of memorising ancient texts in public examinations for secondary Form Six students.
"Dictating from books and reciting ancient texts are not normal reading at all. It's going way back to the '70s," he said. "It runs contrary to the 'learning how to learn' spirit."
While Hong Kong had adopted "worrisome" changes, overseas authorities were stepping up efforts to promote reading, he said. Northern Ireland organises a reading month during which people are encouraged to read the same book.
In the United States, the one book, one community programme does the same thing in individual cities. In Singapore, a schoolteacher is responsible for promoting good reading habits and helping those with reading disabilities.
"Reading determines the life and death of a nation. It has a profound effect on culture," Tse stressed.
Chan of the Publishing Federation agrees. He noted that children received education from parents and schools. "But when you are 30 years old, nobody can teach you. Only books remain your faithful teacher."
He is hopeful that books will continue to play a part in society in the internet age.
"The more advanced society is, the more demand there is for knowledge," he said. "Books put out by renowned publishers are always more reliable than information on the internet."
Bookstore owners like Lam will be hoping that remains the case.
This article appeared in the South China Morning Post print edition as: Turning the page on books