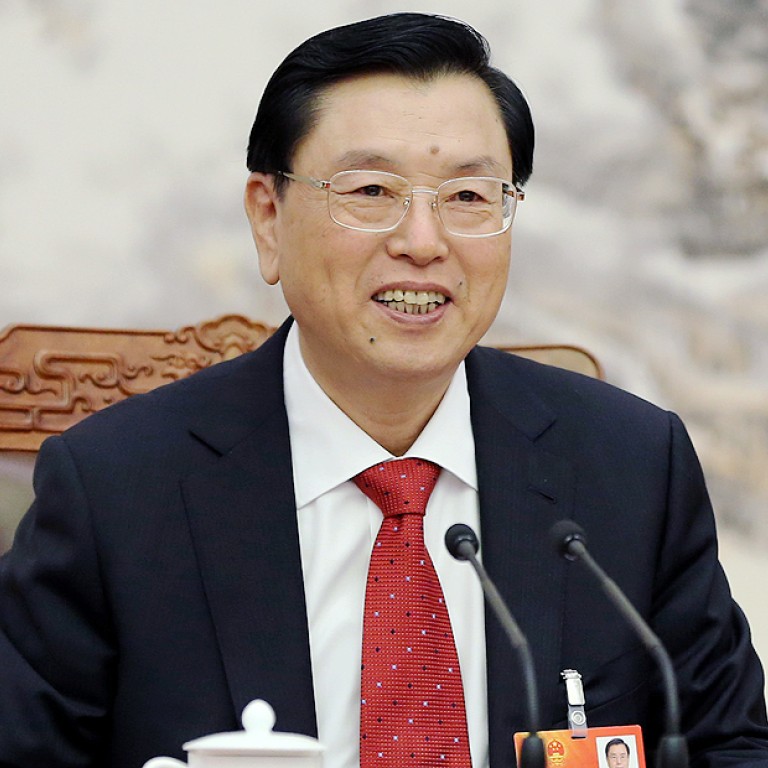 Hong Kong's 2017 election is not the end of reform, hints NPC's Zhang Dejiang
Chairman's statement that the method of electing city's chief executive could change seen as latest strategy to win over moderates
There would be more room for compromise with Beijing if Hong Kong accepted that the method for electing its chief executive could be changed after universal suffrage was achieved in 2017, a Peking University academic said in March.
Many pan-democrats did not take Jiang Shigong's words seriously then.
But now, messages from the National People's Congress chairman Zhang Dejiang in his meetings with pro-establishment groups over the past few days are starting to sound similar to Jiang's suggestion.
NPC Standing Committee member Rita Fan Hsu Lai-tai, who met Zhang on Sunday, quoted him as saying democratic development in other countries went step by step.
She said she understood from Zhang that Hong Kong's democratic development would move forward after the city achieved "one man, one vote" in 2017.
Federation of Hong Kong Industries chairman Stanley Lau Chin-ho, who met Zhang on Saturday, quoted him as saying that it took 100 years for many countries to develop a mature political system and that democracy in Hong Kong should develop in a gradual, orderly manner.
Zhang's reminder that the 2017 chief executive election is not the endgame of democratic development in the city is seen as Beijing's latest strategy to win over moderate pan-democrats.
The Standing Committee will decide on Hong Kong's political reform when it meets at the end of next month.
Echoing Zhang's remarks, Chief Secretary Carrie Lam Cheng Yuet-ngor said yesterday that there could still be room to improve the method for electing the chief executive after 2017.
"I gather that neither the Basic Law nor the relevant decisions by the NPC Standing Committee rules out the possibility of making improvements to related arrangements after the goal of achieving universal suffrage in 2017 has been achieved," Lam said.
Hong Kong officials in charge of constitutional development have also been using the same argument to lobby moderate pan-democrats to compromise on reform. The government has to win the support of at least five pan-democrats to secure a two-thirds majority in the Legislative Council for its reform plan.
Former Democratic Party lawmaker Cheung Man-kwong said: "If Beijing wants Hongkongers to buy its views that the electoral methods can be improved after 2017, it needs to convince Hongkongers that they can believe again what it promises."
Cheung was one of three Democratic Party representatives involved in talks with the central government's liaison office in Hong Kong in 2010 over the 2012 elections.
Meanwhile, Liberal Party lawmaker Vincent Fang Kang, who also met Zhang on Sunday, quoted him as saying there were some pan-democrats who could be regarded as "loving the country and Hong Kong".
The state leader reportedly dismissed concerns about the Occupy Central movement, which plans to rally protesters to blockade Central district if the Hong Kong government does not come up with what it sees as a satisfactory reform proposal.
This article appeared in the South China Morning Post print edition as: NPC hint that 2017 is not the end of reform