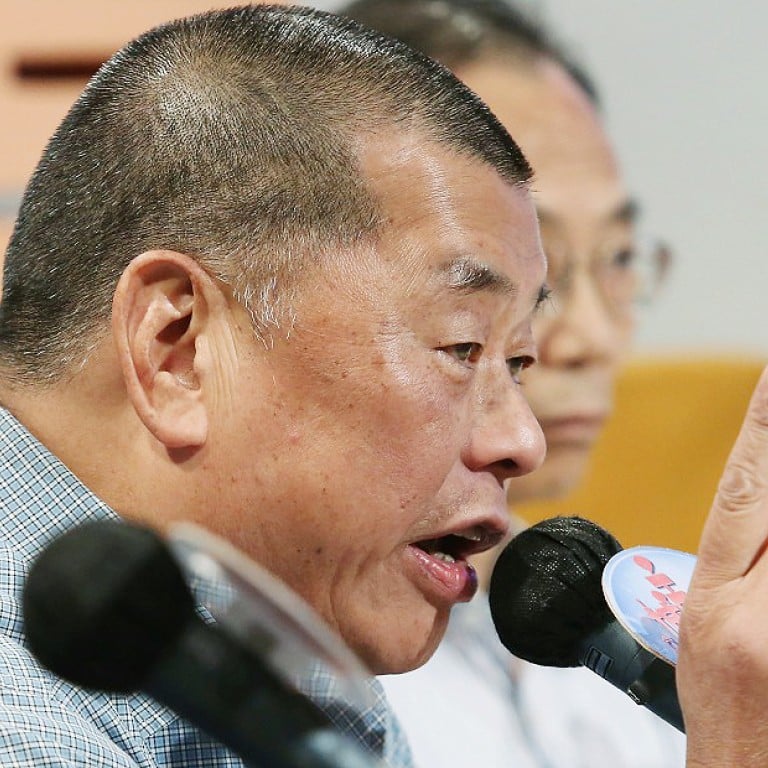 Update

|
Apple Daily head Jimmy Lai donated millions to pan-democrats, leaked files show
Leaking of hundreds of records is labelled as a smear campaign by those he backed
Hundreds of records detailing millions of dollars in donations to pan-democrats by the founder have been leaked to the media, a move the camp slammed as a "smear campaign".
According to the 900 leaked files, Jimmy Lai Chee-ying has donated more than HK$10 million to pan-democratic parties and politicians since last year. The donations included HK$5 million to the Democratic Party and HK$3 million to the Civic Party.
Other donations detailed in the files include amounts totalling HK$900,000 to the Hong Kong Civic Education Foundation and Hong Kong Democratic Development Network, both co-founded by Reverend Chu Yiu-ming, an organiser of the Occupy Central civil-disobedience movement.
Some media reports suggested the total donations since April 2012 could have been as much as HK$40 million.
Reports in pro-government media claimed that Lai - who is know for his critical stance against Beijing - had manipulated pan-democrats and was "colluding with foreign countries to provoke unrest in Hong Kong".
Watch: Apple Daily founder Jimmy Lai talks about his business strategy in leaked video
The Next Media Group chairman said he was worried that friends with mainland business interests would be deterred from donating to the Democrats.
"It's always been clear … that I support the pan-democrats. Saying I have stirred up trouble in Hong Kong? I don't think so … I am only supporting [the groups] which would help the city," Lai said on online talk-show yesterday.
Lai accepted that many of the reports of donations were true, but dismissed accusations he had been supported by "foreign powers".
"Every cent is given by me but not any foreign countries," Lai said.
Former chief secretary Anson Chan Fang On-sang called the leaks a "smear campaign", while Democratic Party founder Martin Lee Chu-ming described it as "white terror".
The files are believed to have been obtained from the computer of Lai's top aide, Mark Simon.
Some show that Labour Party stalwart Lee Cheuk-yan and League of Social Democrats chairman "Long Hair" Leung Kwok-hung each received HK$500,000 from Lai last year.
Civic Party leader Alan Leong Kah-kit and Professor Joseph Cheng Yu-shek, the Alliance for True Democracy convenor, jointly received HK$300,000.
Lawmakers must declare within 14 days any donations they receive for election and financial sponsorship. But no lawmaker who benefited from Lai's donations had made such a declaration.
Leong said the money had been paid into a joint account held by him and Cheng temporarily because the alliance's account was not ready. Leung said he received the sum on behalf of the league.
A government source said the reports about Lai's donations to pan-democratic groups had intensified Beijing's concern about external forces' interference in the city's affairs, which might reduce the chance for the two sides to meet over political reform.
In April, the Beijing-friendly Democratic Alliance for the Betterment and Progress of Hong Kong raised a record HK$63.8 million at a fund-raising event. Businessmen donated about HK$25 million of the total for a calligraphy and singing performance by the central government's liaison office director, Zhang Xiaoming .
This article appeared in the South China Morning Post print edition as: Jimmy Lai donated millions to pan-dems