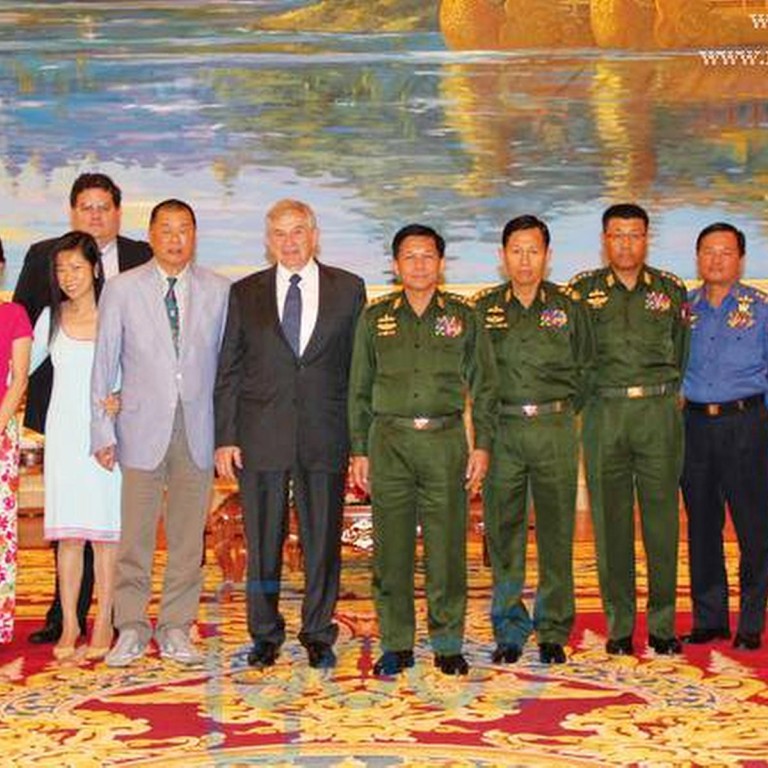 Jimmy Lai paid Paul Wolfowitz US$75,000 for help in Myanmar
Leaked documents show Apple Daily founder Jimmy Lai Chee-ying paid former US deputy defence secretary Paul Wolfowitz US$75,000 for his help with projects in Myanmar.
Leaked documents show founder Jimmy Lai Chee-ying paid former US deputy defence secretary Paul Wolfowitz US$75,000 for his help with projects in Myanmar.
According to a July 22, 2013, remittance notice by the Shanghai Commercial and Savings Bank, Wolfowitz received the money from Lai as "compensation for services in regards to Myanmar".
Neither man could be reached for comment yesterday, but Lai, speaking on a radio show, said he did not rely on US government officials to conduct his business.
Wolfowitz and Lai have been friends since the latter became chairman of the US Taiwan Business Council in 2008, an aide to Lai said before the leak.
It remains unclear what services the former World Bank president provided to Lai. Wolfowitz continues to head the US Taiwan Business Council and is a scholar at the American Enterprise Institute, a conservative think tank in Washington DC. 
Wolfowitz's visit to Myanmar raised eyebrows last year, as he was a senior member of the George W Bush administration, which referred to military-led Myanmar as an "outpost of tyranny" in 2005. He served as deputy secretary of defense from 2001 to 2005.
Lai and Wolfowitz met members of Myanmar's government, including President Thein Sein, armed forces commander-in-chief Senior General Min Aung Hlaing and other high-ranking members of the Tatmadaw, Myanmar's military.
Lai's name was not mentioned in the press release by the president's office at the time, but he can be seen in photographs from the meeting. He was also mentioned in news reports.
Lai also met at least five cabinet members and the chairman of Myanmar's central bank last year, the documents indicate. The authenticity of his leaked schedule could not be independently verified.
The documents show that real estate investments were on Lai's agenda during multiple trips to Myanmar last year. They show that Lai was in talks over two developments in the nation's commercial centre, Yangon.
His Hong Kong-registered company Best Combo was planning to build two towers in Yangon with local developer Shambhala Group, run by the established businessman Phone Win.
Speaking by telephone, Phone Win confirmed the existence of these projects but told the that they were still at a planning stage. Lai and Wolfowitz merely visited Myanmar to promote entrepreneurship in the country, he said.
The documents show that Lai transferred US$213,000 to an NGO run by Phone Win and his wife for an entrepreneurship campaign in Myanmar.
Lai's donation financed the procurement of 200,000 T-shirts for the campaign and television advertisements, Phone Win said. "Jimmy Lai is a very good friend," Yuza Maw Htoon, Phone Win's wife, said.
The leaked documents point to another Myanmar-based company, Jade King and Queen Service, as being in talks with Lai. It was unclear how Lai was tied to the company. It is run by Sai Myo Win, a ruby, sapphire and jade trader from Kachin state near the Chinese border, who is now active in the development of industrial zones. Sai Myo Win could not be reached for comment.
This article appeared in the South China Morning Post print edition as: Wolfowitz paid US$75,000 for help in Myanmar