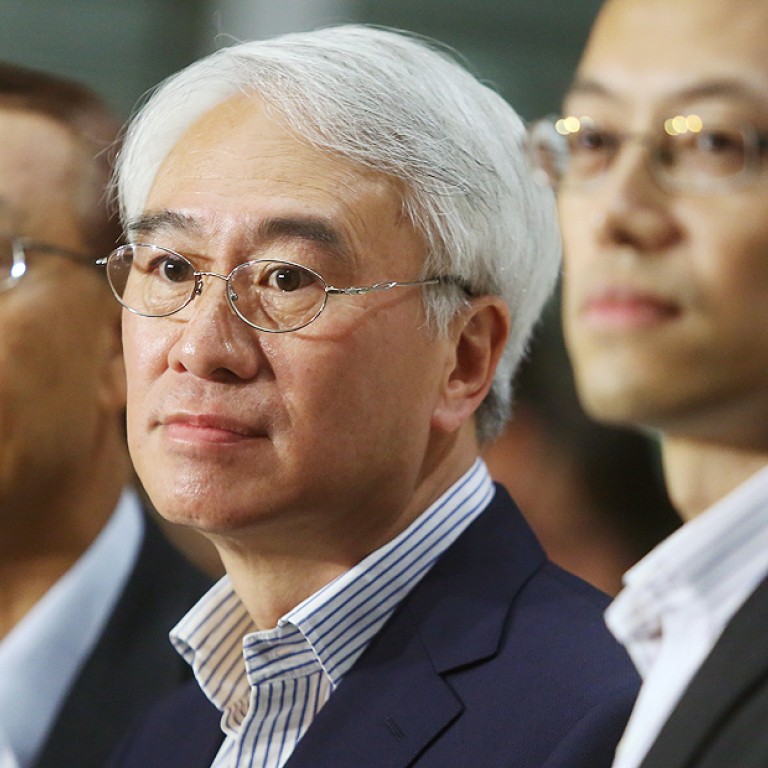 Anti-Occupy Central campaign plans march in protest of sit-in threat
Thousands to walk across town as activists advise businesses on seeking an injunction
Anti-Occupy Central campaigners plan to stage a "walk for peace and universal suffrage" next month, and to offer free legal advice to small businesses in Central about how to ask the courts for an injunction against the civil disobedience movement.
The August 17 march from Victoria Park in Causeway Bay to Chater Garden in Central would mark the end of a petition campaign opposing Occupy, according to the organiser, the Alliance for Peace and Democracy.
The group estimated 50,000 to 60,000 people would take part, alliance spokesman Robert Chow Yung said yesterday.
"The walk has only one theme," Chow said. "It is not about 'anti-someone'. It is for peace and universal suffrage. By coming forward, Hongkongers will be sending a strong message to Occupy Central organisers."
Chow is the convenor of another anti-Occupy group, the Silent Majority for Hong Kong.
Chief Secretary Carrie Lam Cheng Yuet-ngor said she agreed with the march organisers' objective but would not join in, for fear that her presence might overshadow its message.
The Occupy Central movement for democracy vows to paralyse the main business hub if the government fails to deliver an electoral reform package that offers Hongkongers real choices in the 2017 chief executive poll.
In a separate event yesterday, a new group formed by about 10 lawyers suggested small and medium-sized businesses affected by any Occupy sit-in could apply for injunction orders against the protesters.
The group, which calls itself a lawyers' team in aid of SMEs, cited as a precedent the courts' order in 2012 to end an anti-capitalism protest camp that had occupied the open space under HSBC's headquarters for almost a year.
It would advise business owners who felt the need for a similar order, spokesman Dominic Chan Choi-hi said.
"If you keep disturbing me on my doorstep, I have the right to apply for an injunction order," Chan told reporters.
A barrister who was not connected to the group said an injunction was likely to be unnecessary if police could deal with disruptions of public order.
Albert Luk Wai-hung, who has experience in applying for injunction orders, said the group "may have simplified some of the legal concepts involved".
"Anyone can apply for an injunction order. It is indeed an option, but it may not be the best or most effective way," Luk said.
Earlier in the morning, about 60 minibuses showed their objection to the planned democracy sit-in by parking along busy Fa Yuen Street in Mong Kok.
The Public Light Bus General Association said more than 1,000 red minibuses under its ownership would join the action by putting anti-Occupy posters on their vehicles this week.
This article appeared in the South China Morning Post print edition as: Anti-Occupy campaign plans march