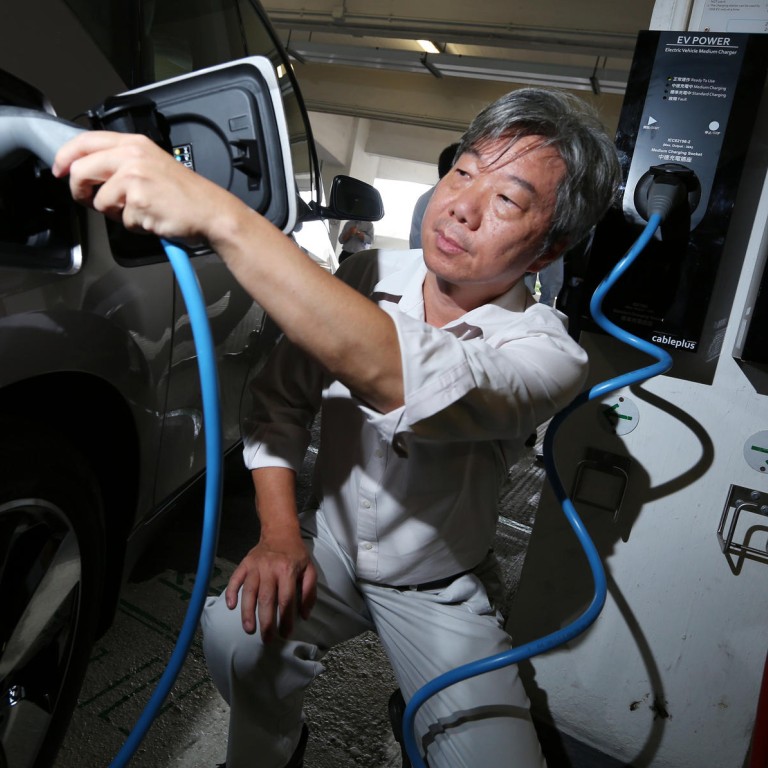 Electric car drivers get 100 new chargers to plug into
Electric vehicle owners will be able to juice up their cars at 100 new medium-charge stations from next month.
Electric vehicle owners will be able to juice up their cars at 100 new medium-charge stations from next month.
They are the first medium chargers to be installed at government car parks and will be available for public use at 16 such facilities across the city.
The new wall-mounted devices can charge newer car models up to 60 per cent faster and older models 20 to 30 per cent faster than standard chargers, said Lo Chun-kong, an engineer with the Electrical and Mechanical Services Department.
"Electric vehicle owners will now be provided with a choice as to whether they need a quicker or slower charge," Lo said.
There are already about 1,000 standard- and 10 quick-charge points in place across the city.
A pre-2014 Nissan Leaf takes five hours for a full charge using a medium charger versus seven hours using a standard one. A 2014 model takes four hours using a medium charger compared to 11 with a standard.
Car park tenants will be able to use the new charging points for free, but that is subject to change, according to the Environmental Protection Department. "Charging at all stations will be free for now. But as to whether users will have to pay in the future, we'll have to see," said principal environmental protection officer Fong Kin-wa.
Fong said charging spots at the car parks would mostly be reserved for electric vehicles unless they were nearing capacity.
Starting this Friday, medium chargers will be available for use at government car parks including City Hall and Star Ferry, Central, Rumsey Street, in Sheung Wan, and the Immigration Tower in Wan Chai. Medium chargers will also be installed at government office car parks including Queensway, in Admiralty, North Point and in Sha Tin.
Each charge box will also include outlets for standard charges.
As of June, there were about 650 electric vehicles on the streets of Hong Kong, up from less than 100 at the end of 2010.
The new facilities, announced by Chief Executive Leung Chun-ying during his policy address in January, have cost the government about HK$1.4 million. Environment officials say the investment is part of ongoing efforts to enhance the city's nascent charging network and to encourage the use of electric vehicles.
This article appeared in the South China Morning Post print edition as: Electric car drivers get 100 new chargers to plug into