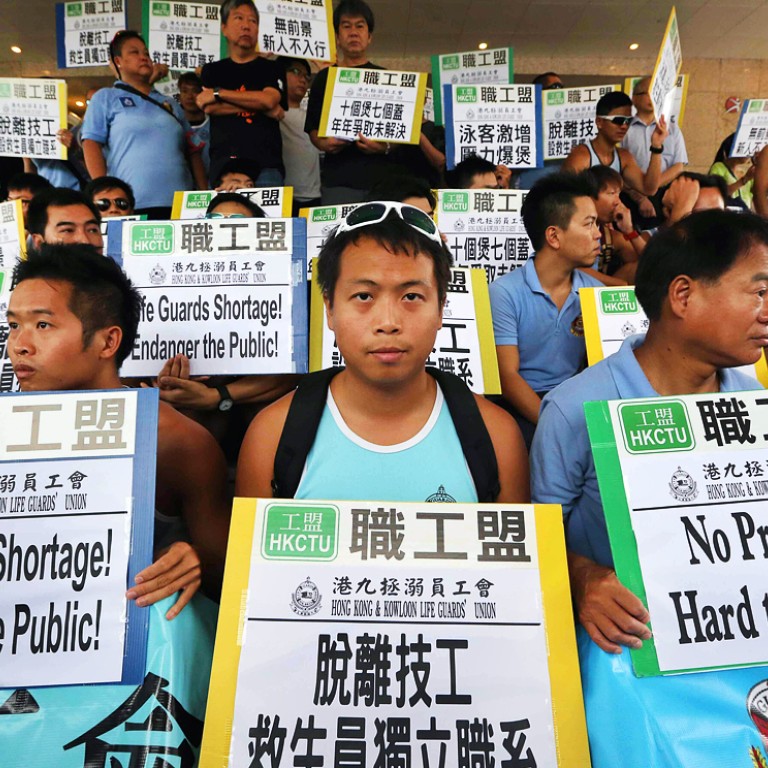 Update

|
Lifeguards in Hong Kong strike over influx of mainland tourists to pools and beaches
Red flag raised at Butterfly Beach and facilities closed at five public pools as about 100 lifeguards strike over a staff shortage and an increased workload
The red flag was hoisted at Butterfly Beach in Tuen Mun and some facilities were closed at five public swimming pools on Tuesday as about 100 lifeguards across the city went on strike.
The lifeguards are protesting a staff shortage and what they say is an increased workload due to an influx of mainland tourists.
Some staged a sit-in at the headquarters of the Leisure and Cultural Services Department in Sha Tin. 
While the public has been advised not to swim at Butterfly Beach due to a lack of lifeguards, the 37 other public beaches are all open.
Some facilities such as toddlers' pools have been closed at Morrison Hill Swimming Pool in Wan Chai, Sham Shui Po Park Swimming Pool in Sham Shui Po, Hammer Hill Road Swimming Pool in Wong Tai Sin, Tuen Mun North West Swimming Pool in Tuen Mun and Shing Mun Valley Swimming Pool in Tsuen Wan.
At Hammer Hill Road, swimmer Ms Lam, 60, said the strike was not affecting her much as most of the pool's facilities remained open. "I support the strike because one needs to fight for one's interest in order to have a fair share in this society," she said.
Alex Kwok Siu-kit, vice-chairman of the Hong Kong and Kowloon Lifeguards' Union, yesterday said the number of lifeguards in the city was cut from 2,400 to 1,580 in 2004. The number went up to 1,900 recently, he said.
"There are about 1,900 lifeguards [now], but don't forget that there have been about 10 more facilities [since 2004]," he said.
Kwok said more mainlanders had come to swim in Hong Kong in recent years, especially after mainland newspaper encouraged them to do so last month.
He added that a friend working at the Kowloon Park Swimming Pool had seen a group of 40 mainland tourists visit the pool on a "swimming tour" last month. "They had a flag that said 'Hong Kong one-day swimming tour'. They came at around 1pm and swam for three hours. There were 40 of them," he said.
Kwok claimed that the problem with mainland tourists using the city's public swimming pools and beaches was that some of them were unhygienic.
Some mainland children would relieve themselves by the pool, he said.
"Hong Kong families usually ask their children to go to the toilet first [before allowing them to enter the pool for a swim]," he said.
Kwok added that it was difficult to draw young people to the job because the starting salary for lifeguards was low, at HK$13,000, and there was a lack of career prospects compared with other jobs.
The starting salary for lifeguards should be increased to HK$17,000, he said.
A spokesman for the Leisure and Cultural Services Department yesterday said 160 lifeguards had been recruited in the past three years. The department had more than 1,930 lifeguards as of August 1, he said.
The spokesman said that if there were not enough lifeguards on duty in some facilities on Tuesday, those who were rostered off could be asked to report for duty today.
"To ensure the safety of swimmers, the department will not rule out closing part of the facilities if there are not enough lifeguards on duty," the spokesman said.
This article appeared in the South China Morning Post print edition as: 'Overworked' lifeguards to go on strike