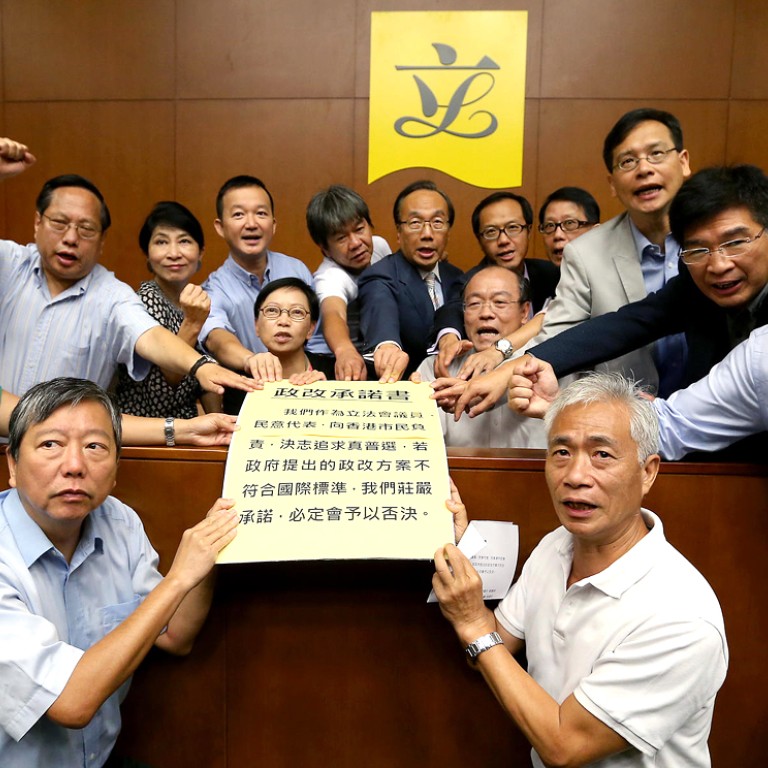 Pan-democrats vow to veto any 'unfair' reform plan
Legislators pledge to reject any proposal that does not grant genuine universal suffrage, but even if it did, they may not accept it either
Twenty-six of the city's 27 pan-democrat lawmakers have vowed to veto any reform proposal for the 2017 chief executive election that does not meet international standards for universal suffrage.
The undertaking was signed yesterday by all pan-democrat lawmakers except independent Raymond Wong Yuk-man.
"We are here to send a clear message to the Hong Kong and Beijing governments that the reform proposal will be vetoed if it imposes unreasonable limitations on the chief executive hopefuls," Labour Party chairman Lee Cheuk-yan said.
But they stopped short of promising to vote as a group - meaning that even if the plan is deemed to meet international standards, lawmakers may still not support it if it fell short of their own expectations.
In order for a reform proposal to be passed in the legislature, it has to have the support of two-thirds of the city's 70 lawmakers - that is, at least 47 votes.
The 43 lawmakers in the pro-establishment camp are four votes short of that figure even if they all vote for the proposal.
The National People's Congress Standing Committee will meet in Beijing next week to discuss Hong Kong's electoral reform, and it is understood that Basic Law Committee chairman Li Fei will visit Hong Kong on August 31 to explain the framework for the second round of public consultation this year.
The pan-democrat lawmakers are pushing for a "three-track model", which would allow not just the nominating committee, but also political parties and the public to nominate hopefuls.
Occupy Central's unofficial referendum in June saw the Alliance for True Democracy's model get the most number of votes.
But the pan-democrats fear the standing committee will rule out allowing political parties and the public to nominate candidates and will require hopefuls to have the support of at least half the nominating committee.
The lawmakers said their oath was a "solemn promise" to Hongkongers that they would not accept a proposal that failed to give voters a genuine choice.
But yesterday there were signs the pan-democrat camp was still split. Some lawmakers continued to insist on public nomination while others were more flexible.
"We are not obliged to vote for the proposal even if it meets international standards," Lee said. "International standards are a minimum … There is still a gap from what we ask for in the 'three-track model'."
The Democratic Party's Albert Ho Chun-yan said his party's bottom line was that hopefuls would not be screened out because of differing political views.
Meanwhile, Occupy Central co-organiser Dr Chan Kin-man said his group would stage the sit-in protest if the Standing Committee required hopefuls to garner support from at least half the nominating committee.
Scholarism and the Federation of Students said they would boycott classes if public nomination was ruled out.
Separately, Ho suggested Beijing consider a system to remove Hong Kong's leader if his behaviour went against national interest. This could strike a balance between Hongkongers' wishes for universal suffrage and Beijing's national security concerns.
This article appeared in the South China Morning Post print edition as: Pan-dems to veto any 'unfair' reform plan