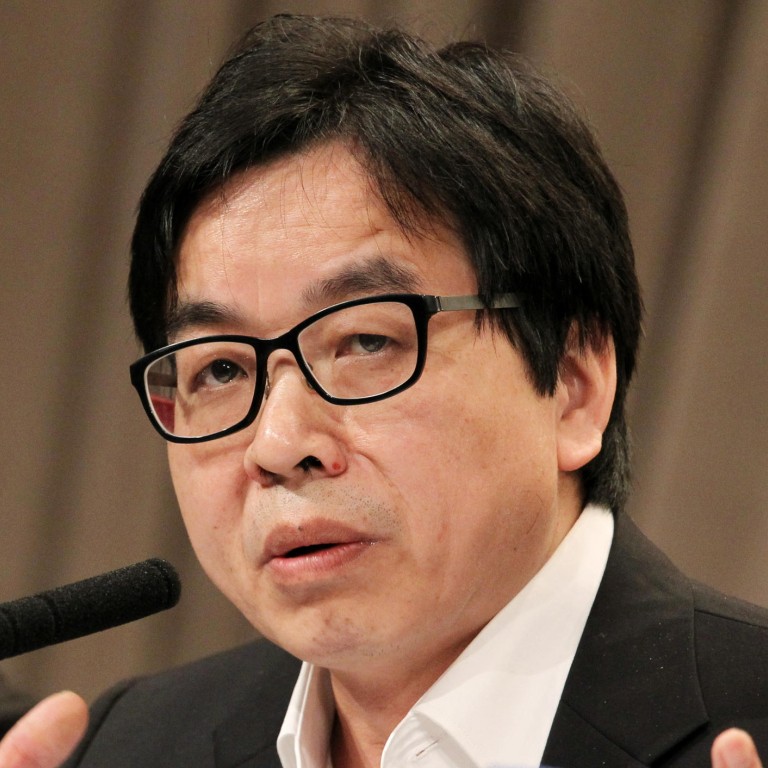 Hong Kong's candidate nominating system out of balance, says Beijing scholar
Beijing academic Chen Duanhong also says more people need to have a stake in choosing committee that will pick candidates for 2017
Hong Kong needs to address an "unreasonable" imbalance in the nominating committee for the 2017 chief executive election, a Beijing legal scholar told the .
Professor Chen Duanhong of Peking University's law school also said there was room for talks on giving more people a stake in choosing the nominating committee.
Chen was speaking ahead of a decision expected today from the National People's Congress Standing Committee on a framework for Hong Kong's 2017 chief executive election, when the city picks its leader by "one person, one vote" for the first time.
The committee is expected to endorse a model under which only two orthree candidates may run for the office after they have secured the support of at least half of a 1,200-member nominating committee.
Sources said the NPC was likely to require the nominating committee to be modelled on the 1,193-person Election Committee that nominated and elected Leung Chun-ying two years ago. That body consists of four sectors - business, professional, social and political - each encompassing several subsectors.
The Election Committee has been criticised as unfair, not least because a small subsector such as agriculture and fisheries elects 60 representatives, while teachers and lawyers choose just 30 representatives each.
All the 70 members of the Legislative Council sit on the Election Committee. And just 250,000 voters from the subsectors choose the rest of the committee members.
Hong Kong's electorate numbers 3.5 million.
On the subsectors' composition, Chen said: "As Hong Kong is such a highly educated society ... ruled by law, it is really quite unreasonable to have so few representatives from the legal and education subsectors."
Chen's comment was in contrast to an answer he gave in June at a public forum in Hong Kong.
During the forum, Civic Party leader Alan Leong Kah-kit asked whether the academic believed the imbalance between subsectors suggested that the city's farmers and fishermen were more important than its lawyers and teachers. Chen replied that he had not studied the Election Committee in detail.
He said the committee's composition "can certainly change. And how to change it is to be discussed … and it would depend on the importance that society places on these" subsectors.
A source warned on Friday that if the wording of the Standing Committee's decision required that the nominating committee's composition follow current provisions, the size of the subsectors could not change.
Chen countered that it would be impossible for the decision to go into that much detail.
Apart from the nominating committee's composition, Chen said Hong Kong should also discuss how to improve voters' participation. While he stopped short of calling for the nominating committee to be elected by all voters, he said more members of the subsectors - such as employees of businesses represented - should have a say.
By the numbers:
10,000 people expected to support civil disobedience movement
20,000 needed to paralyse district, according to SCMP analysis
7,000 police expected to be deployed to handle protesters
58,993 likes on Occupy Central Facebook page
3,802
followers of Occupy Central's Twitter account
@OCLPHK
111,000 attended anti-Occupy protest on August 17, according to police
1.5m signatures collected in month-long petition against Occupy
800,000 votes in unofficial referendum in June by Occupy organisers
HK$3-3.5m cash allegedly donated by Next Media's Jimmy Lai to Occupy
32,000 domestic helpers may be displaced from their Sunday resting spots in Central, based on an estimated 10 per cent of the 320,000 helpers in the city
18 arrested at Chater Road sit-in on July 2, seen by many as a rehearsal for Occupy Central
4 arrested during anti-Occupy Central protest
2 public toilets near Chater Road where Occupy Central may take place
This article appeared in the South China Morning Post print edition as: Nominating system imbalanced: Scholar