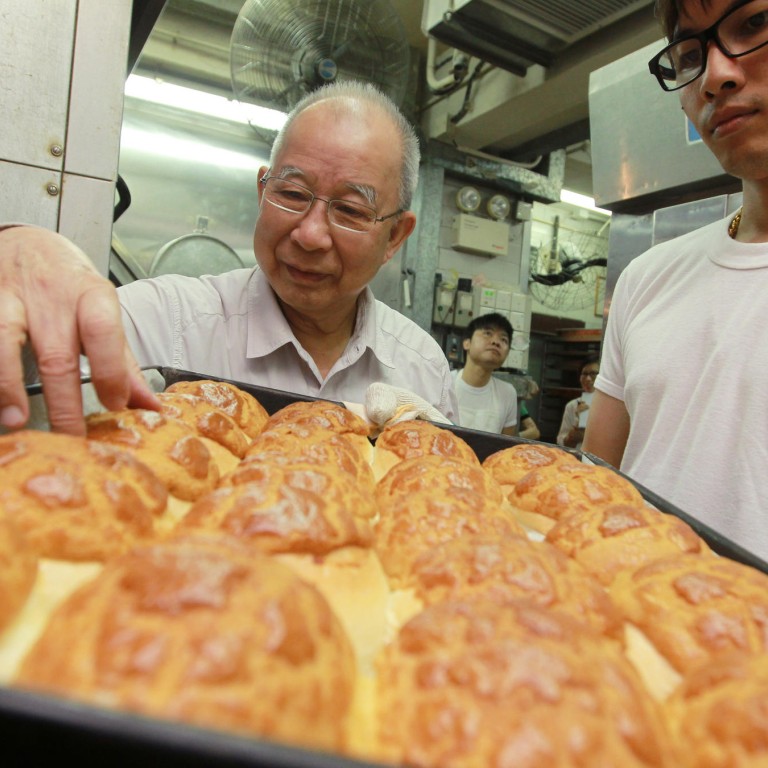 The secrets behind serving up Hong Kong's 'hot cross buns'
Making the popular pineapple buns that are now recognised as part of the city's intangible cultural heritage can take as long as 24 hours
Tse Ching-yuen takes a big bite of a golden crispy-crusted bun, hot from the oven of his historic Tai Tung Bakery.
The fresh pastry the 83-year-old bakery operator is enjoying has been produced daily for more than 70 years now at the shop his father founded in the 1940s.
The technique for making these pineapple buns - so named despite the fact that they contain no pineapple - have been listed as part of Hong Kong's intangible cultural heritage.
An essential part is giving the crust of the sweet pastries - made from four basic ingredients: flour, eggs, oil and sugar - their chequerboard pattern, which resembles the skin of a pineapple.
"The tricks of making a crispy crust but a soft bun depend on the right proportions and quality of the ingredients as well as the right duration of time to let the dough ferment," Tse says.
"It takes as long as 24 hours to make a pineapple bun, from mixing flour to baking."
Watch: Golden, sweet and crumbly, Hong Kong pineapple buns endure for decades
Tse's bakery was one of the proponents of including the technique to make the buns in the list of 480 items of living heritage announced in June.
"We're so glad to see it finally recognised as an intangible cultural heritage," Tse says. "They've been a neighbourhood favourite for decades."
The popular buns were embroiled in a food scare over the weekend when bakery chain operator Maxim's recalled their pineapple buns made using imported oil. Maxim's said the oil was proven safe by the Taiwanese government although its Taiwanese supplier Chang Guann was found to have produced gutter oil, but it recalled the buns anyway for safety reasons.
Tse says his bakery does not source oil from Chang Guann.
Set up in 1943 in what was then a boom time for Yuen Long, Tai Tung is one of the city's few bakeries with such a long history of making pineapple buns. The bakery now produces 1,000 pineapple buns a day, Tse says.
The palm-sized buns are a staple for breakfast or afternoon tea and are usually served with a generous dollop of butter and a cup of Hong Kong-style milk tea or coffee at cha chaan tengs.
"Before we started producing pineapple buns in Hong Kong in the 1940s, there was something similar in Japan," Tse says. "But its ultimate origin is unknown."
In its heyday between the 1940s and '60s, Tai Tung made more than 3,000 buns a day, with two shifts of staff working round the clock. The demand was so brisk that the buns made up about 70 per cent of revenue.
Before the bakery automated in the 1970s, Tse recalls, the production line centred around a waist-deep trough, with about six sweaty workers lined up on each side, making sticky dough round the clock in shifts.
"It was the hardest part of the process, and the most decisive in making a soft bun," says Tse, who took over the bakery from his father in the 1950s.
Sky-rocketing wages in the '70s forced Tai Tung to turn to automation. Its first dough-making machine, installed at HK$60,000, still works today.
"That amount was sufficient to buy a 1,000 sq ft apartment in Yuen Long at that time," he said. "It was a huge investment, but it proved right."
At present, about 85 per cent of the bun is made by machine, while the rest - chiefly the crust - is made by hand, Tse says.
He is trying to automate the remaining 15 per cent by scouting around for machinery in Japan.
Despite the buns' continuing popularity, Tse says, producing them is not very profitable because of rising wages, rents and the cost of ingredients.
"A bun is sold for HK$4.50 now, a price we have held for three years," he says.
"Given continuous inflation, this is no longer a financially sustainable price."
This article appeared in the South China Morning Post print edition as: Secrets behind serving up Hong Kong's 'hot cross buns'