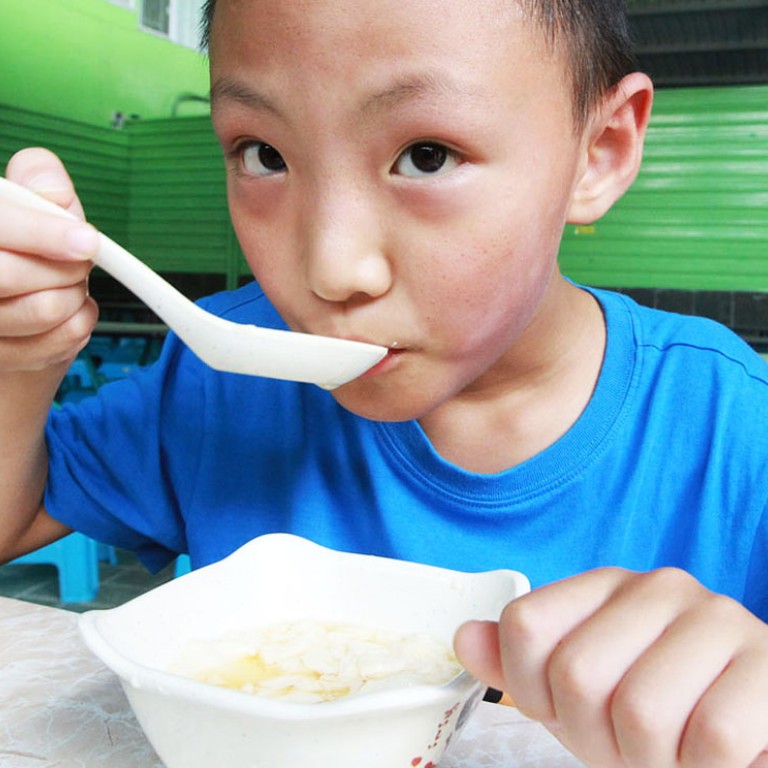 The curds and the way: Why tofu pudding is part of our cultural heritage
Tofu pudding has gone beyond mere dessert to be recognised as part of our cultural heritage
A chef blends soybean milk with a powdery concoction, pouring them simultaneously into a container atop the worn kitchen tiles. He is making tofu pudding and his actions are now considered part of Hong Kong's intangible cultural heritage - with traditional bean curd recipes one of the 480 items on the list.
Bowls of tofu pudding line the counter at the front of the GuGuSoy workshop, in Ho Sheung Heung, Sheung Shui, and mid-morning customers are already tucking in.
GuGuSoy is a bean curd factory and restaurant that specialises in making traditional and sesame-flavoured tofu pudding, or .
Watch: What's white, smooth and yummy, and a Hong Kong favourite?
While machinery is used in the initial process of converting the soybeans into soymilk, the desserts are made by hand, an art that chef James Ng Kwok-him says is disappearing.
"Tofu pudding is one of Hong Kong's number one snacks. Now, in society, some traditional techniques and cultures are disappearing and being replaced by technology. Here, we are preserving traditional methods."
Warm and gelatinous, the traditional tofu pudding tastes sweet but not too syrupy. The texture is smooth and silky, slipping down a treat.
Tofu is believed to have been the brainchild of Liu An, grandson of Emperor Liu Bang, the founder of the Han dynasty in 202BC. It was thought to have been created when Liu went into the mountains in search of immortality … instead, he came back with tofu.
While Liu An died in 122BC, it appeared the immortality of tofu was assured in June when it appeared on Hong Kong's inaugural list of living heritage which the city aims to preserve.
Having worked at the GuGuSoy factory for eight years, Ng has learnt that the perfect tofu pudding is all about precision.
The soybeans are first soaked in water at room temperature - for about five hours in summer and double that in winter. They are then ground using machinery; filtered and boiled at 98 degrees Celsius to make soybean milk. To make sesame-flavoured tofu - a GuGuSoy speciality - sesame paste is added.
To make the dessert, the soybean milk is boiled at around 100 degrees. It is then "thrashed" (blended) against gypsum powder before being left to solidify for about 10 minutes.
"It's like making rice," Ng said, adding that the soybean concentration and grinding process is particularly important.
According to Ng, "thrashing" the soybean milk and the gypsum powder concoction together by hand makes the tofu dessert silkier.
"Tofu dessert is a healthy and delicious food - it is organic, has beautifying properties … and the fibre content is high," Ng said.
Although the factory and restaurant is famous for its pudding, the dessert itself contributes nothing to the profits, said Ruby Cheng Mei-chong, GuGuSoy's manager. The factory opened in 2005 and added the tofu pudding restaurant in 2012, while continuing to wholesale its soy milk, soya sauce and various other tofu products.
Cheng said the company's traditional methods have helped it stave off the competition. "We don't add anything artificial. Hong Kong people are all about being healthy," said Cheng.
She says the restaurant serves more than 100 customers every day, and draws tourists, local residents, or cyclists enjoying the Sheung Shui countryside.
Peter Tam Ka-tsun, 19, is one of the cyclists who finds himself dropping by once every few weeks. "Nowadays it's hard to find tofu made by hand," Tam said. "This pudding should represent Hong Kong - it's important to the Hong Kong people."