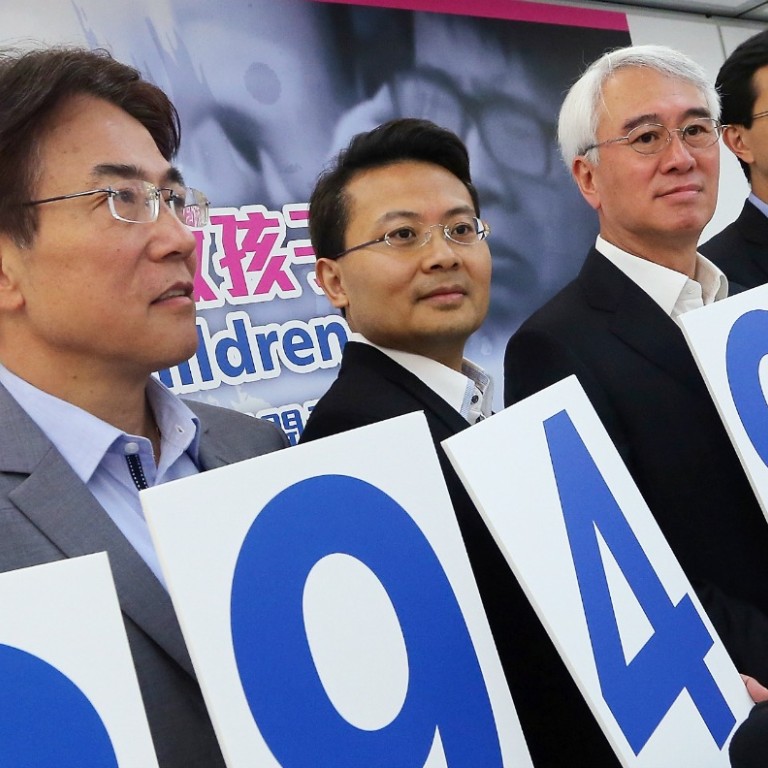 Pro-Beijing activist compares organisers of student strikes to 'triad gangs'
A member of the anti-Occupy alliance has likened people organising student strikes in support of universal suffrage to triad gangs.
A member of the anti-Occupy alliance has likened people organising student strikes in support of universal suffrage to triad gangs.
"There is no difference from triad gangs if the class boycott campaigners incite students to participate in 'wave after wave' of protests and eventually get involved in illegal acts," union leader Wong Kwan-yu said.
He was referring to the Occupy Central civil disobedience campaign that is set to follow the student strikes.
Speaking on a radio show yesterday, the member of the pro-Beijing Alliance for Peace and Democracy also acknowledged that a hotline set up to expose class boycotts was intended to put pressure on schools.
The alliance said on Monday it had set up the "whistle-blower" hotline for the public to report on class boycotts in secondary schools.
Educators, meanwhile, received an unlikely ally in their heated opposition to the hotline.
Beijing-loyalist lawmaker and school supervisor Lam Tai-fai said it would heap pressure on teachers and pupils while doing nothing to narrow the differences over political reform.
"It would be unwise for the alliance to employ extreme methods in response to class boycotts. This would only worsen the relationship between students and government and deepen their contradictions."
Wong, president of the Hong Kong Federation of Education Workers, denied the alliance was creating "white terror" - a term associated with political repression - in secondary schools, but admitted: "We want to put pressure on schools to solve [class boycotts] within the campus."
Students say they will stage a week-long boycott of classes from September 22.
Occupy activists plan to stage a mass sit-in on the streets of Central in protest after Beijing ruled out an open election for the chief executive in 2017.
The alliance revised its hotline system last night, saying it would make school names public only when teachers or principals advocated class boycotts.
The school's principal, its parent-teacher association and the Education Bureau would be informed when there were reports involving "organised and substantial class boycotts". Reports involving individual students would not be handled.
Joshua Wong Chi-fung, convenor of student group Scholarism, described the revised system as a "farce" and said the alliance had bowed to pressure from educators and its own members.
"The school administrators should know best what is happening on the campus. Why do they need the alliance to inform them?" Wong said. "It's still an insult to the education sector."
He said class boycotts were not illegal and insisted that organisers of class boycotts were not mobilising underage students to join Occupy Central.
This article appeared in the South China Morning Post print edition as: Class boycott students compared to triad gangs