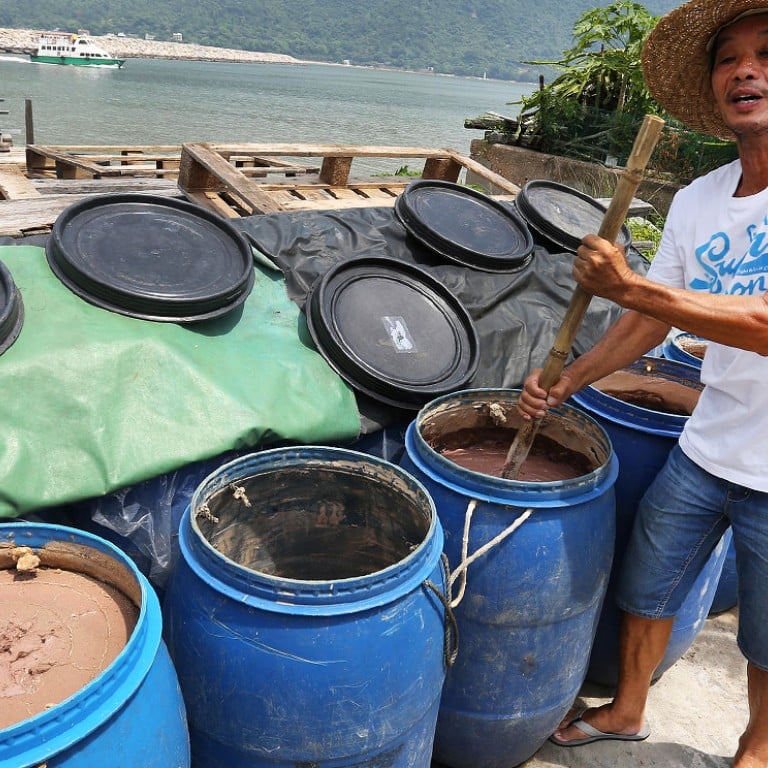 Tai O is losing its taste for century-old shrimp paste flavour
Tai O is known worldwide for the quality of its shrimp paste, but the processing of the salt-rich additive is slowly becoming a part of history
If a smell can represent a culture, the salty fragrance of shrimp paste is undoubtedly the signature aroma of old Tai O.
It has permeated the Lantau fishing village for a century but today, like the traditional identity of the inhabitants and their community, it is fading.
"In the 1960s, there were about 10 shrimp paste factories in Tai O. Now, only two remain," said Cheng Kai-keung, 59, who started working in his family's factory as a child.
Even as the craft disappears from fishing communities across the city, steps are being taken to preserve at least its memory.
Shrimp paste making was officially recognised as a cultural asset in June when the government announced its first intangible cultural heritage list of 480 items.
But locally made shrimp paste has become a part of history. Scenes of residents making shrimp paste began to disappear from Peng Chau, Aberdeen, Cheung Chau, Lamma and Ma Wan from the 1970s.
Tai O joined the list when the outlawing of trawling last year cut off the supply of shrimp from Hong Kong waters.
"Between June and October, we would buy enough silver shrimp from local fishermen to provide stock for the whole year," recalled Cheng, who runs the Cheng Cheung Hing Shrimp Paste Factory founded by his great-grandfather in 1920.
To survive under the new law, Cheng moved his production line to the Guangdong cities of Yangjiang and Taishan , leaving only the final processing steps for himself and his wife at the family's Tai O factory.
Shrimp paste is used in east and southeast Asian cooking to add flavour, colour and smell to dishes. Cheng said Tai O shrimp paste gained its reputation among overseas Chinese because of Hong Kong's privileged position in trade compared with China in the 1950s to 1970s.
In response to demand, Tai O shrimp paste makers started to export their product to London and San Francisco in the 1950s.
Shrimp meat and salt are the only two ingredients of shrimp paste, and the process of making the mixture fine and smooth and drying it under the sun is crucial to the quality, he said.
"You need to use your eyes, hands and nose to interact with shrimp paste. If anything goes wrong it will make the taste a bit different, and an experienced shrimp paste maker can immediately tell from the smell. It takes many years to completely master the skills."
Humidity and the amount of sunlight are key to the drying process. Producers adjust the salt level according to the weather.
"The wrong amount of salt will ruin the quality of the paste," Cheung says. In fine weather, 100 catties [about 60.4kg] of shrimp can make 60 catties of paste. In bad weather, it can make only 50 to 55 catties. If the weather forecast is for rain, makers add two to three catties of salt to prevent the meat deteriorating.
"Then this lot of saltier mixture will be blended with another lot made in good weather so that the taste will be balanced," he said.
Although the industry is a traditional one, Cheng said his family business had relied on continuous improvement to suit changing market needs. For example, today's paste is less salty than the products of his grandfather's generation because of modern health concerns.
"In the mid- to late 1990s, people were alarmed by medical reports that consuming too much salt could cause health problems. So we adjusted our recipe."
Before the 1960s there was no electricity in Tai O so the family had to grind shrimp meat manually. "But once the power supply reached us, my father bought machines for that process. This halved the grinding time and made the mixture smoother."
Traditional skills and constant adaptation to changes in society have sustained the business until now. But Cheng is pessimistic about its future.
"I can't see the next generation carrying on with this production process. Our industry has all along been run on an apprenticeship basis. If no one in the family is willing to take up the trade, then it will just stop there," he said.
Cheng said he would not ask his three daughters, aged 13, 10 and four, to take over the business. He said he did not mind passing on the skills to outsiders, but it was hard to find anyone who wanted to learn.
"No one is willing to join the trade … It's a tough job."
This article appeared in the South China Morning Post print edition as: Village losing its taste for century-old flavour