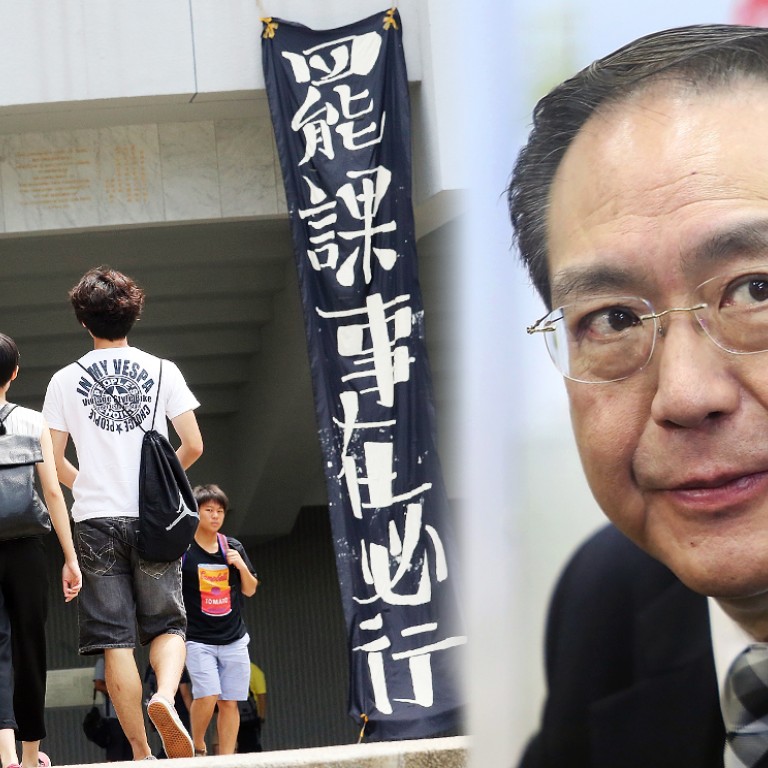 Student boycott - who cares? Arthur Li fires another salvo at Occupy Central movement
Exco member follows up call for students to quit study altogether with indirect blast at Benny Tai
Executive Council member Professor Arthur Li Kwok-cheung followed up his call for prodemocracy students to quit their studies by accusing a co-founder of Occupy Central of "crazy" and "paradoxical" behaviour.
The former education minister caused anger on Monday by urging students planning a week-long class boycott to make a bigger "sacrifice" - by giving up their education altogether. He also compared them to the Cultural Revolution's Red Guards.
Li yesterday said boycotts were not a constructive way to fight for democracy, and questioned the motives behind the Occupy plan to block roads in the heart of the city in opposition to Beijing's restrictive framework for elections in Hong Kong.
"You say the rule of law in Hong Kong is important, but you are now, as a professor of law, advocating that people break the law," Li said, without naming anyone. "It is completely paradoxical. It is crazy."
His comments were taken as a reference to Benny Tai Yiu-ting, an Occupy co-founder and associate professor of law at the University of Hong Kong.
Had he still been teaching, Li said, he would be "very happy to get a day off" for a student boycott, adding: "Basically you [students] are saying 'I am not going to class.' But who cares?"
The student union at Chinese University issued an open letter earlier this week, telling Li: "We are fortunate that you are not our vice chancellor now." He led the institution for six years before becoming education chief in 2002.
Li dubbed the letter an emotional reaction and, despite saying he would not "argue with kids", he pointed out what he said were several errors in the letter.
The students should not address him as "Mr", Li said, because he was an emeritus professor. They were also wrong to criticise him over Exco's decision to deny a free-to-air licence to Hong Kong Television Network last year as he was not involved.
The present vice chancellor, Professor Joseph Sung Jao-yiu, said he would not encourage students to give up their education. Those joining the boycott would make a sacrifice "as they would miss … learning opportunities".
Tommy Cheung Sau-yin, president of the student union, expects more than 2,000 students to join the first day of the week-long boycott on Monday.
This article appeared in the South China Morning Post print edition as: Arthur Li brands Occupy leader crazy and illogical