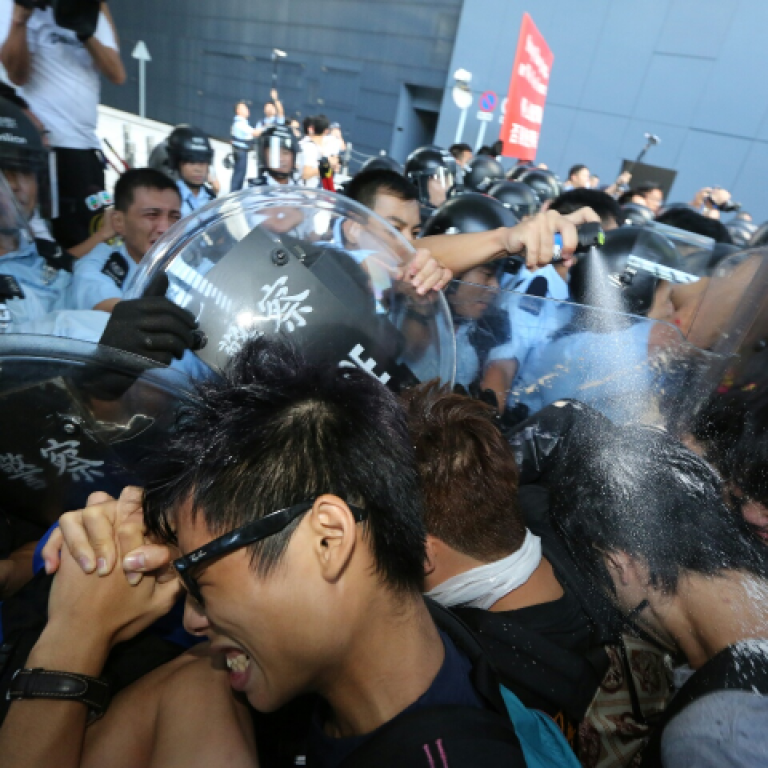 Occupy Central won't start early, says Benny Tai, after student clashes with police leave dozens injured
Officers clash with protesters in Admiralty in the early hours of Saturday; police say more than a dozen arrests made since Friday night
Occupy Central co-founder Benny Tai Yiu-ting refused to launch the civil disobedience movement earlier than scheduled after student protesters called for immediate action following a night of clashes with police at government headquarters which saw dozens injured.
Riot police clashed with hundreds of protesters outside government headquarters in Admiralty in the early hours of Saturday, after students had earlier stormed the building's forecourt, known as "Civic Square".
"Different people have different views. Some people want it to come earlier, but some people want to stick to schedule. After consideration, we will not be press ahead earlier than scheduled," he said.
Watch: Riot police deployed after Hong Kong students storm Civic Square
Occupy Central is expected to be launched on National Day, October 1, after Tai this week spoke of "a grand banquet" in Central while others were marking "the big day".
Tai said he will stay at Tamar until the last moment, even if that means he gets arrested by the police if officers clear the area. And if he gets arrested, the civil disobedience programme will still go ahead because they have a well-thought out plan.
He also said he does not plan to move the Occupy Central venue to Tamar at this stage.
Students earlier chanted "Occupy Central now!" and "How can you face the students now otherwise!" as Benny Tai Yiu-ting and Occupy Central co-founder Dr Chan Kin-man addressed them at around 10am.
Tai only responded to the calls by saying: "We will stay here until the last moment."
"Students have led us back to the Civic Square, the place that belongs to the people. Today we are here to protect the students," Tai said.
"The students were restrained yesterday. But the police have used too much force. We condemn that."
A statement from Occupy Central said the clashes and chaos last night were triggered by the government as it refused to listen to people and ruled out genuine democracy in Hong Kong.
It added that students did not intend to resort to violence or to hurt anyone during their demonstration.
Large numbers of non-uniformed police entered Civic Square at 11.40am with clipboards, video and camera equipment along with uniformed officers in riot gear.
Protestors stood up and demanded that police allow them to go to the bathroom.
Winnie Cheng, a year-two student at the Institute of Education, said she and two other protesters were told by the police they can leave Civic Square to go to toilet and then get back in. But officers broke their promise and did not let them back in, she said.
"The men used plastic bottles to relieve themselves and the women used plastic bags inside Civic Square," Cheng said, accusing police of breaking their promise.
Right before noon, the protesters at Tim Mei Road chanted slogans to demands the reopening of Civic Square. Some pan-democratic lawmakers had been denied entry to the Legco Complex.
Meanwhile, civic party's former lawmakers Audrey Eu Yuet-mee and Tanya Chan arrived to show support to the students.
Eu said police had stripped the basic human rights of the protesting students - who have been denied rights of going to toilet and access to water.
Eric Cheung Tat-Ming, a member of the Independent Police Complaints Council, was observing the situation in a personal capacity. He declined to comment whether police had breached any regulations. He said the IPCC could only investigate when formal complaints had been made.
Protest organisers warned that police may soon dismantle their stage after several officers with video camers came to the main stage. Two dozens protestors held up their umbrellas to stop them from doing so. The officers then retreated a little bit backward.
A fresh round of clashes broke out between police officers and protesters at around 7.20am on Saturday, after officers armed with helmets and shields forced their way out of the government headquarters to clear demonstrators staging a sit-in on Tim Mei Avenue.
Police used pepper spray on protesters and many appeared to be hit in the face. Some protesters were seen throwing back plastic bottles at officers.
This followed several clashes between riot police and demonstrators in the early hours of Saturday morning, after students stormed Civic Square on Friday night. 
Emily Lau Wai-hing chairwoman of the Democratic Party, said the clashes would not have happened if Chief Executive Leung Chun-ying was willing to talk to the students.
Lau said at Tamar that police needs to exercise maximum restrain.
The chaotic scenes marked the end of the week-long student strike as about 200 protesters broke into the forecourt shortly before 10.30pm on Friday.
By 7am, thousands of students and their supporters were still occupying Tim Mei Avenue and showing no signs that they would leave. Scores of police officers were also guarding the exit to Harcourt Road.
During previous clashes, many protesters held up umbrellas to protect themselves against pepper spray and called on the police to stand down.
"I'm tired and scared but I can't leave. I have to stay with them [people inside Civic Square]." Mandy Li, a third-year university student who joined the class strike at 2pm on Friday, said. "Our next step will depend on the police action."
Around 50 protesters, meanwhile remained inside the podium of the Civic Square and were surrounded by metal barricades. Some were released earlier after officers collected their personal details.
During the final rally of the pro-democracy class boycott, some students forced their way into the forecourt through an unlocked gate while others scaled security fences, as police appeared to be caught by surprise. 
In a statement the government expressed "regret" that protesters had forced their way into Civic Square. 
As of 7.30am, a total of 13 protesters aged 16 to 35 had been arrested, including two boys aged 16 and 17, said police superintendent Steve Hui Chun-tak.
They were arrested for forcible entry to government premises, disorderly conduct, assaulting police officers, obstructing police and common assault, said the police spokesman.
Four police officers were injured, including one who suffered a 10cm wound by an umbrella, said Hui. Eleven security staff at the Legco building were also injured.
"Police strongly condemn the violence of protesters, and urge them to leave the site as soon as possible in an orderly way."
Hui said police.would make a decision about when to clear the protesters after an assessment at the scene. "We would act at the right time," he said.
He said police had enough manpower and could deploy more officers if needed. He also rejected claims that officers had applied excessive force.
"Police are using suitable and necessary force aiming at restoring social order as soon as possible," he said.
Joshua Wong Chi-fung of the student activist group Scholarism was dragged away by police in handcuffs after the initial storming of the forecourt, according to Yvonne Leung Lai-kwok, president of the University of Hong Kong's students' union.
Leung said several members of the Federation of Students, the organisers of the class boycott, were inside the square, including student leaders Alex Chow Yong-kang and Lester Shum. Activist Willis Ho was also handcuffed and taken away by police, Leung said.  
Speaking on the telephone at 11.20am, Chow said protesters inside the gate have been denied the basic rights of having water or going to the toilet in the past 12 hours since they broke into the civil square.
Lawmaker "Long Hair" Leung Kwok-hung was among the group that broke into the forecourt, according to the federation.
The federation urged protesters to join the sit-in throughout the morning in a statement released at 8am, but said because the situation had gotten out of control, people should decide whether to stay or not.
The federation said that 4,000 people marched to Government House on Friday night. "It's obvious that Hongkongers are more willing to join acts of civil disobedience," the statement said
Rushing into Civic Square was to "take back what belongs to the people", which the government had put gates around because they were scared, the statement read.
"Violence is not necessary in clearing protestors," the statement added, as there were no safety issues.
The actions of police in attempting to clear the protesters showed that the city's leaders have no interest in engaging in dialogue with students, the federation added, saying that around 2,000 students remained at the scene at 9am.
Many of the demonstrators inside the square had been allowed to leave early on Saturday morning after their personal details were taken.
Earlier, students chanted "Open the gates" as they stormed the forecourt, a popular protest spot that the government limited access to in July. Three-metre fences had been erected around the square and access was prohibited at night as part of new security regulations. 
Under the new rules, protests were limited to Sundays and public holidays, and only with the permission of building management.
After a chaotic period during which police struggled to stop the flow of students into the forecourt, officers managed to restore a wide security cordon around the area late on Friday night. Several dozen students huddled inside the square, surrounded by a ring of police officers. 
Many hundreds of protesters gathered outside the square behind the wider cordon chanting "Shame on the police". Police said more than 5,000 people had gathered outside Civic Square at the rally's peak. 
As police reinforcements attempted to enter the square, protesters outside appeared to deliberately block their way, prompting officers to use pepper spray again.
Paramedics entered the area amid reports that several people had been injured. A protester, a police officer and at least two others were stretchered away, with the crowds outside the cordon parting to clear a path to waiting ambulances. 
Chaplin assistant Vicky Shiu,45, said protesters were not notified before they were sprayed at around 7.30am
"This is the first time I got sprayed," she said, with red eyes and a wet t-shirt. "I think [the police] have gone crazy."
Shiu said she would stay at the protest despite the discomfort.
One of those being taken to hospital was said to have complained of heart problems.
Some protesters compalined that police used excessive force. 
Student Vinci Yim, 22, Yim was one of the many doused with pepper spray at the entrance of the Legislatve Council car park entrance at around 7.30am.
She said she was sprayed in the face with pepper spray two or three times by police before she was dragged almost 50 metres, then pushed and kicked by policemen.
"I just said 'we are just students, what have we done wrong to have you treat us like this?' Then they sprayed me straight in the face," she said, showing red and angry bruises on her upper arms and swollen ankles. "I had my hands up and was not running."
Students have been on strike since Monday to protest Beijing's decision last month to rule out an open election of the chief executive in 2017. Student leaders had called on Chief Executive Leung Chun-ying to meet them for talks on the city's political reform, marching on Thursday night to Leung's official residence in Central.
But Leung refused, and the federation had announced its intention to step up a campaign of civil disobedience.  
"The ambush action was to show the injustice," Yvonne Leung said on Friday night. "Leung Chun-ying has failed to respond to us in the 48-hour deadline we gave. Civic Square belongs to the people and we have to seize it back."
The storming of the square was planned by the federation and Scholarism jointly, Yvonne Leung said, but was not intended to mark the beginning of Occupy Central. The pro-democracy Occupy movement is expected to rally thousands of supporters to blockade streets in Central next Wednesday, National Day. 
Yvonne Leung called on the public to come to the square to show support "so that the occupation can last".
Meanwhile, a counter-demonstration to show support for the National People's Congress Standing Committee's decision on electoral reform drew about 80 supporters to Tamar Park on Saturday morning. The event was organised by the Guangxi, Kowloon and Fujian social groups.
Most attendees were aged 45 or older, according to a South China Morning Post reporter at the event.
Reporting by Phila Siu, Peter So, Jennifer Ngo, Joyce Ng, Amy Nip, Jeffie Lam, Timmy Sung, Danny Mok, Alice Woodhouse