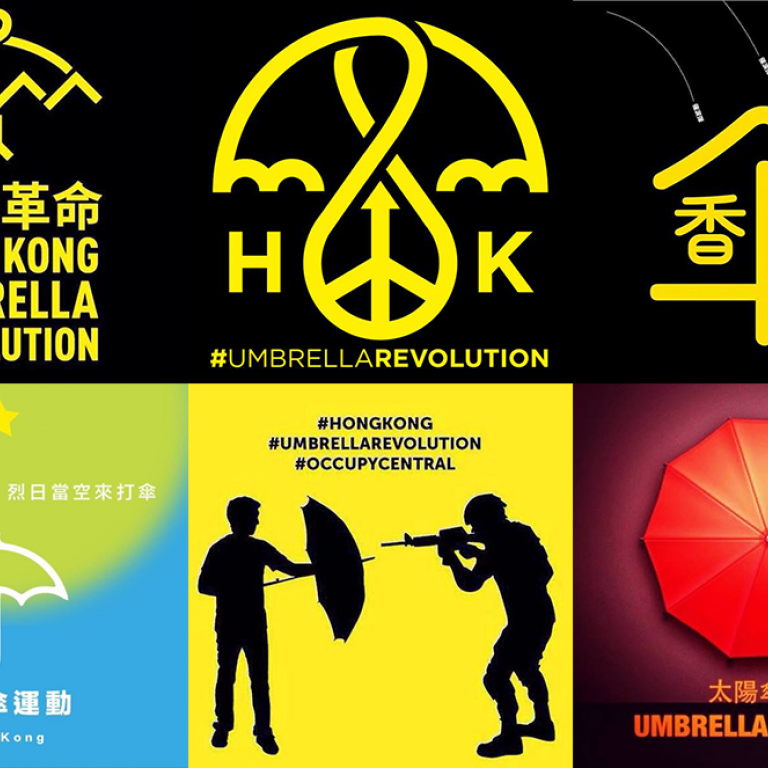 Update

|
Umbrella Revolution: more designs on Hong Kong's protest movement
Through tear gas and the sweltering sun, umbrellas have been an indispensable tool for Occupy Central -- and have become a new symbol of protest in the push for Hong Kong democracy.
Through tear gas and the sweltering sun, umbrellas have been an indispensable tool for Occupy Central protesters in the streets -- becoming a new symbol of protest for a more democratic Hong Kong.
As the civil disobedience movement entered a second day on Monday, logos for the "umbrella revolution" or "umbrella movement" began spreading on social media. 
Kacey Wong, an artist and assistant professor at Polytechnic University, shared images of an umbrella in fiery red-orange, from the Resident Evil films, in an attempt to inspire other artists to come up with designs.
Another logo shared by netizen Ger Choi showed the outline of a white umbrella, above which hovered a yellow star in a halo of green and blue.
Angelo Costadimas, a Hong Kong-based artist, filmmaker and educator, envisioned a man holding up two umbrellas standing against a yellow banner in his design for "Umbrella Revolution".
Costadimas said he was inspired by a media photo depicting a sole figure standing in the midst of tear gas clouds holding two umbrellas in a defiant way.
"That act of defiance reminded me of the Tiananmen Square 1989 'Tank Man', and I felt that the umbrella and the defiant pose was very symbolic and iconic in the same way tank man was," said Costadimas, who has been calling Hong Kong home for over a decade.
He said the yellow colour came from the yellow ribbons the students have been using as a symbol of democracy. They tied hundreds of ribbons to the gates of the government headquarters in Admiralty.
Costamidas said Hongkongers have their unique identity that differed themselves from mainland Chinese.
"The question of universal suffrage is without a doubt the most serious political concern anyone in HK ought to have. I am so proud of the younger generation of students and their accomplishment here. A true civil disobedience movement and completely peaceful," he said.
Meanwhile, artist Tania Willis created a colourful Umbrella Movement artwork showing a girl in yellow, holding an umbrella against a cascade of stars, from a cloud that looks like the Chinese national flag.
She tweeted along with the photo: "#HKArtists supporting peaceful #OccupyHK demonstrators for univeral suffrage. HK protesters are heroes."
Another logo, whose designer is as yet unknown, underscored the peaceful element of the Occupy movement, which protesters have strained to follow even despite repeated attacks from police, who employed pepper spray, tear gas and baton charges on Sunday. One designer riffed on the Zack Snyder blockbuster 300, swapping out the Spartan warriors' shields for umbrelllas. More logos and riffs on the movement have been being shared on social media since Sunday evening. 
Not all #UmbrellaRevolution works are digital in nature, a number of paintings were shared on Twitter, including one of protesters flying on their umbrellas to heaven. 
Riot police and other officers were seen charging at the crowds and confiscating or stomping on umbrellas. On Harcourt Road, demonstrators quickly resupplied the front lines with more umbrellas by passing them forward from crowds at the back.
The crowds would scatter briefly then regroup again, refusing to back down in the rally that last all night.
Protest leaders had repeatedly reminded the protesters to raise their hands in confrontations with police, as a sign that they do not intend to attack.
With additional reporting from Staff Reporter