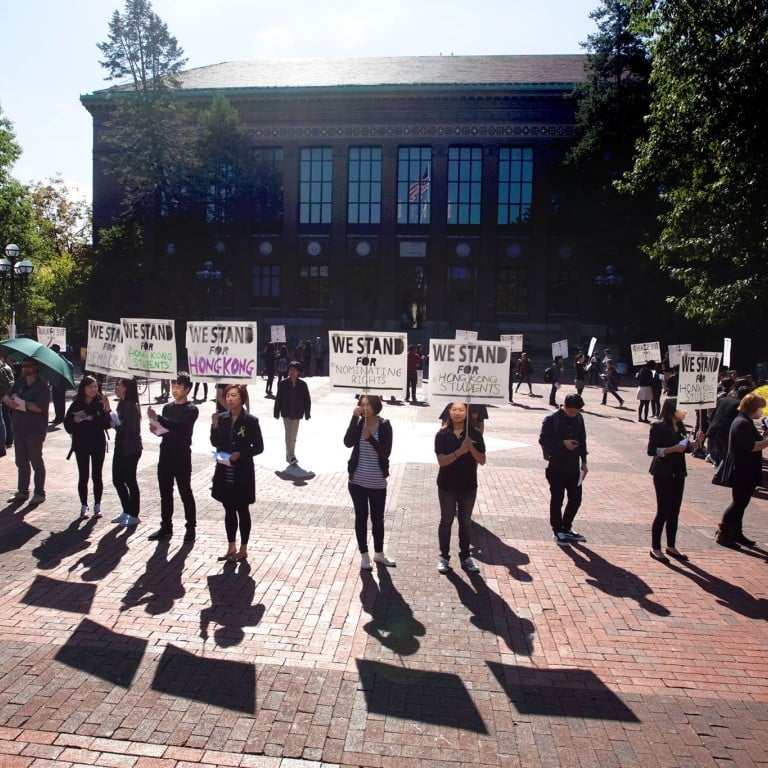 New
Dozens of US universities stage rallies in support of Hong Kong's protesting students
Events were held on dozens of university and college campuses across North America on October 1st in support of pro-democracy protesters in Hong Kong.
Protests entered their fifth day in the city on Thursday, and demonstrators have vowed to escalate the protests and begin occupying government buildings if chief executive Leung Chun-ying does not resign by the end of the day. 
"Never before have we seen students protesting on such a large scale [in Hong Kong], especially with such a violent police response," said Leung Yuen-tong, a 19-year-old Hong Kong resident studying at Tufts University who organised an event in Boston. "[We want] to show our support for the students...encourage all sides to remain peaceful."
More than 37,000 people signed up to take part in events on around 42 different campuses across the US and Canada, with many students organising rallies at their respective colleges through a Facebook event called "
Wear Yellow for Hong Kong on October 1st
," launched by students at Harvard University.
Heather Pickerell, a Harvard student from Hong Kong who created the event, said that she was surprised and proud of the way students quickly mobilised across the nation. She hoped that the demonstrations can help raise awareness in the US and help protect protesters in Hong Kong from forceful retaliation.
"I think the bottom line is that a lot of people don't know what's going on," Pickerell said. "International scrutiny plays a big role in pressuring the Hong Kong government to stand up to the Mainland."
"The goal of the movement was achieved in that many more students are now more aware of the motivations behind [the] pro-democracy protests and want to continue to learn more and talk more about it. We had undergraduates, graduates and faculty member show up today," said Christina Wong, a Yale University student who helped organise the 'Wear Yellow' event with Pickerell. "However, our work is not done. In the future, I hope to bring together more students and foster an environment, where students are interested in the past and future of Hong Kong."
In Boston, student organisers from colleges in the area held an open candlelight gathering at Boston Common, a public park, before marching to the Massachusetts State House where they tied yellow ribbons to the fence outside. Approximately 500 to 600 people participated, including students from more than ten colleges in New England.
According to Jessica Weiss, assistant professor of Political Science at Yale University, while such rallies illustrate the power of the Occupy Central movement and its message, they may also be a "double-edged sword."
Beijing has sought to delegitimize the Hong Kong movement by claiming it is being manipulated by foreign governments and overseas supporters are often cited as an example of this, Weiss said.
"There are real questions as to whether international pressure on China and the Hong Kong SAR government will be productive or counterproductive," Weiss said, though she added that she doubts the Chinese government will use violent means to quell the protests after heavy-handed policing on Sunday spurred the UK and US governments to voice concerns.
Boston organisers stressed that because participants hold differing stances on pro-democracy issues, their demonstration is "not explicitly political" and instead focuses on raising awareness and supporting protesters.
Li Hai Ning, a 25-year-old US graduate student from Mainland China, took part in the Boston Common rally because he felt it was important to support the Hong Kong democracy movement.
"I want to do something – I think what I do and what Hongkongers do is meaningful both for themselves and for China," said Li, who came to the US one month ago. "I want to advance the Chinese democratic process on the mainland although it is very hard. Many of us in [China], we do not have enough information for this protest ... and many do not really understand the meaning of democracy."
In New York, students and democracy activists held a rally at Times Square and a candlelight vigil at Central Park. Meanwhile, supporters in Washington DC gathered at the Hong Kong Economic and Trade Office, while those in Houston rallied outside the Consulate-General of the People's Republic of China.
Additional reporting by James Griffiths