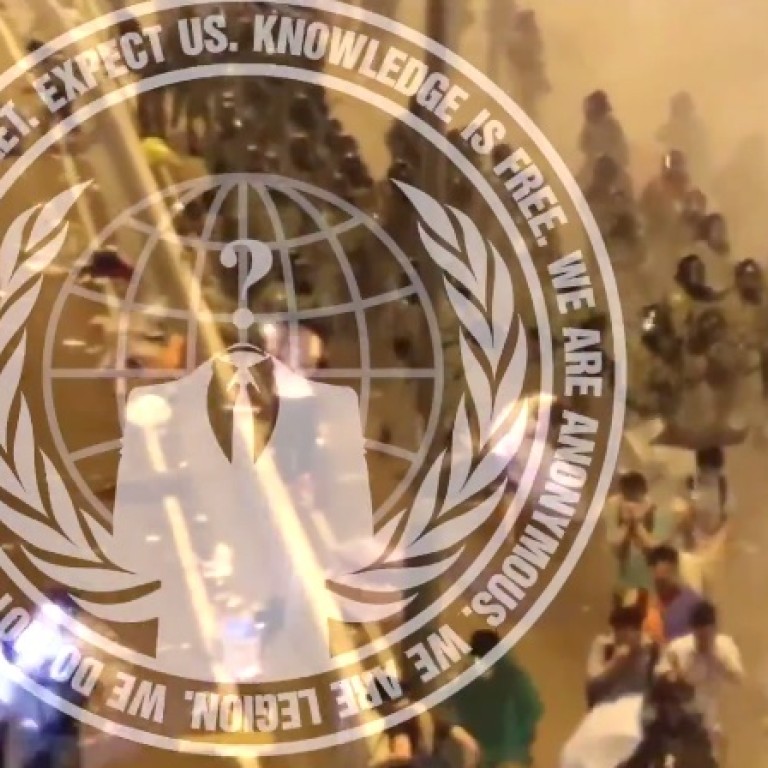 'Anonymous' hacker group declares cyber war on Hong Kong government, police
Citing mistreatment against Occupy Central protesters, the self-styled 'hacktivist' group threatens to disrupt Hong Kong government websites
Hacker group Anonymous has declared war on the Hong Kong government and hacked into a number of Hong Kong websites, citing the treatment of protesters during Occupy Central as the main impetus for the attack.
In a video sent to American news portal
News2share
on Wednesday, Anonymous compares the tear gas and pepper spray used by Hong Kong riot police on Occupy Central protesters to American police tactics used in Ferguson, Missouri earlier this year.
The group also threatens to disclose personal information and deface multiple Hong Kong websites over the coming days. Due to the nebulous nature of Anonymous, it is almost impossible to verify the extent of the attacks and the locations and identities of the hackers behind them. 
Watch: Anonymous declares cyber warfare on Hong Kong (via News2share)
The full transcript of the video is as follows: 
Greetings, world. We are Anonymous.

It has come to our attention that recent tactics used against peaceful protesters here in the United States have found their way to Hong Kong. To the protesters in Hong Kong, we have heard your plea for help. Take heart and take to your streets. You are not alone in this fight. Anonymous members all over the world stand with you, and will help in your fight for democracy.

To the Hong Kong police and any others that are called to the protests, we are watching you very closely and have already begun to wage war on you for your inhumane actions against your own citizens. If you continue to abuse, harass or harm protesters, we will continue to deface and take every web-based asset of your government off line. That Is not a threat. It is a promise.

Attacking protesters will result in releasing personal information of all of your government officials. We will seize all your databases and e-mail pools and dump them on the Internet. This is your first and only warning. The time has come for democracy for the citizens of Hong Kong. The line has been drawn in the sand. The police are to protect, not trample on, the freedoms and democracy of their citizens. Until justice prevails, hack and protest will replace it. The cause of security and democracy will be grounds for the assault on your virtual infrastructure. Take this opportunity to stand down while we give it to you, or it will get a lot worse.

Operation Hong Kong engaged. We are Anonymous. We are legion. We do not forgive. We do not forget. Government of Hong Kong, expect us.
A quick look at the websites hacked by Anonymous shows garbled homepages complete with blaring music, pictures of the group's logo and a block of text which reads: "We Are Sick And Tired Of your Bullsh*t! This is Operation HongKong. We Will Not Stop. We Will Not Give Up! Youve Pissed All The Anons Off #SaveHongKong #OpHongKong #Anonymous# #Hacked"
Despite these vehement threats, the hacks thus far appear to be not on government websites but rather small organisations - including an Autism Partnership site - registered with a .hk domain name.
Ironically, at least one of the sites, owned by Nantong Jiehao Machine Equipment, features simplified Chinese and appears to be based in mainland China, despite the .hk registration.
News of Anonymous' hack attack has been slowly spreading on Twitter, with several accounts associated with the group either tweeting messages related to Hong Kong or spreading news of the attack via the #OpHK hashtag.
Anonymous, which considers itself an international network of "hacktivists", has become well known for hijacking government and business websites and unleashing distributed denial-of-service (DDoS) attacks – where sites are continuously bombarded with traffic until their servers overload.
In the past, Anonymous has achieved renown for hacking businesses including Visa and Sony, as well as government websites in the US, Singapore, and Israel. The group has publicly announced its support of freedom of speech, and has endorsed WikiLeaks on multiple occasions.