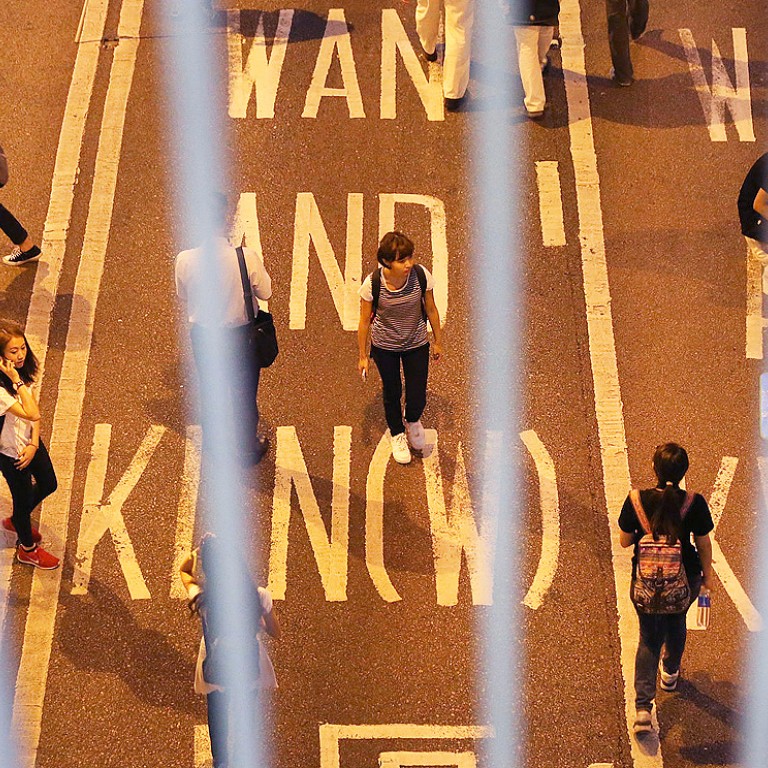 OCCUPY CENTRAL - DAY NINE: Full coverage of the day's events
Occupy supporters and the government are currently in a deadlock over negotiations. Preliminary discussions to prepare for talks have begun, but progress has been slow.
Welcome to our continuing 24-hour Occupy Central coverage.
After a hectic week, Occupy Central protest sites are quiet on Monday as some demonstrators leave for work, others remain and authorities keep their distance.
Occupy supporters and the government are currently in a deadlock over negotiations. Preliminary discussions to prepare for talks with Chief Secretary Carrie Lam Cheng Yuet-ngor have begun, but progress has been slow with both sides disagreeing on the guidelines behind the meetings.
Stay tuned for all of Monday's breaking news.
8.15pm A group of more than 50 mainland lawyers, scholars and other citizens have issued a statement in support of Hong Kong people's pursuit of democracy - while calling for democratic progress on the mainland.
In the statement signed by the group, including human rights lawyer Teng Biao, they say Chief Executive Leung Chun-ying "misled" the national legislature into giving the city a framework for the 2017 chief executive election.
"[Leung] must be held responsible for misleading the National People's Congress Standing Committee (NPCSC) with his report of political reform," the statement read. "He must listen to the advice of different social sectors and make remedial measures.
The group also said it objects to any violence and rights abuse. It notes that Hong Kong protesters' demand for public nomination in the 2017 election is legitimate.
7.45pm Admiralty: Officials say there would be no further action taken to clear entrances and exits blocked by protesters at government headquarters on Monday night, but they would continue negotiations with protesters blocking access there.
Protesters partially opened one entrace to Central Government Headquarters in Admiralty today, following Chief Executive Leung Chun-ying's warning on Saturday that all the head offices' entrances must be cleared by Monday, adding that the police had the responsiblity to resume social order.
"We would like to resume the operation of [government headquarters] as soon as possible," said Choi. "I think dialogue is still the best way [to achieve this]."
Choi called for protesters to open up vehicular access to the government complex to allow logistics such as internal document deliveries, delivery of supplies and access for disabled employees to resume.
She said so far about 2,000 cross-departmental deliveries had been obstructed and 50 departments had been affected.
Commenting on civil servants wearing yellow ribbons to work, Choi said that she believed that this would not affect the ability of government employees to do their jobs professionally.
Meanwhile, Albert Su, Assistant Commissioner for Transport, said the Occupy movement created serious traffic congestion around Hong Kong Island and Kowloon, with queues of vehicles as long as 7 kilometres seen in certain parts of the city on Monday, after secondary schools in Wan Chai and Central and Western districts resumed classes.
But Su admitted that private car owners could help ease the situation by not driving on Hong Kong Island, and said the government had set up a committee to seek solutions to the problem of too many private cars in the city.
All 51 primary schools in Wan Chai and Central and Western districts will resume classes tomorrow. Sophia Wong, Principal Assistant Secretary of the Education Bureau, said the bureau would consider the date for kindergartens in these areas to resume, depending on how well secondary and primary schools operated after classes re-started.
7.15pm Admiralty: A father brought his two year-old daughter to see the protests in Admiralty. In front of the chief executive's office, Patrick Wong, 29, full-time father, said it was the fourth day he had visited the protest site with young Eille: "It's a kind of an education in civil disobedience." They watched the incidents of Sunday, September 28, together on television and Wong realised it would be important to explain to her the meaning of the students' action. "As a father, I wanted to show my support to students," Wong said. "This fight is for her. I hope that when she grows up, she can choose the candidate she wants without any pre-selection."
6.30pm Admiralty: Occupy protesters hand out flowers and soup to government employees getting off work. Terusa Poon, a middle-aged housewife, prepared pots of hot soup for civil servants who had just finished their day's work at the Central Government Offices in Admiralty. "I hope both camps show more mutual understanding [towards each other]," Poon said. "I hope the civil servants understand that the students are only here to fight for democracy and a better Hong Kong."
5.45pm: The public has lodged 275 complaints against Hong Kong police since Occupy Central started on September 28, all of which involve accusations of failure to perform their duty or misuse of police power, says chief superintendent of Police Public Relations Branch Hui Chun-tak.
At Monday afternoon's police briefing in Wan Chai, Hui also says that police have made 37 arrests in Mong Kok so far.  Another 5 arrests were made in relation to suspected cyber crimes, in a case where a link was posted online for people to hack government websites with.
A total of 27 police officers have been injured on duty, including one officer who needed five stitches on his forehead after being hit with a rock in Mong Kok, and another police officer who had a fractured finger.
Hui also confirms that 25 knives, and the same number of pairs of gloves, were found at two locations near the protest site in Admiralty. No motives have been established and no one has yet been arrested, he says.
On the case of the auxiliary police officer who joined protests, Hui says the officer's superior had received a verbal resignation but had yet to receive it in writing.
"The officer has been suspended from all his posts," he says. "A disciplinary investigation will be conducted shortly."
Hui also fended off criticism that the police failed to properly handle violent situations, especially those in Mong Kok.
"It is extremely unfair to our frontline officers," he said. He also denied that any plainclothes cops instigated trouble by joining crowds or pretending to be protesters. 
On traffic disruption, around 2.9km of roads are still occupied, says Lee Kwok-Chung, senior superintendent of Traffic Branch Headquarters.
Many students spent a longer time commuting to schools in Wanchai, Central and Mid-levels areas, Lee said. 
The queue through the Cross Harbour Tunnel and Kai Tak tunnel was also much longer, at 7km this morning, compared to the usual 2.5km, stretching all the way to Laguna City in Kwun Tong.
"The road blocks in northern Hong Kong Island have affected even east Kowloon," said Lee.
The queues to Central also went from 4km to 9km this morning.
5.30pm: A Hong Kong government source tells the Post that Chief Executive Leung Chun-ying had moved the venue of a meeting with the consul general of an English-speaking country, who paid Leung a courtesy call on Monday afternoon. 
The meeting took place at the Government House instead of the Chief Executive's Office as originally scheduled, because protesters continued to block the entrance to Leung's office. 
"It is unsatisfactory for diplomatic protocol. There is a difference between meeting the chief executive in his office and his residence," the government source says.
Leung's meetings with the counsel generals from two other countries by Wednesday have also been rescheduled to take place at Government House.
5.20pm: Alfred Wong,19, a student, is one of the roughly 20 protesters on Tim Wa Avenue, near the Chief Executive's Office. His face shows the toll of nine days of protest and very little sleep.
He has decided to stay at the protest site because he thinks it is a symbolic and important place to guard. "I think we should stop CY Leung from getting to work," he said. "And the police may have decided to clear the area, so I want to help."
Wong says he has hope in the talks between student groups and the government. But the outcome can't be anything other than "true democracy," he says.
There are still about 300 protesters remaining in Mong Kok, but there appear to be more onlookers and journalists. Officers from the Police Tactical Unit are patrolling around the protest zone.
About 20 protesters remain outside the Chief Executive's Office in Admiralty. They allow two vehicles carrying food to enter the government compound. 
In Causeway Bay, some secondary school students join the few dozen protesters after school, bringing their numbers up to about 50. Crowds start gathering after some men wearing blue ribbons, who were seen instigating quarrels with protesters in the past few days, appear at the site.  
4pm: A shopkeeper at a drug store on Yee Wo Street in Causeway Bay says their business has not been affected by the protest in the busy shopping district so far. "We were the only shop open during the first days of Occupy Central, so our business is better than usual," says the shopkeeper who refuses to be named and filmed. "Selling water alone is enough to pay the rent."
3.30pm: About a dozen protesters remain at the Chief Executive's Office, while about 30 policemen, some of them sitting in a blue tent, watch attentively from behind metal barriers. The traffic on Lung Wo Road is flowing normally without incident so far.
3pm: South China Morning Post senior editor Cliffe Buddle has been physically assaulted by an attendee of his lecture at the University of Hong Kong, and received treatment in hospital. Buddle, the Post's special projects editor and an honorary lecturer at HKU's journalism and media studies centre, was attacked by a mainlander, 26, who claimed to be a student from Tsinghua University in Beijing, police and witnesses said. The man, a Putonghua speaker, expressed annoyance at Buddle's use of English instead of Chinese at the university, where English is the sole medium of instruction.
2.30pm: Zhao, a 33-year-old engineer from Shandong province who is in Hong Kong on a tourist visa, says she spent her "Golden Week" holiday protesting in Hong Kong.
"The direction of the students is right - they acted with class and integrity - contrary to the government," says Zhao, who declines to give her full name for fear of retribution, at Tim Wa Avenue, outside the chief executive's office.
Calling it a case of "good guys against bad guys", Zhao also says that today the ruling communist party have the bad guys in power.
"About democracy in Hong Kong - the mainland government I think can soften up. What they are afraid of is the repercussions it could bring to the mainland," she said.
Zhao says the movement is already a success, forcing the government into talks.
2.20pm: A civil servant surnamed Leung sports a yellow ribbon on his shirt when he goes back to work at the government headquarters in Admiralty after lunch break.
Leung, who declines to give his full name or his title, says he wants to show his support for the Occupy movement and is not worried about the consequences.
"Don't think that no government worker agrees with Occupy Central," he says. "Many of us are very open-minded. I won't bury my conscience just because of where I work."
Leung says he is particularly angered and upset about what he believes to be police "collusion with triads" in Mong Kok. He says he was at the Mong Kok rally when chaos broke out on October 3 and saw the police "siding with" the anti-Occupy Central people. The police have confirmed that some of the people arrested after violent clashes that day have triad backgrounds.
2pm: Bob Fan Kai-yeung, 66, performs monotyping next to the "umbrella man" statue at the rally in Admiralty.
Fan lays out a sheet of Chinese painting paper on top of the brick footpath and two yellow ribbons, and then uses a sponge to dab black ink on to the paper, so the pattern of the bricks and ribbons are "printed" on the paper.
Fan, an artist who focuses on Western painting, said he wanted to record the protest in this way.
"I've been in Hong Kong for over 60 years," he says. "This place is my home. Now it's deteriorated to such a level. As an old man, what I can do is limited. I can only express my upset through my art works."
He splashes a heavy dash of ink on to the paper as the final touch of the work and a symbol of his disappointment. He says he will also go to Mong Kok and Causeway Bay to do similar artworks.
Li Kwok-Tong, 71, claims to be the head of a Chinese and Western medicine practitioners' society. Protesters boo him.
"You are breaching the law," they shout.
Man throwing anti #OccupyCentral flyers from bridge: "I'm protecting #Hongkong peace and stability from being damaged by the bad elements." @shirleyzhaoxy
"I'm protecting Hong Kong's peace and stability from being damaged by the bad elements," Li says. "The three organisers of Occupy Central and the black hands behind them are responsible for this. They need to bear the historical responsibility for their crimes."
Some protesters stop Li from leaving the scene and call the police. After the police arrive, they take down Li's identity card number.
1.23pm: An ambulance trying to reach someone who has sustained knee injuries is stopped by barricades on Hennessy Road in Causeway Bay.
Chow is at the Chief Executive's office at noon, hoping to catch Legco president Jasper Tsang Yok-sing.
Chow says it is hard to take a step back when the government has not shown any sign of backing down.
"The ball is in the government's court," says Chow, on whether protests can be dissolved. "We are all waiting and watching how the government acts, to see if this is their tactic to draw this out or whether they are willing to actually hold dialogue."
Chow says it is unfair for the government to threaten to clear protest sites with violence, especially when protesters are peaceful.
1pm: Global ratings agencies Moody's and Fitch say they do not see major short-term impacts on Hong Kong's economy and credit ratings from the recent protests. 
"The Government of Hong Kong's Aa1 rating and stable outlook remain supported by the Special Administrative Region's (SAR) strong buffers - financial, institutional and economic - as the Occupy Central protests continue into a second week," said Moody's latest statement on Hong Kong.
"While the impact of the demonstrations will likely have negative consequences on Hong Kong's near-term economic performance, the key pillars of the SAR's economy that provide more than half of its output - trade and logistics, financial, and professional services - do not seem to be directly affected by the political disorder. Moreover, its economy has proved resilient to previous downturns, such as during the 2008-09 global financial crisis and the SARS epidemic," according to the Moody's statement.
"Into the second week of Hong Kong's Occupy Central protests, Fitch does not expect the situation to affect the SAR's ratings in the short term," said Andrew Colquhoun, Head of Asia-Pacific Sovereign Ratings at Fitch Ratings.
"Nonetheless, the basic question of governance is on the agenda and could still affect credit fundamentals over the longer term - although it's too early to make that call and the rating remains on Stable Outlook at 'AA+'," said Colquhoun.
12.40pm: Two latest videos produced by the Post's multimedia team 
Watch: A recap of Hong Kong's Umbrella Movement in 5 minutes
Watch: What do Hongkongers think about Occupy Central amidst warnings of a "tragedy"?
12.15pm: Jasper Tsang Yok-Sing, Legislative Council chairman, passes by Tim Wa Avenue which leads to the chief executive office.
"We hope that no violence will be used to clear protest sites," he says. "I hope students and the people can leave space and open up a path, so the government will have no excuse to use violence."
Tsang also says he is unsure if the Legislative Council meeting can be held on Wednesday.
"The safety of staff and lawmakers need to be ensured first," he says. Tsang said he won't out rule funding a back up location, but says he doesn't see the need for it at the moment.
"I hope the situation will continue to mellow out, but I understand that protesters have their reasons for staying...I just hope they will leave room for manoeuvre," he adds.
12.01pm: The number of demonstrators at the rallying sites on Hong Kong Island has dwindled. A reporter in Admiralty counted around 170 protesters. A reporter in Causeway Bay counted 37 protesters there. Protesters in Admiralty tell they Post they expect more to turn up after school or work.
Several protesters surround a police motorbike and refuse to let the officer leave after traffic police let go of a driver who tried to remove barriers set up at the junction of Mong Kok Road and Nathan Road.
The driver unsuccessfully tried to remove the barriers after they caused traffic to slow down on Mong Kok Road. Five of the road's six lanes are blocked. Traffic police escort the man away.
11.48am: Police say they found 10 knives left on a footbridge about 200 metres away from where thousands of pro-democracy protesters have staged a week-long sit-in in Admiralty.
The 17-inch knives had been wrapped in a bag left beside a flower bed on the footbridge on Fenwick Street near the Hong Kong Academy for Performing Arts. Officers found the bag at around 6.30am on Monday.
Shortly before 1am, another 10 knives had been found by officers near the footbridge, police say. These had been concealed in two backpacks left outside Harcourt House.
No arrests have been made in connection with the knives, police say.
Watch our video report on Hong Kong government employees returning to the Tamar government offices:
11.26am: About 30 protesters are left at the protest site in Mong Kok, many of whom stayed overnight. 
"I'm so confused," says high school student Teresa Lui, one of them. "We haven't figured out what [the government] is trying to do. They have been rumours every night saying they are going to clear the protest but nothing has happened so far," she says.
11.05am: Two trucks - one labelled "food and water" - and a minibus drove in through the road at the chief executive's office, causing a small tiff between the little group of protesters remaining and officials.
11.00am: Chan Wing-fai, 68, has been at the Admiralty rally for eight days. .
He says he believes Hongkongers should continue to take to the streets because they are setting an example for people on the mainland.
10.48am: Priscilla Leung Mei-fun, a pro-Beijing lawmaker representing the Kowloon West constituency, walks past the chief executive's office en route to the Legislative Council. She says the legislature - which has cancelled all panel meetings because of the occupation - should resume its operations as soon as possible.
The ongoing sit-in has sparked a public outcry, she says, adding that dialogue would be the only way to solve the impasse. "I'm not optimistic towards the outcome of the dialogues between students and government, but it's the only way out," says Leung.
10.15am: Benedict Ng Pun-tak, a 78-year-old retired taxi driver, is one of only ten protesters outside the chief executive's office on Monday. 
Ng has been camping at all occupied areas - Mong Kok, Tsim Sha Tsui, Admiralty and Causeway Bay - since the movement started.
9.48am: Among the more than 100 people at the Admiralty protest site is flight attendant Charlotte Chan, 22, who has stayed there since September 26.
She says she needed to go back to work next week but she did not expect the rally to last that long. She says she expects the political reform issue to be settled this week.
"If the protest drags on too long, everyone will get exhausted," she says. "I feel very tired now. I feel like I never slept."
She says more people would return to the streets, if the government failed to give a satisfactory answer to the protesters' demands.  
9.18am: Around 200 protesters stay put in the Mong Kok sit-in site. A notable police presence continues in the area after clashes in previous nights.
9am: As the number of government employees coming to work grows, the number of protesters on the bridge leading from Admiralty Centre to the government offices and the Legislative Council building has shrunk to just a few.
However, student protester Chan Pui-ching, 18, says this is not the end of Hong Kong's democracy movement.
"We won't re-block the bridge anytime soon," he says. "But now it depends on the talks [between the Federation of Students and Chief Secretary Carrie Lam]. If there are no acceptable results, we may re-block this bridge, or escalate our action."
Chan, who started sleeping on the streets on September 27 in support of the students who rushed into Civic Square, has been at the bridge on and off since Friday morning.
8.45am: Around 20 protesters wait for Chief Executive Leung Chun-ying outside his office on Tim Wa Avenue, but no sign of Leung yet. The chief executive usually arrives at his office between 7:30am and 8am.
"Please walk straight ahead, and then turn to your right. Present your staff card and you can begin another day of work. Keep it up everyone!" An #occupycentral supporter jovially helps office workers get a start in their day at work in #Hongkong @scmp_news
8.43am: Sanitation worker Fung Yuen-kwai, 62, says he left home in Shatin half an hour earlier than usual to go his job at the government offices in Tamar.
He says he got off the bus in Wan Chai and walked to Admiralty. Fung says the protests weren't too much of a hassle. "Yes, without the buses, it is trickier, but I don't mind walking over, and the path is wide enough to get me to work," he said.
Fung says he had not received any guidelines from his employer, a cleaning company that provides outsourced services to the government. "You know we are the lowest level of the food chain," he says. "No one really cares." 
Fung doesn't get paid for the day if he doesn't work.
8.36am: Severe traffic jam on King's Road westbound between Fortress Hill and Causeway Bay. Three lanes full of cars, buses and trucks move very slowly. The opposite direction is mostly empty except for buses and a few cars.
8.19am: Commuters trying to avoid Causeway Bay and Admiralty take to the hills on Monday morning, jamming onto Tai Hang and Stubbs roads. Happy Valley roads heading uphill away from the protests are bumper to bumper at 7.30am on streets that are normally sparsely traveled at this hour.
7.54am: Crowd estimates across protest sites from our reporters at the scene:
Causeway Bay: Around 100 people remain at the stronghold. At least a dozen students said they'd leave for school.
Admiralty: Around 100 people remain on a spread-out occupied area. Some 50 protesters are outside the Chief Executive's office in Tamar.
Mong Kok: Between 100 and 200 people continue to occupy Nathan Road at the intersection to Argyle Street. 
7.41am: Government employees begin to trickle in to government headquarters at Tamar. The footbridge connecting Admiralty Centre and CGO is largely unblocked. Nearby, about 20 young protesters sit idly and watch the civil servants enter the previously blocked entrance.
Protesters had previously agreed to open a three-metre wide path at the staff entrance.
The civil servants appear to be more impatient with dozens of reporters trying to interview them than with the protesters. 
The footbridge connecting the government offices with Citic Tower and United Centre remains blocked by metal fences.
7.30am: Middle-schools resume classes in Wan Chai, Central and Western districts on Monday. Primary schools and kindergartens remain closed. 
7am: Here's a quick round-up of the major developments overnight:
* The eighth night of Occupy protests in Hong Kong has been the quietest so far. Minor scuffles between Occupy supporters and opponents continued in Mong Kok. The scene in Admiralty and Causeway Bay was quieter. 
* A statue similar to the Goddess of Democracy statue on Tiananmen Square was erected in Tamar. The man who made it said that he was inspired by a picture of an Occupy protester holding an umbrella for an officer under the rain.
* The People's Daily, the Communist Party's main newspaper, issued more commentaries blasting the democracy movement for using "populism" to gain popular support.
6.30am: Here's our front-page on Monday:
Here are some of the headlines in today's South China Morning Post:
John Tsang admits government not psychologically prepared for scale of protests
"The rapid pace of developments over the past week was completely beyond everybody's expectations," wrote Tsang. "It's hard not to be concerned that more serious chaos would happen ... To be honest I persistently didn't sleep well."
Students federation opens talks, but says protests continue
The Federation of Students last night began preparatory talks for a meeting with Chief Secretary Carrie Lam Cheng Yuet-ngor, but said its members would continue the protests that have paralysed parts of Hong Kong for a week.
Legal and political heavyweights unite in call for end to protests
Former chief secretary Anson Chan Fang On-sang, now head of the Hong Kong 2020 think tank, and Cardinal Joseph Zen Ze-kiun - both prominent supporters of the protests - issued statements urging students to step back for the sake of safety.
Police mobilise in Mong Kok after two days of clashes over Occupy protest
With the latest arrests, 30 had been detained in the Mong Kok protests so far. Twenty people held earlier for similar crimes have been released on bail.
Father threatens to jump from bridge in protest at Occupy Central sit-in
He struggled to turn on a loudspeaker that he had just removed from its packaging, and had to read the instruction manual while sitting on the edge of the bridge linking the Admiralty Centre with Citic Tower.
Protesters in Admiralty divided as time runs out on C.Y. Leung's demand
"We don't want to see more people get hurt," protester Daniel Tang said, adding that attacks by anti-Occupy activists over the past few days had deterred them.
6.15am: Here are the stories that made the front-pages on local Chinese-language newspapers:
Mingpao: Chief executive office lifts blockade in the afternoon and resumes it at night
Apple Daily: Hong Kong Federation of Students will resume talks and won't retreat
Hong Kong Economic Journal: Second-hand property market worst in eight months amidst worries about Occupy Central. New properties all sold
Hong Kong Economic Times: Chief executive office passageway cleared. Crisis about clearing the area is averted for now
Oriental Daily: HKFS: Continue the Occupy movement
Singtao: Police place heavy force at the chief executive's office, prepares to clear the area