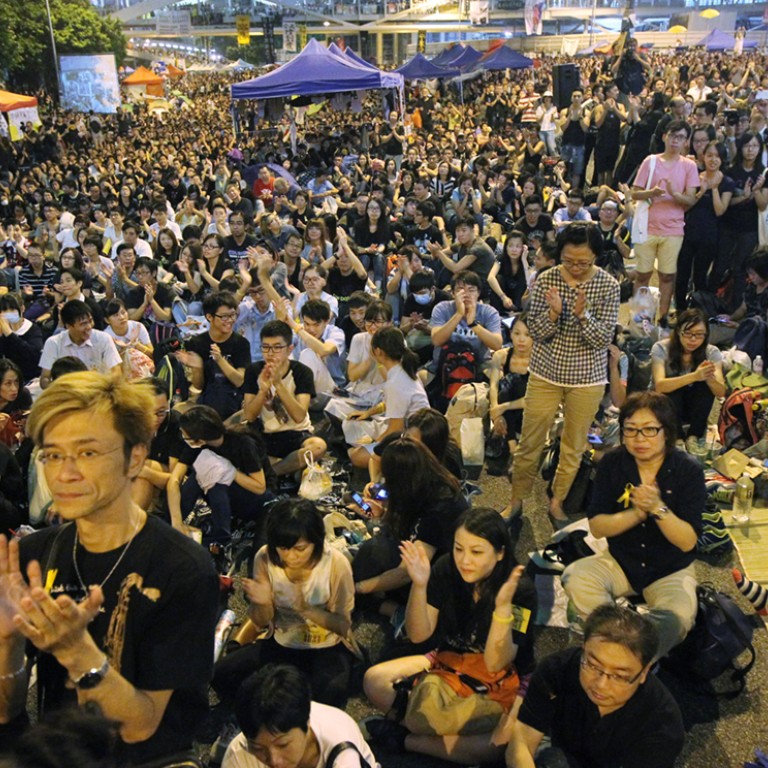 People's Daily accuses US of 'colour revolution' bid with Occupy Central
People's Daily takes claims of American collusion with Occupy Central to higher level
The Communist Party's mouthpiece newspaper has blamed the United States for colluding with Occupy Central protest organisers to try and foment a "colour revolution".
Although a Hong Kong-based pro-Beijing newspaper has made similar claims before, the commentary published on the front page of overseas edition signalled Beijing is taking the accusations to a higher level.
The commentary, entitled "Why the US never gets bored with colour revolutions",claimed Washington was stirring up trouble against regimes it dislikes under the pretext of supporting pro-democracy movements.
Citing unidentified overseas media reports, it said core leaders of Occupy Central had met Louisa Greve, a vice-president of the US National Endowment for Democracy (NED).
The commentary also cited unnamed overseas reports as suggesting that Greve was connected with forces seeking Tibet independence and the East Turkestan Islamic Movement.
"Of course, the US will not admit it is manipulating 'Occupy Central', just as they will not admit it is controlling other anti-Chinese forces. They will legitimise their moves under the values of 'democracy, freedom and human rights'," it added. NED had not responded to request for comments by late last night.
The commentary came after the Hong Kong government called off a meeting with student protest leaders as Occupy Central entered its 13th day and international leaders gave their backing to the movement.
"Colour revolution" is a term widely used to describe various movements in the former Soviet Union during the early 2000s that led to the overthrow of governments. It was also applied to uprisings in the Middle East.
A front-page commentary in the paper's national edition last Saturday warned that any attempt to launch a "colour revolution" on the mainland from Hong Kong would be futile, but it did not name the US.
The tough rhetoric came after a US Congressional-Executive Commission on China said in a report that Beijing's actions to restrict democracy in Hong Kong "raise concerns about the future of the fragile freedoms and rule of law that distinguish Hong Kong from mainland China".
Commission chairman Senator Sherrod Brown called on US President Barack Obama to directly press his Chinese counterpart Xi Jinping on the issue.
German President Joachim Gauck drew parallels to the Hong Kong demonstrations when honouring protesters who stood up to the communists in East Germany in 1989, saying the experience of East Germany showed the importance of defending democracy. "The young protesters in Hong Kong have understood this very well," he said.
Chinese Foreign Ministry spokesman Hong Lei reiterated the warning that foreign government should not intervene in Hong Kong affairs and described the report of the US commission as "distorting the facts" and "making malicious attacks" against China.
This article appeared in the South China Morning Post print edition as: Party paper accuses US over 'colour revolution'