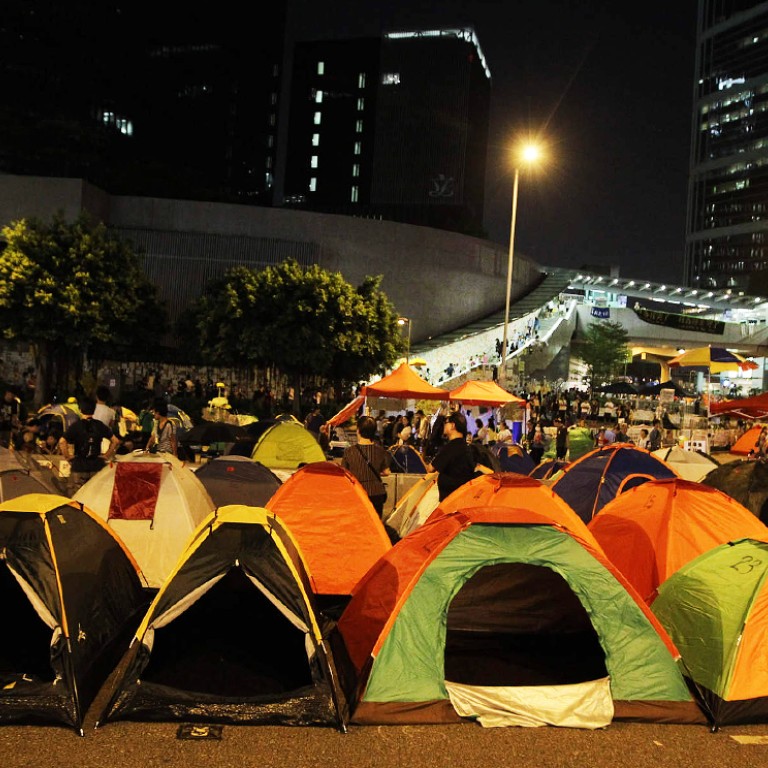 Review

|
OCCUPY CENTRAL - DAY 15: Full coverage of the day's events
All Sunday's events as they happened with the protests entering a third week and beleaguered Chief Executive Leung Chun-ying claiming the Occupy movement had 'almost zero chance' of succeeding.
Welcome to our ongoing coverage of Hong Kong's Occupy movement. 
Hong Kong's Occupy movement has 'spun out of control', Chief Executive Leung Chun-ying said in an interview this morning. He also said there was "almost zero chance" for Beijing to give in and accept the demonstrators' demands. 
Student leaders reacted by saying that their demands were reasonable. 
A stand-off in Mong Kok between plainclothes policemen and protesters led to several arrests in the early hours of Sunday. One protester decided not to press charges of sexual assault after an altercation with a police officer. 
10.12pm: That concludes our live coverage of the protests tonight. The live blog will resume tomorrow, for a 16th day, at 8am.
Good night and thanks for reading SCMP.com.
10.10pm: Former HSBC chairman David Eldon writes in his blog that the student protesters lack maturity and understanding of the world with their views that "they have a 100 per cent monopoly on demonstrating".
Eldon says he appreciates the students' right to demonstrate but "everyone has some rights".
"This shows a lack of both maturity and of understanding the world in which once they graduate, they are going to enter," he writes.
He also touches on the controversy over Chief Executive Leung Chun-ying's payment from an Australian firm. In the blog, Eldon says Leung could face calls to step down from Beijing because "President Xi Jinping has made very clear his abhorrence of corruption and if there is the slightest unpleasant smell about this, what better way than to remove an unpopular official?"
10.05pm: Democratic Party founding chairman Martin Lee gives a speech at the rally.
"In the past, we had a consensus that we will have 'double universal suffrage' in '07 and '08," he says, referring to the chief executive and Legco elections.
"I attended countless debates with the Liberals' Allen Lee and the DAB's Jasper Tsang, and Lee told me I will become the first [popularly elected chief executive], Tsang will be the second and he will be third ... No one had ever said we won't be ready by then."
"The chaos we see now is created by the Communist Party. Hongkongers are very peaceful, but violence was created by people who have other agendas," he said.
10pm: Some more photos from Mong Kok ...
9.50pm: Members of pressure group the Community Development Alliance sing Cantonese song Occupation of the Hearts, which is based on the melody of Beyond's classic Truly Love You.
"Children love Hong Kong as our home, and we would be scolded for being known to have occupied Central. But we will stick to our direction no matter how hard this battle is, because without a vision, Hong Kong would be no longer our home ... As officials and business leaders quietly wipe out our voice, it is now my responsibility to occupy," a young woman sings.
The rally continues with readings of poetry and prose.
9.30pm: Some photos just in from Mong Kok …
9.20pm: Harcourt Road turns into a sea of lights as the crowd sings 90s Canto-pop classic Under a Vast Sky by the band Beyond.
9.10pm: In Mong Kok, two of the five lanes at the junction of Argyle Street and Shanghai Street near Langham Place are now open to traffic after barriers there were removed by several unidentified men this afternoon. That means vehicles can turn left from Portland Street into Argyle Street.
Several people, who claimed they don't know each other, took away some wooden barriers about half an hour ago. A man who later claimed to be a protester says the occupiers will use the barriers to reinforce other defence lines.
9.06pm: After Westlife's My Life, we've got John Lennon's Imagine at the Admiralty rally.
"Imagine all the people, living life in peace. You may say I'm a dreamer, but I'm not the only one," a young man sings while his friend plays guitar.
9.05pm: Some photos just in from around the main protest site at Admiralty …
8.55pm: Taiwan-based dentist Shih Shu-hua, who took part in the "Sunflower" students' movement in Taipei earlier this year, addresses the crowd.
"I want to tell those who oppose protests and Occupy Central, that whether you are opposing because of your interest, because it affects traffic ... or because you were paid to do so, these reasons cannot be the reason why we should accept persecution," Shih says.
"Our president Ma Ying-jeou often says that he rules in accordance with the law, but when the law is unreasonable, civil disobedience is the people's most basic right. We support genuine universal suffrage for Hong Kong," he adds.
During Shih's speech, an old man shouts at him, asking "Is Hong Kong deprived of freedom now? Hong Kong is a very free place, do you know that?"
The man wanted to give a speech after Shih finished, but the crowd around him started singing the happy birthday song to drown him out.
8.45pm: Scholarism convenor Joshua Wong Chi-fung criticises Leung Chun-Ying's refusal to acknowledge his responsibility on the police's firing of tear gas on September 28, in a speech at the Admiralty rally.
Wong says that in 1984, in response to Hong Kong students' questions, late reformist premier Zhao Ziyang agreed that the city would be "ruled democratically". Wong urges President Xi Jinping to share Zhao's vision and fulfil Beijing's promises on democracy.
Lester Shum of the Federation of Students urges protesters to publicise the reasons for the demonstrations on their personal Facebook pages.
"Umbrella Square is our home," Shum says. "In our community, there are only luxurious apartments, but here we have a prayer area, self-study area and other utilities ... Let's achieve here what we cannot achieve in our communities."
8.30pm: Giving a speech at the rally in Admiralty, Occupy co-founder Benny Tai criticises Leung Chun-Ying for describing the protests as "out of control".
He also suggests that the protests prove the national legislature's decision has deviated from Hong Kong's actual situation and public sentiment, and Leung "should bear full responsibility for it".
8.20pm: Elvis Yeung, who works in the entertainment business, has brought his children to the protest in Admiralty.
"I've been here many times and even stayed overnight with my wife but today I'm bringing my six-year-old daughter and five-year-old son here to let them know what's happening," he says.
"They've watched TV and asked me why the students have to occupy the streets to get what they want. So I think I should bring them to let them see for themselves and understand what daddy and mummy have been doing."
He adds that he will bring his children home after walking around "Umbrella Square", but he will come back with his wife again in the coming week.
"This is a social awakening for Hong Kong ... and I'll return until we get a better blueprint for political reform. I know it's hard to get civic nomination … we can't do this under [Beijing's] framework. The government should at least start a discussion on a more democratic nominating committee," Yeung said.
8pm: A rally on Harcourt Road in Admiralty kicks off with a band singing Westlife's My Love.
Thankfully, there's no sign of the long defunct Irish boy band.
7.45pm: Ricky Lau Kar-wo, a 32-year-old IT engineer, is making an umbrella with yellow balloons at the Admiralty rally. He says this is the first time he has tried to make balloon shapes after watching some YouTube tutorial videos.
"I don't have other special skills. I just want to do something to support the movement," Lau says.
He says after he finishes making the umbrella, he will put it somewhere in the rally.
But he is not very hopeful that the Occupy movement can achieve the protesters' demands. "Now neither the government nor the students will back down," he says. "Things are in a stand-off and I don't know how it will end."
7.25pm: A woman with a red suitcase who allegedly stole materials from supply stations at Occupy Central rallies has been surrounded by a group of angry protesters.
They've called the police and are waiting for officers to arrive.
Charles Yeung Chi-pang, one of the helpers at a supply station at the rally in Admiralty, says he has seen the woman frequenting supply stations in Admiralty, Mong Kok and Causeway Bay, taking large quantities of materials and stuffing them into her suitcase or a large bag, over the last five days.
"It's really too much," says Yeung. "Once or twice is fine, but three times and four times?"
Yeung says he worries the woman not only took food and other supplies, but personal belongings such as mobile phones or walkie-talkies as well.
Another protester shows a video clip allegedly showing the woman stealing materials from a supply station.
The woman does not allow protesters to open her suitcase and check what's inside, claiming there are private belongings in the suitcase.
Protesters eventually let the woman go but asked her not to do the same thing again. They have taken photographs of the woman.
7.15pm: The protests have given us some iconic images – and more than two weeks later, they keep on coming …
6.45pm: Assistant Commissioner for Transport Albert Su Yau-on says there have been no major incidents on the MTR since roads were blocked on September 28, despite passenger numbers on urban lines increasing by 20 per cent.
But he notes that the increase in passengers is pushing train services to the limit and urges protesters to leave as soon as possible. Su says it could prevent conflict between protesters and workers in the transport sector, who have vowed to remove barriers.
He also says some 160 bus routes remain suspended or diverted.
Undersecretary for Home Affairs Florence Hui Hiu-fai asks whether the government would consider opening Civic Square outside the East Wing of government headquarters in Admiralty to protesters, in return for the reopening of Queensway.
But Hui says: "There is an established procedure for people to apply for the use of the square."
6.30pm: Federation of Students Secretary General Alex Chow Yong-kang did manage to speak to protesters in Mong Kok earlier. He called for them to try and understand each other's differences and work together as "brothers in arms on the road to democracy".
"We are all Hongkongers living in the same city, striving for a common goal of democracy, freedom and justice," he said, adding that the federation would accept criticism.
6.15pm: Despite the bickering, confrontations and the heat, street artists have flocked to Mong Kok, hoping to capture the dynamic and colourful atmosphere of the protest zone.
Italian artist Francesco Lietti, who just days ago earned fame in Causeway Bay for his blank canvas project, has now become a hit in Mong Kok.
The artist paints a colourful cityscape base and let's people contribute to it with writing or news clippings.
"People can add what they think. If they want to write a message to Mr [CY] Leung they can. Even those against the movement can contribute too," he says.
Lietti says he may start a gallery or try to auction off the two paintings he has completed. He says he would donate proceedings either to the students or to a cause that would help the movement.
Meanwhile, Pat Wong Wing-shan, 24, a creative media student who is now working in design, says her art could help spread awareness about the students' fight for democracy and document a historic event on good old ink-on-paper.
"I think there is a need to document this event using different forms of media," Wong says.
"Sketching is different from photography. Every line or stroke reflects the artists' character."
Together with a few others in their group Sketcherkee, they have compiled dozens of sketches in pen and watercolour, ranging from the Occupy grounds in Admiralty to street scenes in Mong Kok.
"Mong Kok has more of a human touch to it. It's an area full of colour and very close to the people," she says.
The group originally focused on sketching old buildings and architecture to send out a message on the heritage conservation.
"This is our first time sketching a social movement but I think we'll be doing a lot more of it in the future," she Wong says.  "More people are becoming aware of social issues, including artists, so a lot of our work will begin to reflect this."
6pm: In a joint press conference, the pan-democratic camp announce that they will take a three-pronged approach in investigating Chief Executive Leung Chun-ying's handling of the protests, as well as the money he received from Australian firm UGL.
Firstly, Democratic Party lawmaker Sin Chung-kai says he filed a petition to the Legco chief, asking for an inquiry on the government's use of tear gas on protesters on September 28.
Secondly, Sin and Civic Party lawmaker Claudia Mo Man-ching will also seek to invoke Legco's special powers to investigate the money Leung received from UGL, and ask whether there was a conflict of interest.
Thirdly, Labour Party lawmaker Cyd Ho Sau-lan wants to probe the relationship between DTZ Japan, of which Leung is a shareholder, and local developer HKR International.
"From HKR's investments in Japan, Leung is likely to benefit as a shareholder of DTZ Japan. But HKR's boss Mr Cha also holds a large stake in ATV. Is it possible that Leung could have rejected HKTV's application for a free TV license because of this relationship with HKR?" Ho asks.
5.50pm: Protesters at the Admiralty site continue to recycle …
5.30pm: In a media gathering in Causeway Bay, seven Hong Kong members of the All-China Youth Federation call for the local government to "try its best to open a dialogue" with student leaders in order to resolve the protests.
Federation vice-chairman Rock Chen, who also chairs the education bureau's Examinations and Assessment Authority, says Hongkongers want to see officials talking to students. But Chen also says he agrees that the dialogue should be based on the Basic Law.
5.15pm: Police condemn protesters who confronted officers in Mong Kok in the early hours of today.
In the daily press briefing, police spokesman chief superintendent Steve Hui Chun-tak, says despite repeated appeals, "people illegally obstructing the roads instead tried to reinforce the obstacles.
"Radicals and troublemakers obstructed our officers, acted in a provocative manner and stirred up others emotions," he says.
Hui adds: "There were several confrontations and the police station was surrounded. Obviously, this was not peaceful protest."
He also sidesteps questions on whether Chief Executive Leung Chun-ying was involved in the decision to use tear gas to disperse the crowd outside government headquarters in Admiralty on September 28.
Hui only says that the decision was made in accordance with the law and was decided by the commander in the field.
You can read his story here …
5pm: Dozens of protesters led by Leticia Lee See-yin, convenor of the pro-Beijing Justice Alliance, arrive in Mong Kok. They've marched from Tsim Sha Tsui to express support for police and to condemn the Occupy movement for "ruining livelihoods".
They also call for police to clear the occupied areas immediately to return Mong Kok and Causeway Bay to the people.
"Everyone is suffering. We must ... help police stop these people from selfishly occupying these roads and conducting illegal activities such as playing mahjong, sleeping on the roads and eating hot pot," says Lee. "It's ridiculous".
She claims to have rallied 620 people at the beginning of the march, though only about two dozen remain by the time they reached Macpherson Playground.
Despite chanting "against occupation" repeatedly, the group has taken over a public soccer pitch at Macpherson Playground, forcing a group of amateur soccer players who had booked the pitch, to leave.
"We spoke to police and agreed to stay in the red area [around the green pitch area] but we may have too many people. We then called for people to come back to the red area. We are not like those who occupy illegally," Lee says.
4.40pm: The government, not the Occupy Movement, "is out of control" says the Federation of Students, Scholarism and Occupy Central in an official response to Leung Chun-ying's television interview today.
The protest leaders say the row over political reform has its roots in the consultation report submitted by the government to Beijing.
"[The report] misled the central leadership into making a decision that violates the spirit of the Basic Law," protest leaders say in a statement.
"The pronouncement that there need be no change to the electoral method for the 2016 Legislative Council elections and that the threshold for nomination in the 2017 chief executive election be raised from one eighth of the nominating committee to one half, clearly violates the principles of 'gradual change'.
"Looking at citizens' strong desire for democracy as shown by their participation in the civil referendum, the class boycott and the Occupy movement, it is clear that the NPCSC decision does not concur with the 'actual situation' in Hong Kong. The responsibility for the erroneous decision rests with the Leung Chun-ying government."
The protest leaders renew their calls for Leung to resign.
"Right now, Leung Chun-ying is beset with scandal," the statement says.
"According to the standards of a civilised society, an official mired in such scandals would have resigned long ago, lest he damage the government's credibility and ability to govern.
"If Leung really had the interests of the people at heart, he should also know he needs to depart. The fact is, as the central government strengthens its resolve to crack down on corruption, how can Leung crave to cling onto power and drag the central leadership through the mud? We urge Hong Kong's law enforcement agencies and legislators to act fairly, and to immediately launch an investigation. We cannot allow one person, Leung Chun-ying, to destroy the Hong Kong core values we so cherish!"
4.30pm: Thousands of people are gathering at the Occupy rally in Admiralty. In contrast to Mong Kok the atmosphere remains calm and peaceful, with protesters dancing, painting, sketching, folding paper umbrellas, studying and talking to each other.
Many families are arriving with children. The rally has apparently become a park and tourist attraction. With the sun setting, cool breezes are blowing away the earlier heat. People are looking more relaxed and enjoying themselves.
4.15pm: Things are heating up at Occupy Mong Kok, where representatives of the Federation of Students, flanked by members of political parties including the League of Social Democrats and People Power, have been blocked from entering by protesters.
The protesters accuse the federation of attempting to hijack the leaderless protest site, after the group tried to hold a forum to gather views on how to sustain the Umbrella movement.
Police pull the two sides apart after a lot of shouting as protesters sing the happy birthday song – typically performed for anti-occupy protesters – and demand the students leave immediately.
Many accuse the federation of trying to "plant their flag" in Mong Kok in an attempt to make decisions for them, including political concessions with the government. They also accuse the federation of suggesting that the protesters leave Mong Kok.
"This movement no longer belongs to the Federation of Students, Scholarism and Occupy Central. We don't need any representation. This is a movement of the masses. We will just sit here, block the road, and increase costs for government until all three of our demands are met," one speaker says. "The Federation of Students does not represent us!"
Educator Hon Lin-shan says the Umbrella movement's progress is due to unity of all those involved. "I also don't think the federation should come down here to plant their flag, but we shouldn't point fingers and smear each other. Our common enemy is the Communist Party and the Hong Kong government," he says.
Several protesters offer sympathy to the students, saying everyone should work together because they are all striving for a common goal.
4.10pm: The protest site at Admiralty resembles a scene from Mary Poppins, as protesters perform a dance with umbrellas.
They say the dance symbolises the protesters' use of brollies to fend off police pepper spray and tear gas two weeks ago and welcome more people to join in.
4pm: Here's the full story on the Anonymous hacker group, which says it has targeted several Chinese government websites, claiming to fulfil its pledge to fight for democracy in Hong Kong.\
3.30pm: Some 20 taxi drivers arrive at government headquarters in Admiralty after marching from police headquarters on Arsenal Street, urging protesters occupying main roads on Hong Kong Island to leave as soon as possible.
"Open the roads," drivers chant after an inspection of Harcourt Road and Queensway, which have been blocked for two weeks.
A taxi driver surnamed Chan says his income has plunged to HK$200 or HK$300 a day from the usual HK$500 to HK$600.
"I couldn't even go to Central when one of my customers in Kwun Tong asked me to" says Chan, adding he could only ask the passenger to take the MTR. "I cannot tolerate this [blockade of roads]."
To Sun-tong, director of the Motor Transport Workers General Union's taxi driver branch, says if roads are not reopened soon they would be forced to remove the barriers.
"We support other groups to remove the barriers ... If the barriers are put back to their original position, then we will remove them," To says. "Roads cannot be blocked indefinitely."
3.20pm: Civic Party leader Alan Leong Kah-kit says Chief Executive Leung Chun-ying is "shameless" for refusing to resign.
"I watched [Leung's interview with TVB] this morning," says Leong. "I have a distinct impression that he is not going to do anything constructive to end the Occupy Central rallies. What he evidently wants to do is to drag it out and wait for a moment when he could clear the occupiers."
But Leong agrees that Leung's resignation will not put an end to Hong Kong's deep-rooted problems or give Hongkongers an open election system.
He calls for President Xi Jinping to answer the students' demand for genuine universal suffrage.
3.19pm: This protester in Admiralty says the government is fooling people ...
3.10pm: Both protesters and police have shown restraint but it is time for the Occupy campaign to end, Financial Secretary John Tsang Chun-wah writes in his blog published today.
Tsang writes that he was in the US in the past week, and found that many Americans were concerned about the Occupy movement.
"They watched on the television that although tens of thousands of people took part in the mass rallies … no one got seriously injured, there was no arson, and no destruction. It was hard to imagine that in the US," he writes.
"It has reflected that both the police and the protesters have been very restrained."
He also says that no one should view people with different opinions as their enemy. Those people should be treated as partners, and their support should be garnered.
"Otherwise, there can never be a step forward in electoral reform," he writes.
2.55pm: A woman holding a national flag is seen wandering around the Admiralty Occupy rally, spreading anti-American messages and criticising the US involvement in the war in Afghanistan.
She was last spotted at the protest site in Mong Kok on Wednesday, shouting that Occupy Central was propagated by the United States government "just as the September 11, 2001 attacks on the World Trade Centre were".
She claimed the US government had also engineered viruses such as Ebola and Aids in poor countries to keep them underdeveloped.
A group of Occupy protesters sing the happy birthday song in Cantonese for about five minutes and the woman leaves.
2.45pm: Protesters in Mong Kok are unimpressed with Chief Executive Leung Chun-ying's interview on TVB this morning. Student Tom Koo, 22, says Leung would have been better off saying nothing.
"Let's see how long he can keep up this stubbornness," says Koo, a part-time tertiary student. "I'm also not sure what he meant by protests not being able to go on a long time. This will be a prolonged fight. Tear gas, pepper spray – we are not afraid of anything anymore."
Ken Chuang-ki, 20, a Chinese University medical school student, says Leung is using clever, but false arguments.
"It's cute. He's playing sophistry with the public," he says on Leung's adamant stance that he had not done anything morally or legally wrong by accepting the HK$50 million deal offered by an Australian firm.
"The government has shown us they cannot represent the people, nor are they capable of making decisions on behalf of them. They are merely lackeys for the central government."
Chuang says the Occupy movement may have affected lives, but "nothing in the last few weeks compares to how our lives have been affected by mainland meddling in the years since the handover."
2.15pm: Fanny Poon, 65, says she has slept for two nights at Admiralty to support the Occupy movement.
She moved to Hong Kong from Zhongshan City in Guangdong, aged 10 years old. She says she experienced a lack of freedom in the early years of her life and does not want the next generation of Hong Kong to become like the mainland.
"If everyone can give support, it'll become a huge power," she says.
She says if Beijing is serious in dealing with corruption, it should investigate Leung Chun-ying's HK$50 million payment from an Australian company and replace him as chief executive.
2pm: Raymond Tam Chi-yuen, secretary for constitutional and mainland affairs, makes remarks on Occupy in Guangzhou, where he is attending a Pearl River Delta economic forum:
He says it is not only untrue but also unfair to accuse the Hong Kong government of not fully informing Beijing of what Hongkongers think about the city's electoral reform.
"During the first consultation, which lasted five months, we have met many parties, including representatives from the Hong Kong Federation of Students," he says. "All of the some 100,000 opinion letters we have received […] we have submitted to Beijing."
Tam says student protesters occupying the streets of Hong Kong should think about what they need to do next. "They are still young and the future of Hong Kong is in their hands," he says. 
Secretary for Commerce and Economic Development Greg So Kam-leung, who is also attending the forum, says the Occupy movement is harming the city's retail and tourism industry.
1.40pm: Lester Shum, one of the student leaders, says the demand for the resignation of Chief Executive Leung Chun-ying was "absolutely natural and reasonable".
Shum is responding to Leung, who said his resignation would not solve any of Hong Kong's problems in an interview this morning. He says the government is apparently using a "delay tactic" and trying to set Occupy protesters against other Hongkongers.
He says the most important thing students have to do right now is to think of ways to minimise traffic disruption so that the movement can continue and not lose popularity.
1.15pm: It is the government which refuses to budge, not the protesters, says Alex Chow of the Federation of Students, reacting to the chief executive's televised remarks on this morning. 
"Our guess is that there are different opinions within the government," Chow says. "Some advocate negotiation but the hard-liners want to clear the streets, because that's how they could benefit the most," he says at RTHK's weekly City Forum. He did not elaborate who he referred to as a hardliner and how they could reap benefits from a crackdown.
At the same forum, pan-democrat lawmaker Alan Leong Kah-kit says Leung is determined to turn Occupy into a war of attrition and wait for the best time to clear the protest sites.
"The reason [Chief Secretary] Carrie Lam used to call off talks with students is outrageous," he says. "Negotiations are necessary."
Chan Chit-kwai, a pro-establishment district council member at Central and Western district, urges occupy protesters to leave if they want to win public support. 
"The public opinion is your bargaining power, not the streets you occupy," Chan says.
He says he believed the government would be willing to enter dialogue with the student protesters as soon as they leave the streets.
1pm: The 15 year-old girl who had allegedly been hit on the chest by a police officer in an altercation in the early hours of today said she would not press charges of sexual assault against police. 
12.10pm: Several Eastern district councillors visit the Occupy protest site in Causeway Bay to ask protesters to stop their sit-in as soon as possible.
"It has been weeks already. Think about it," says councillor Peter Shiu Ka-fai of the Liberal Party, which controls five of Legco's 70 seats.
Eastern Council's vice-chairman Kung Pak-cheung, of the Democratic Alliance for the Betterment and Progress of Hong Kong, says the protest in Causeway Bay has affected the lives of 580,000 people living in Eastern District.
But the protesters are apparently unmoved by the politicians' arguments.
"I understand that we are affecting the traffic. There is a price to pay ... We don't want [the Occupy movement] to end up like the July 1 march, when everyone just returns to their normal way of life after the march," says protester Chris Lau, a University of Science and Technology physics student.
11.55am: Our reporters' estimates of crowd sizes at protest areas:
Admiralty: 300 - 400
Mong Kok: 60 - 80
Causeway Bay: 50
11.29am: About 80 protesters remain at the main area of Occupy Mong Kok this morning, most taking shelter under tents from the scorching sun. Curious passersby and families on their day off walk through the protest zones taking photos.
"I think it's pretty brave what the students are doing and I took my own kids ages eight and 11 here to see what is going on," said business owner Sam Kwok, who has not taken part in any of the protests. "It hasn't affected us greatly other than minor inconvenience in traffic - we live in Sha Tin - but I support what they are doing for the future of this society."
11.17am: Some 30 members of the Hong Kong Construction Industry Employees General Union go to the rallying scene in Admiralty to ask the protesting students to clear roads for traffic.
Union chairman Chow Luen-kiu says some 3,000 construction workers had to take longer journeys to work due to traffic blockades. He adds that more than 1,000 workers working at construction sites within the protest areas had not been working for days, because trucks delivering steel and cement could not reach construction sites.
"We respect your demands because many of our children are among the protesters," says Chow. "But it's been 15 days. You've done enough and the whole world has known your demands. So please leave and let your parents resume work so they can raise you."
Chow denies accusations by some Occupy protesters that the union workers had been being paid to stage the counter-protest.
10.56am: The international hacker group Anonymous says it has targeted several Chinese government websites, claiming to fulfil its pledge to fight for democracy in Hong Kong.
So far, the website of the Ningbo Free Trade Zone and a job search website run by a county in Zhejiang province appear to have been hacked. The group released lists of emails which originated from those websites. 
10.36am: Protesters react with defiance to the chief executive's statements earlier today, in which he suggested that protests would end soon and that they had "almost zero chance" of changing Beijing's mind on allowing a free election of his successor in 2017. 
While writing pro-democracy messages in his tent in Admiralty, Kelvin Lui, a 56 year-old worker at a construction company, says he doesn't care about what Leung said. 
"The fight will continue no matter what he said," says Lui. "I believe many people will keep fighting until our demands are realised."
He says he had asked for a two-day leave from his job to join the Occupy rally. He says he will keep coming back after work hours next week. .
10.31am: The chief executive said protesters have "almost zero" chance of changing Beijing's mind: 
10.28am: Our reporters' account of what happened in Mong Kok in the early hours of today: angry stand-offs, police batons, the now familiar yellow banner and protesters surprisingly assisting police in an arrest. 
9.31am: Hong Kong's Chief Executive Leung Chun-ying says the Occupy movement is a "mass movement that has spun out of control" in an interview broadcast on TVB. He says the movement should not be regarded as a revolution. Our full story will follow soon. 
8.40am: An open letter released on Saturday by student leaders to President Xi Jinping is meant to suggest to the head of state that the Occupy movement in Hong Kong is not a  "rebellion" against Beijing's sovereignty, Lester Shum from the Federation of Students said in a radio interview this morning.
"We would like to point out that Hongkongers' pursuit for democracy has no conflict with the 'Chinese Dream'," said Lester Shum of the student activist group, referring to Xi's political ideal which stresses on building a harmonious and prosperous nation.
"We've seen that Zhou Yongkang had to step down over corruption allegations, then why is a corrupt official like CY Leung still in power?" Shum asked, referring to the latest scandal over the HK$50 million deal signed between him and an Australian firm after he agreed to an acquisition of a property services firm of which he was then its chairman for the Asia Pacific region.
The letter should help Beijing understanding better the views of Hongkongers, he said, as the Hong Kong government had failed to reflect such views in its report to Beijing after completing a public consultation on political reform earlier this year.
Here's the 
full text
 of the open letter issued on Saturday night by student leaders.
8.35am: The Sunday Morning Post's front-page today:
8am: Excerpts of the Post's coverage of the Occupy movement today:
Carrie Lam 'helpless' over talks deadlock
Hong Kong government No.2 Carrie Lam Cheng Yuet-ngor has expressed "disappointment and helplessness" over the collapse of talks with students, as unprecedented democracy protests which have rocked the city entered their third week.
Never retreat, a Mong Kok state of mind
No one was giving orders and communication was sporadic at best - but within hours of protesters being tear gassed beneath the shimmering towers of Admiralty two weeks ago a new front had opened in the fight for universal suffrage in an altogether different place.
Students the stars of the pro-democracy protest story so far
"Class boycotts may last for only a week, but there could be more strikes in the future," Chow told the crowd.
Occupy protests bring acceptance for ethnic minority youngsters
Amid applause and cries of encouragement from Chinese locals, various nationalities joined forces to march in the streets with homemade banners, exercising their rights.
INFOGRAPHIC: Riot gear - How Occupy protesters and police stack up