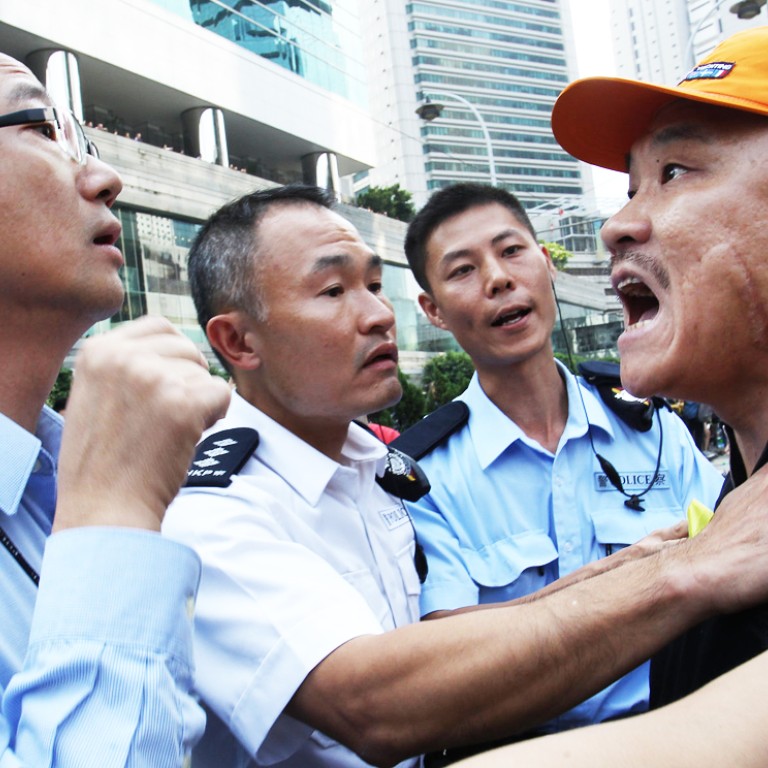 Review

|
OCCUPY CENTRAL - DAY 16: Full coverage of the day's events
Chaotic scenes unfolded in Admiralty when a group of masked men removed barricades in Queensway and Cotton Tree Drive as dozens of anti-Occupy protesters gathered in the area.
Good evening and welcome to our ongoing coverage of Hong Kong's Occupy movement.
Chaotic scenes unfolded in Admiralty on Monday when a mob of masked men, who appeared to be working in tandem with taxi drivers and truck drivers, removed barricades in Queensway and Cotton Tree Drive as dozens of anti-Occupy protesters gathered in the area. Scuffles broke out when some of the masked men cut the plastic cable ties connecting barriers on Queensway and confronted Occupy protesters.
The clashes came just hours after police in Admiralty and Mong Kok launched an operation to remove barricades and open a number of occupied roads to traffic.
11.34pm: Admiralty: A truck delivers new supplies of bamboo poles to Occupy protesters to help them reinforce roadblocks and barricades along Queensway.
11.10pm: Admiralty: IT worker Kevin Lee and his four friends say they will stay on Queensway to act as a "human roadblock" if necessary while waiting for the concrete used to fortify the the layers of roadblocks behind them to dry.
"Each night we occupy different spots. We will move to any location that need reinforcements most desperately," said the 26-year-old. "The gangsters are out every time the government makes some strong comments," said his friend Tom Chan, who works in the travel industry. He said he is determined not to let gangsters to have their chance to create chaos at Occupy protest areas after witnessing how vulnerable protesters were this afternoon.
In his blog on Thursday, Eldon said the revelations about Leung's deal might lead to pressure from Beijing for Leung to step down.
"President Xi Jinping has made very clear his abhorrence of corruption, and if there is the slightest unpleasant smell about this, what better way than to remove an unpopular official? "The departure will not have been the result of student pressure … and should see the temporary installation of an altogether more popular person in the shape of Carrie Lam," he wrote.
10.47pm: Admiralty: Protesters complete building new bamboo barricades across the highway at Queensway. "I just learned as I went along. There were some construction workers here to teach us how it should be done," said self-employed IT worker Alec Lee, 45. "The police said this morning they were just retrieving government property when they cleared some of our barricades. Now they can't use the same excuse because the bamboo barriers are private property." 
A construction worker passing by Queensway where Occupy supporters were building the barricades says he is impressed by the protesters' craftsmanship. "Even if a car rams into it, the barricades will still hold. But it would be another story if it is a lorry," says the scaffolding worker.
10.34pm: Admiralty: Protesters continue building bamboo barricades on both sides of the Queensway highway. The makeshift barricades are being strengthened by plastic ties and steel chains have been brought in to further reinforce the barricades. About 500 protesters are occupying Queensway, including some curious onlookers.
9.22pm: Admiralty: More than 20 police officers are confronting protesters on Queensway where bamboo barricades have been set up by demonstrators.
8.52pm: Admiralty: Several protesters are laying down cement foundations to fortify barricades made of host of materials, ranging from steel barriers, wooden pallets and even wheels from vehicles across Queensway outside Pacific Place.
An argument between protesters and a man with a briefcase ends abruptly after he shouts "If you were my son, I would kick you." He was led away from the scene by police.
8.29pm: Admiralty: A group of about 10 construction workers arrive holding placards with messages of support for the Occupy movement, saying that their union does not represent their views. The group receives a huge round of applause from the crowd. On Sunday, about 30 members of a construction union visited the demonstrations in Admiralty, demanding an end to protests.
7.38pm: Carrie Lam walks over to an apparent "Umbrella Revolution" supporter, promising a peaceful future for Hong Kong.
A man raises an umbrella during a speech made by Chief Secretary Carrie Lam at a Spanish National Day event.
7.27pm: The head of the Federation of Students Alex Chow Wing-hong questions whether police collaborated with a mob of masked men to remove barriers in Admiralty on Monday afternoon, just hours after police removed barricades from the protest site in Admiralty. "It is like a coincidence. I don't know if there was any coordination but it's normal to speculate whether there was collaboration," Chow says. 
As the Occupy movement enters its third week, questions have been raised on what action should be taken next. Chow says at this stage protesters are only able to reinforce existing barricades, depending on manpower and resources, after some barricades had been removed.
Chow says he doesn't have any specific plans on how to advance the movement, as he is still observing whether the chief executive, or chief secretary, would offer Hongkongers some new proposals after their trip to Guangzhou. "Until now, the pair haven't given a clear political message on what Beijing has instructed them to do to address the problem of governance in Hong Kong," Chow says. "They also haven't raised any concrete proposals on how to solve the crisis. Do they still want to govern Hong Kong?"
7.16pm: Admiralty: Protesters intensify efforts to reinforce barricades along Queensway. Photo: K. Y. Cheng
6.41pm: Admiralty: Protesters in Queensway are using anything and everything to form barricades, among them wooden boards, bamboo poles and metal bars. Now two layers of barricades have been set up on each side of Queensway.
6.34pm: Mong Kok: The protest site in Mong Kok remains peaceful. The placard at the back reads "No more violence". Photo: Nora Tam
6.22pm: Admiralty: Protesters on Queensway by the Bank of China headquarters have brought in stacks of bamboo and are using the poles to reinforce barricades along Queensway.
5.37pm: Admiralty: Protesters continue to head towards the main protest site in Admiralty as people leave work or finish their studies. A crowd of about 200 people gather under the footbridge adjoining the Legislative Council building as some protesters make speeches. 
5.22pm: Admiralty: The government's decision not to reopen Civic Square comes as no surprise to protesters in Admiralty, with many arguing that the Occupy movement should escalate its actions in retatliation. "I expect nothing from the government," said civil engineering student Simon Sin, 21. "We must take more action, otherwise people won't listen to us," Sin said.
Meko Chan, 24, a human resources manager, says the government's decision was expected. "I think we should remain occupying the current areas, and occupy buildings of big companies, like in IFC, because what we are doing is not affecting the economy that much".
Banker Nicola Chan, 26 says: "It's obvious the government is not willing to negotiate." She suggested protesters increase their civil disobedience actions "to expand the areas of occupation and organise new class boycotts." 
5.03pm:  Crowd estimates:
Admiralty: 500, including about 70 on Queensway
Mong Kok: 80 protesters and more than 150 bystanders
The atmosphere is tense in Mong Kok, where anti-Occupy protesters far outnumber Occupy supporters.
The anti-Occupy groups are hanging around in the protest site, berating protesters. "In other words, the Occupy area has been occupied by the anti-Occupy people," a Post reporter at the site says.
5pm: Despite all the rebuilding work going on, police say they will soon remove roadblocks on Yee Wo Street and Queensway.
Three men aged between 18 and 47 have been arrested so far in connection with the Admiralty chaos this afternoon on suspicion of possession of dangerous weapons and common assault.
Watch: Chaotic scenes in Admiralty as anti-Occupy groups march on protest area
4.55pm: Jimmy Lai Chee-ying, chairman of the Next Media conglomerate, may seek a court injunction to stop protesters from blocking operations at his flagship newspaper, Apple Daily, according to a report on the publication's website.  More below:
4.50pm: Mr Chan, an elderly man who once took part in building the study corner on Harcourt Road, is now helping Occupy protesters to strengthen the barricades on Queensway.
Protesters remind each other to wear a face mask when building barricades to avoid being identified by police.
4.45pm: Here's some video footage of the chaotic scenes in Admiralty earlier this afternoon:
4.40pm: The number of protesters continues to grow at Admiralty as secondary school pupils arrive after classes finish.
The youngsters are joined by 69-year-old Liu Zhengru, who says he migrated to Hong Kong from the mainland 35 years ago to escape Communist Party rule.
"I'm here to show my support for students," Liu says, before describing his life on the mainland. "It was terrible. Living was even worse than death. I was determined to leave," he says.
"I really admire the students. They are Hong Kong's hope."
4.30pm: The sound of hammer on wood echoes through the bus terminal next to the Lippo Centre in Admiralty, as protesters use discarded wooden boards and carpets to rebuild barricades.
4.25pm: Occupy protesters have built new, stronger barriers on Queensway next to Rodney Street after truck drivers removed barricades earlier.
The protesters have also set up a supplies station and moved more tents from Harcourt Road to Queensway.
4.10pm: Scholarism call on Occupy supporters to reinforce the protest sites at Admiralty, Causeway Bay and Mong Kok and bring with them large objects to strength the roadblocks.
The group also accuses police of "indulging" anti-Occupiers in their forceful removal of barricades set up by protesters and of applying "double standards".
"Police indulged the anti-Occupiers in making the damage. This stands in stark contrast to how they dealt with peaceful Occupy protesters earlier on," a statement says.
"Police's attitude towards the incident will only make people lose confidence in them."
4.06pm: Here's Occupy Central's statement in full on the anti-Occupy demonstrators attempts to clear barricades this afternoon, and police efforts to remove a number of barriers earlier today:
Occupy Central with Love and Peace (OCLP) regrets the police's removal of some of the barricades set up by the occupy movement this morning. At around noon dozens of masked men then forcefully removed blockades in the Admiralty occupied zone. OCLP condemns these violent actions. We urge the police to enforce the law and prevent certain people from damaging peaceful occupy movement, and avoid any suspicion that the government may be trying to use the masses to attack the masses.
Two weeks have elapsed since the occupy movement made its presence felt, but the administration has produced no serious responses. There is no attempt at accountability for the violent clearance of September 28th. Senior officials played the game of passing the buck, unable to come up with any road map to re-activate the process of political reform. Then the agreed dialogue with students was called off. Such irresponsibility cannot result in anything good for the city. OCLP calls upon the Administration to stop removal of the barricades. What must be removed are the fundamental barriers which cause the present crisis: the collusion of political and business interests and small circle monopoly of the legislature and the office of the Chief Executive. The people are crying out against an unjust system which is barricading Hong Kong's development into a caring society.
The occupy movement first began as a response to government's closure of the Civic Square. The administration was of the view that the re-opening of the Square might invite people to congregate, thus affecting the running of the Chief Government Office. Such mindset is a contradiction of the Open Door philosophy which underlines the design of the building in the first place. The closure sets the administration on the opposite side of the people for good. It is against centuries of Chinese political wisdom. The tradition likens the will of the people to flowing water: it is only to be channeled, not blocked. The re-opening of the Civic Square would be an icon of reconciliation, reducing tension with the population, bringing calm to the community. We strongly urge the Administration to give it its serious consideration.
We understand that the current situation might have caused inconvenience to our fellow citizens. The anti-occupy groups' violence against the occupiers would merely deepen the social contradictions and destroy the fame and the tradition of non-violent disobedience in Hong Kong; your violence would solve no problems. We expect non-violence from protesters of all backgrounds.
We ask the occupiers to stand firm in defending the occupied area and support each others; we also ask you to stand by the principle of non-violent disobedience in face of the police's clearance. We believe that the success of the movement hinge on our perseverance in the spirit of democracy, love and peace.
4pm: An angry cab driver speaks out. Jimmy Tso Tat-Ming, taxi driver for more than 30 years, says he's making around HK$300-500 less per shift, while fares that normally take around 20 minutes now take 40.
"They may have nothing to do, so they can just lie down on the street, pitch their tents and chill, but we need to make money. We're ordinary citizens who need to eat.
"Neither the roads nor the steel barriers belong to the protesters. If they can put them up, then why can't we take them down?
"Yes I was part of the group that took down the barricades, because they were getting in the way of law-abiding citizens going to work. If what they do is legal, then what I do is also legal.
"I wore a face mask because I was afraid of the Occupy Central protesters recognizing me and beating me up."
3.48pm: Fourteen taxi, minibus and lorry groups have vowed to seek an injunction from the court to bar leaders of the Occupy movement from blocking major roads on Hong Kong Island and in Mong Kok, as they say the ongoing protests are seriously affecting their businesses.
"The Occupy movement is actually causing a lot of inconvenience. Under common law it is nuisance. The party affected is entitled to seek damages and also to apply for an injunction," said solicitor Phyllis Kwong from the Asia Pacific Law Association, who is assisting the groups.
In a press conference with representatives from the 14 transport sectors, Kwong expressed the hope that the injunction could be filed "as soon as practicable" and would name at least seven organisers of the movement.
"It is unrealistic to apply to all participants, but then I am sure there are initiators, promoters and leaders," Kwong said, adding that other people should also respect the court's ruling when it comes.
3.34pm: Apple Daily, which has been openly supportive of Occupy Central, has been hit by a cyberattack, it says in a tweet. Some readers have not been able to access the newspaper's website, the tweet said. The website has been inaccessible on the mainland for years.
On Queensway police are holding up signs reading 'police cordon, do not cross' after a pro-democracy protester was taken away by officers, angering others who surged towards them demanding to know what he had done wrong.
Occupy Central has released a statement condemning as a "violent act" the removal by the masked men of barricades set up previously in Admiralty. In the statement Occupy urges the police to strictly enforce the law and protect the peaceful occupation protests from being disrupted.
The movement also calls on the government to reconsider opening the forecourt at the East Wing of the government headquarters complex in Admiralty to the public, saying its closure is against the principle of an open government.
3.20pm: Paul Wong, who moved to Australia in 1983, flew back to Hong Kong to join the students' protest.
"I did not come back Hong Kong even when the government dished out HK$6,000 to every citizen few years ago. But I'm here today as I truly hope Hong Kong could implement universal suffrage," Wong said.
"I have slept on Harcourt Road for days and have not showered for five days," he said. "I will only leave Hong Kong only if the battle ends."
While Hongkongers have been talking about migration as they see no hope in the city, Wong urged people not to follow his path and to stay and face the challenges.
"Moving to other countries is not a way out. We should fight for democracy for Hong Kong just like other countries did," he said.
3.05pm: Things are also heating up in Mong Kok where a large group of middle-aged men and women have surrounded the protest zone and a war of words is underway.
Sporadic and heated political arguments are breaking out in the area as both sides try to put their points across. Police have been forced to intervene several times to keep the two sides apart, while one man was taken away after attempting to remove a tent pole.
In Admiralty a man who gave his surname as Lai said he would not leave until roads were reopened. "They are blocking the way of taxis and trams and because of them materials for construction sites around this area cannot be delivered," said the 50-year-old.
Another anti-Occupy demonstrator, surnamed Lung, said his work as a driver had been affected and that the protesters were breaking the law.
A banner carried by taxi drivers reads: "Give us back our roads, protect our business".
2.50pm: Anti-Occupy demonstrators chant slogans in support of police as they are diverted towards Cotton Tree Drive, away from the protesters.
2.45pm: Pro-democracy protesters are emotional after witnessing the truck drivers' attempt to remove the barricades on Queensway.
"How could the police officers allow others – to be exact, thugs – to enforce the law?" asks Lee King-hoi, a retiree.
"Has the government given up its governance?"
He says police did nothing as the barriers were removed. "But they immediately stopped and warned the pro-democracy protesters who tried to stop the truck carrying the barricades from moving. The police have confused the cause and effect."
2.35pm: Occupy supporter Chu Wai-ho, 32, is wrapping steel barricades with cling film in an attempt to reinforce them.
"I can't believe the anti-Occupy Central people actually took the step of organising what look like triad members to break up our peaceful protests," he says.
"We're under the Bank of China and this is a major international financial hub. I can't believe they're doing this in full view of many foreigners and working professionals.
"The police tried to keep them under control but they were outnumbered."
2.30pm: A police officer speaking to protesters on a megaphone, tells them that the anti-Occupy group will not be allowed on Queensway. They will instead he says, be diverted onto Cotton Tree Drive.
Meanwhile, police are stepping up security at their headquarters on Arsenal Street.
2.20pm: The police have formed a human barrier between the anti-Occupy protesters and the Occupy group under the flyover in front of the Bank of China, which separates Central and Admiralty.
Anti-protesters chant "open the roads" every once in a while. There are at least 40 policemen keeping the two groups apart. The surrounding walkways and flyovers are packed with onlookers, most of them with their phones out, recording the scene.
2.15pm: MJ, who has been camping on Queensway since September 28, complains that police did nothing when the drivers removed their belongings without their consent.
Edward Chin Chi-kin, a core member of Occupy Central's financial group, says he hopes that police are not cooperating with the truck drivers in removing the barricades.
"Everyone has the right to protest, but if these anti-Occupy [groups] bring in trucks and use violence against others … that's not right," he says.
Scuffles break out between the two camps as pro-democracy protesters try to block a truck from leaving.
2.10pm: An aerial view of the scene in Admiralty, as chaotic scenes unfold:
2pm: Chief executive Leung Chun-ying met the press in Guangzhou as the chaos in Admiralty was beginning to unfold.
He says it is "a matter of common sense" that it is the police commander at the scene – and not him – that made the decision to fire tear gas at Occupy protesters on September 28.
Leung was asked to explain his remark in a television interview on Sunday that he did not make the decision to fire tear gas. "As the head of the government, I should be concerned for all matters in the government, but the head does not make orders to police officers taking action in the streets. This is common sense."
He also reiterates that he will not resign "and there is no need to resign". Asked what he thinks about a popular view that his resignation will solve the political problem. Leung says: "It is not about the person. Whoever takes the chief executive's position has to abide by the Basic Law and the decisions of the National People's Congress. I have made it clear my heart will follow this."
Leung will not say whether there is a deadline for protesters to retreat before a clearance action is taken, saying the disturbance to shops and traffic "cannot last forever". The government and police have exercised "the greatest restraint", he says, noting that district councilors have failed to persuade protesters to retreat.
It remains to be seen how much of the protest site in Admiralty is left however …
1.56pm: Some truck drivers forcibly remove barricades and protesters' tents on Queensway outside Pacific Place.
Occupy protesters complain that the drivers are removing their private property while police turn a blind eye.
1.54pm: Taxi drivers appear to be working in tandem with the mob of masked men as the group marches to Cotton Tree Drive. Some 10 taxis have arrived on the scene, with drivers pressing horns and groups of middle-aged men joining the anti-Occupy group.
Police reinforcements have arrived, built up a cordon line, and stopped the group removing barricades.
Police erected banners saying "Police Cordon. Do Not Cross" during a confrontation.
Right now, more than 200 men are gathering at the scene. Some are waving placards saying "Support police to enforce the law".
1.45pm: Some photos of the masked men at work in Admiralty:
1.30pm: Police make arrests after a group of masked men – estimated to be 500-strong – attacks Occupy protesters in Admiralty and attempts to remove barriers.
Television footage shows one member of the group being ordered to drop a knife to the ground by police.
1.20pm: A group of anti-Occupy protesters from the pro-Beijing New Territories Association of Societies turns up in front of Civic Square.
"Your movement has affected many people's livelihood over the past week and lots of drivers have lost their jobs," they chant.
"Hongkongers hate you all."
The Occupy camp responds with boos, hisses and an airing of the by now familiar happy birthday song.
1.12pm: Things are looking greener than usual on Connaught Road, near to the Admiralty protest site:
Road plants on Connaught Rd, #occupyHK #HongKong
1.10pm: The self-appointed traffic wardens of the Occupy movement are taking some flak from drivers and passersby as they stop vehicles on Queensway in front of Pacific Place. 
"I used to support you, and empathise with you, now I hate you," yells a man in a blue shirt and black trousers, claiming that no Central and Western district residents support the protests anymore.
Protesters are letting cars through the makeshift checkpoint one by one.
A police officer in plain clothes and a negotiator are also there. They say they just want to make sure the protesters and drivers are safe.
1.05pm: Next Media chairman Jimmy Lai Chee-ying might apply for a court injunction to stop anti-Apple Daily protesters from blocking the delivery of the newspapers, according to online programme host Li Wai-ling.
Her programme Hammer Out is broadcast on the daily's website every weekday.
12.56pm: The government rejects the protesters' request to reopen the "Civic Square" at government headquarters in Admiralty.
"A mass gathering [at the forecourt] will seriously affect the operations of the government headquarters and constitute safety risks to the headquarters and surrounding areas," the government says in a statement. "Therefore the government will not consider the request to reopen the forecourt".
The statement is a response to student protesters' demand that the Civic Square must be reopened to the public by 5pm tomorrow, as a condition in exchange for protesters' withdrawal from Queensway, a main road linking Wan Chai, Admiralty and Central.
The forecourt at the East Wing of the headquarters "is mainly used for vehicular access and as a drop-off point", the government adds.
It will stick to the present arrangement, under which the public must apply for approval for staging a protest or demonstration at the square, which are allowed only between 10am and 6.30pm on Sunday and public holidays. Public passage through the square to the government buildings and the Legislative Council complex is also disabled daily from 11pm to 6am, except for journalists and staff.
The government urges protesters to stop occupying the roads and retreat to places like Tamar Park, the Central harbourfront, Victoria Park and Macpherson Playground in Mong Kok, and says officials will work to coordinate with them if protesters are willing to do so.
12.50pm: Here's Harry's View today …
12.45pm: Protesters prevent Secretary for Transport and Housing Anthony Cheung Bing-leung from entering the Chief Executive's Office in his car.
"You also fought for democracy, but now are you against the people?" protester Chan Po-ying says, telling Cheung that he can walk through the barricade freely, but his vehicle would not be allowed to pass. 
Cheung's car drives away after the protesters refuse to budge.
Cheung championed democracy, having supported the idea that Hong Kong should return to China under a democratic system before the handover from Britain in 1997.
12.40pm: Ethnic minorities taking part in the Occupy protests have become victims not only of verbal assault from those against the movement, but racial discrimination.
Bani, also known by his Chinese name "Ribena", says he has been frequently taunted by anti-Occupy passersby for his South Asian ethnicity.
As he was guarding a barricade in Mong Kok on Monday morning, a Post reporter witnessed a barrage of racist insults thrown at him by middle-aged men against the Occupy movement, ranging from derogatory remarks about his skin colour to statements such as "Go home and cook curry."
"They keep saying I should go home, it's not my business, because I am not a Hongkonger and this is a dispute only between Chinese people," he says, in fluent Cantonese. "This is not right. I have been here 30 years and am as much a Hongkonger as they all are."
Bani says he supports the students' fight for democracy and a better society. He feels racial discrimination is getting more serious in the city in general.
12.30pm: Protesters have just finished building barriers made of bamboo scaffolding at Performing Arts Avenue in Admiralty after two hours' work under the scorching sun.
A volunteer who gives her name as Lilian says they set up the blockade to prevent police from clearing the protest site.
"We woke up to the news that police have removed barriers on Harcourt Road, so we decided to block this road to ensure the safety of protesters," she says.
Volunteers say the bamboo poles were taken from a rubbish pile at a construction site on Performing Arts Avenue.
12.20pm: Janitor Tommy Wong, a volunteer at the Mong Kok camp, says police attempted to dismantle barricades on Mong Kok Road at around 5am but were stopped by protesters.
"I do not agree with police removing the barricades at all. It will compromise the safety of protesters and pedestrians. What if a car rushes in as happened two weeks ago?" he says.
He says police did not consult protesters before carrying out their operation.
In a statement, the force urged protesters to "follow police instructions, and not obstruct police operations or charge police officers."
12.05pm: Queensway is open to traffic again, but drivers first have to pass a checkpoint manned by protesters.
The impromptu traffic wardens confirm the road is open again, as long as vehicles aren't going to Central.
Cars can drive north to get to the area by the Lippo Centre.
Several truck drivers have passed and it seems like more drivers are finding out about this route. An ambulance with its sirens on has just passed.
11.45am: A 70-year old man is guarding the barricades at Lung Wui Road in Admiralty, which so far remain intact.
"I'm here as there is nobody looking after this battlefront," says the man, who gives his name as "Uncle Wong".
"I might not be able to stop the police from doing anything, but at least I could notify other protesters to come over and share the message on Facebook ... to keep everyone safe."
Wong has spent at least 13 days and nights in Admiralty since the occupation kicked off on September 28.
"I do not want to see our next generation living in a community without justice, freedom and equality," he says.
11.30am: Most police have left Harcourt Road, with only around a dozen remaining:
Meanwhile, protesters at the Admiralty site are reinforcing the barricades there with bamboo scaffolding:
11.15am: A summary of events so far this morning:
In Mong Kok, police failed in an attempt to remove barricades at the junction of Mong Kok Road and Nathan Road. A single lane allowing traffic on Mong Kok Road to move east which opened several days ago is still in use. 
Police did however manage to remove the barricades at Argyle Street and Shanghai Street, allowing traffic to flow from the previously closed off street into Argyle Street. Vehicles can now turn left from Portland Street into Argyle Street. Police say they have completed their operation in Mong Kok.
Near the Admiralty protest site, where the police operation is ongoing, barriers have been removed on Des Voeux Road Central and Chater Road in Central.
Police have cordoned off eastbound traffic on Chater Road but reopened westbound traffic. Vehicles from both ends can drive to Jackson Road then go west along Connaught Road Central.
Police have urged protesters to leave the area.
11.10am: Some 40 protesters concerned by events in Admiralty have rushed to the protest site in Causeway Bay to guard barricades there
Kelvin Lee, a 42-year-old engineer, is helping to fortify barricades by adding plastic cables.
"People say they will stay here no matter what," he says. "We saw some police here this morning, towards where the tram lines are, but apart from that, so far things look safe."
Amy Chan, a 38-year-old social worker, came to provide back-up this morning. "I worry about this station," she says. "Many people need to work so it's lacking manpower."
Among the usual bustle of curious onlookers are a nurse and her wheelchair-bound 105-year-old boss who wants to see the occupation despite his deteriorating health. The elderly gentlemen, named Jing, asked his nurse to take him to see the protests this morning.
11am: Chief executive Leung Chun-ying gave the press pack the slip in Guangzhou last night by changing hotels at the last minute, say reporters covering the Pan-Pearl River Delta Development Forum.
Leung is due back in Hong Kong early this afternoon.
10.40am: Scholarism convenor Joshua Wong Chi-fung is celebrating his 18th birthday today. He listed his birthday wishes on his Facebook page in the early hours of this morning:
1. Protests continue to be peaceful.
2. Demonstrators maintain willpower to continue their protest.
3. National People's Congress revokes its decision on electoral reform.
The post has attracted more than 16,000 "likes".
10.06am: Estimated crowd size at protest areas:
Admiralty: 100
Mong Kok: 50
Causeway Bay: 20
10.01am: Demonstrators in Mong Kok have added a second line of barricades on Nathan Road.
A man who engaged in a squabble with another man at the Occupy Mong Kok protest zone at around 8am has suffered a suspected heart attack after being pushed to the ground. An ambulance arrived and he was taken to hospital.
The barricade blocking the intersection of Argyle and Shanghai Street was removed by police earlier today.
9.38am: Demonstrators in Admiralty flock to Harcourt Road, where police have replaced one barricade with one of their own. One demonstrator moves her tent there while others sit down, waiting for further developments. 
The protesters' barricade on Connaught Road Central, opposite Exchange Square, has been replaced by a police cordon. Police officers say they have not received instructions on reopening the eastbound lane of Connaught Road Central.
Meanwhile, Jackson Road, Chater Road and one westbound lane on Connaught Road Central have been reopened to traffic. Traffic remains sparse.
9.32am: Police officers tell reporters that they cleared the blockade on Harcourt Road to open a route to government headquarters in Admiralty. Police say it was their right to clear the blockades because the metal barricades were government property. 
9.17am: The Transport Department issues a detailed rundown of minibus routes affected by protests on Monday. 
8.50am: Police issue a statement saying an operation to clear unguarded barricades in Mong Kok and Admiralty started at 5.30am to ease traffic congestion. Police did not attempt to clear the protest sites, the statement says. The police operation in Mong Kok has already ended, it says.
Police urge protesters not to obstruct police action, remove barricades and disperse in a peaceful and orderly manner. 
8.26am: Police officers carrying tear gas canisters seen in Admiralty. 
8.21am: Two lines of police officers face some 100 protesters at Harcourt Road in Admiralty, where barricades have been removed.
One police officer speaks to protesters on a megaphone, urging calm.
8.15am: In Mong Kok, pro-democracy protesters slept through a peaceful night until 6am when a group of plain-clothes police officers asked for some barricades on Mong Kok Road to be removed to reopen a lane leading to Sai Yee Street.
The protesters rejected the demand and a 45-minute confrontation ensued. The officers left. Protesters then fortified the barricades in other locations with plastic cuffs, pallets and bamboo.
8am: The delivery of Apple Daily was delayed for hours this morning by a group of some 100 anti-Occupy protesters, who blocked the entrances of the newspaper's offices in the Tseung Kwan O Industrial Estate.
The protesters, many of them speaking Cantonese with a mainland accent, appeared at the Next Media headquarters on Chun Ying Street around 11pm, protesting against what they regard as the newspaper's biased coverage of the Occupy movement. 
The protesters erected tents at the building's entrances, obstructing delivery trucks and staff shuttle buses.
By 5am, almost all the protesters had left the scene on foot and on what appeared to be organised coaches. 
INFOGRAPHIC: Riot gear - How Occupy protesters and police stack up
7.15am: The South China Morning Post's front-page on Monday:
7am: Excerpts from the Post's coverage of the Occupy movement on Monday:
Police says triads sent infiltrators into camps of occupy supporters and detractors
Up to 200 gangsters from two major triads across the city were mobilised to infiltrate the camps of supporters and detractors of the Occupy protests during chaos in Mong Kok more than a week ago, police said.
Living on the front line: How an occupation became a community
In this civil community, protesters have formed strong bonds and call one another "neighbour".
Concern over protests keeps PRD trade partners from forum
Fears of negative associations with the Occupy movement are thought to have kept some state leaders from the 10th regional forum.
Mainland Chinese tourists bypass Hong Kong in favour of Taiwan
Island sees 70 per cent increase in arrivals over National Day break amid Occupy protests in Hong Kong.
Who's responsible for business losses - protesters or the government?
"Those contemplating suing protesters for loss of business should realise that such a claim would probably be futile and their energy would be better spent lobbying for a compensation fund", writes Rick Glofcheski.
6.45am: What the front pages of the local papers are saying: 
Apple Daily: Anti-occupy group block publication of Apple Daily
Oriental Daily: Mainland corrupt officials flock to Southern Europe, South Africa
Ming Pao: Queensway in exchange for Civic Square, students and pan-democrats propose
Sing Tao Daily: C Y Leung: Mass movement has lost control
Overnight: 
Protesters in Admiralty said they would stop occupying Queensway if the government reopens the space now known as Civic Square among demonstrators near the East Wing of the government's headquarters by 5pm on Tuesday. 
Standing next to Occupy Central co-founder Benny Tai Yiu-ting and Scholarism convenor Joshua Wong Chi-fung, a Queensway occupier who identified himself as Ah Dee said: "We understood that our occupation has affected the daily lives of residents in the neighbourhood [...] So we have now opened a gateway of sincere dialogue, if the government doesn't want to obstruct the people's daily lives and democracy, please respond to our humble request."
Tai, Wong and representatives of the pan-democratic camp said they agreed with Ah Dee's plan. Some protesters voiced their opposition to it. 
Hundreds, if not thousands of people, camped out at Admiralty on Sunday night. We counted some 400 tents there.