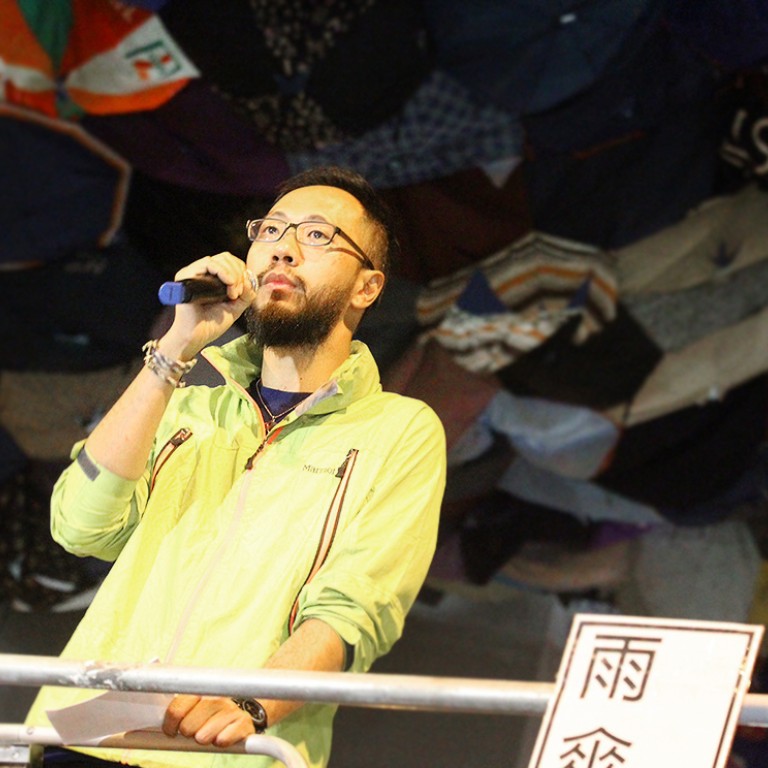 Review

|
OCCUPY CENTRAL - DAY 19: Full coverage of the day's events
After 19 days and thousands of posts from our reporters and photographers on the ground, our live blog on Occupy Central has now closed. Stay tuned to scmp.com for all the latest breaking news and analysis on the protests.
After 19 days and thousands of posts from our reporters and photographers on the ground, our live blog on Occupy Central has now closed. 
This concludes our live coverage.
11.30pm Admiralty: Cannes film festival best actress Deanie Ip visits Admiralty to support students and fellow artists. "Suddenly, I no longer trust the police to leave protesters in peace," she says, while pinning a yellow umbrella onto her sleeve. 
11.00pm
Causeway Bay: Protesters are getting ready to spend another night on Yee Wo Street. More than 20 tents are pitched in the area. Priscilla Chung, 23, who works in marketing, has just set up one of them. "I can see that it won't be a short journey, so we decided to use a tent to get a better sleep," she says. 
Chung and her friend also have a tent in Admiralty, but decided to support the movement in Causeway Bay for a few days. "We heard that there were fewer and fewer people coming here. So, it sounded a bit dangerous to let that happen," she says. Each occupied area is, in her opinion, "a bargaining chip" that should be protected.
10.45pm Admiralty: Canto-pop icon Anthony Wong and singer Denise Ho speak at the Harcourt Road rally before giving a performance. "Music has never been for entertainment purposes only," Wong says. "There are lots of creative ways that we can document this movement."
#UmbrellaMovement protesters sing theme song "Blowing in the Wind" in Admiralty rally #occupycentral #occupyhk (Video by SCMP's Samuel Chan)
10.35pm: A member of the British government says Hong Kong's policing of recent protests have been "largely proportionate". William Wallace, a government representative in the House of Lords, is speaking at a debate on recent developments in the city.
10.25pm Admiralty: Ken Tsang's lawyer Alvin Yeung says if the police or the department of justice fails to conduct a public prosecution of the police officers involved with alleged beating of Tsang, private prosecution will be the last resort. Tsang says he cannot comment on what happened on that night, including allegations of him pouring liquid on police officers.
10.15pm
Admiralty: Joshua Wong Chi-fung of Scholarism calls on protesters to stop swearing and clashing with police. Speaking at a rally on Harcourt Road, the student comments on the attempted occupation of Lung Wo Road near the chief executive's office over the past few nights, which resulted in violent clashes and police resorting to the use of pepper spray.
"It was 4am. Some protesters were swearing at police officers. I also saw masked men standing at the back telling people to clash with police while they themselves did nothing," he said. "I felt so helpless and didn't know what to do." 
"I hope you can remember that we are here to protest, not to vent our anger," Wong continues. "Should we see the police as a tool to vent our anger? This is a question each of us here should think about."
10.05pm Admiralty: Reacting to CY Leung's earlier statement, Lester Shum, deputy secretary-general of the Federation of Students, said his group "would not be afraid of dialogue". But the student activists also questioned Leung's sincerity. "If [Leung] is offering to talk but at the same time [is] ordering police to clear the scene violently, the people know how sincere he is," said Alex Chow, who leads the federation.
10.00pm Causeway Bay: About two hundred people are in the protest zone in Causeway Bay. After this afternoon's blaze, volunteers were able to clean up the area and put the tents in their original place. A free class on how to use a mask if police deploy tear gas or pepper spray has just finished, while a talk lead by a member of the Students Christian Movement of Hong Kong about non-violent resistance and non-violent communication is still underway.
Form Four students Alan Leung and Hugo Wu are among those joining the marathon tonight. The pair said they both took part in the pro-democracy class boycott last month and that three out of four schoolmates in his year support Occupy.
Another runner, Ken Yeung, who works for an independent public policy research institute, said: "The marathon is about perseverance and this is our message to the students, to encourage them to persevere in this long fight."
#occupyhk supporters run a 3k "marathon" in support of the movement @samuelcccs #hongkong
9.15pm: Ken Tsang Kin-chiu takes the stage on Harcourt Road and, despite him being allegedly beaten by a group of officers, tells the crowd that they should not be hostile to the police.
"All I want to say is, it was a few police officers who did not treat me well," says Tsang, 39, a social worker and Civic Party member. "I still believe the whole police force is not like that.
"I call on you not to be to hostile to other police officers," he said, to applause from the crowd.
Tsang says he is still in much pain even after several hours of rest. He feels pain in his muscles and is getting neck and back cramps. He also has to breathe slowly as it is it is painful to take deeper breaths.
Tsang thanks the media for "witnessing what happened and recording it". He calls on Police Commissioner Andy Tsang to explain police actions over the past 19 days.
OCLP [Occupy Central with Love and Peace] is concerned about the progress of the investigation. [We] urge the authorities to make public soon its [findings] and its investigation report into the allegations that police used excessive force on protesters during the clearance of Lung Wo Road.
It goes without saying that the abuse of power by individual officers is outrageous, but we hope every Occupy protester would not leave behind their aspirations to fight for democracy with love and peace, and remember that who they are against are the autocrats who ignore the people.
[We] must be vigilant not to allow violence to happen, which would give the government an excuse to launch a crackdown.
We appeal to all protesters to stay at Umbrella Square [Harcourt Road]; any further attempt to block traffic or to enlarge the occupied area would intensify the conflict in our society and only Leung Chun-ying would stand to gain from it.
If civil disobedience is to succeed, [we] must seek the public's understanding and the support from the masses.
8.45pm: Admiralty: An Occupy Central supporter tries to hand TVB journalists on Harcourt Road a gold plaque with the inscription "contributions appreciated".
The gift-giver, protester Richard Lam, said he wanted to thank the TV crew for showing footage of the alleged police beating of Ken Tsang. A TVB reporter declined to accept the gift, saying they were only doing their job. At Lam's insistence, the reporter said he should send it to TVB's office instead.
Earlier, some 300 people gathered for a lecture by a political commentator and former journalist who was jailed on the mainland for two years.
An estimated 1,000 people are on Harcourt Road, much less than last night's turnout.
8.35pm: Causeway Bay: Fire trucks have left after the billboard blaze. Protesters are quickly rebuilding the barricades on Yee Wo Street, next to the Sogo department store, and cleaning up remaining debris. They were earlier concerned that police, who set up a wide cordon near the fire, would not allow protesters to camp on the street again.
8.30pm: A High Court judge has advised Civic Party member Ken Tsang Kin-chiu to write to the police commissioner about a request to disclose the identities of the officers who allegedly beat him.
Tsang filed a writ the High Court at 4pm and called for an urgent hearing. One of his requests is that an interim mandatory injunction be issued, imposing an interdiction from duty on the officers. Police have already announced the suspension of seven officers. 
The court also heard that Tsang needed the names of the officers to lodge private legal action against each of them. Outside the court, Tsang's lawyer, Michael Vidler, said they would give the police until Monday morning to reply to their request for the disclosure of names.
8.10pm: Asked about his views on the alleged attacks on journalists during the demonstrations, media veteran and anti-Occupy figure Robert Chow Yung said: "When police have to take action during chaos, there may be 'collateral damage'."
Chow advised younger journalists to exercise caution when covering physical altercations during protests, adding that the media are "facing a new work environment since the start of Occupy Central".
"Hong Kong journalists are very brave. Even war correspondents would describe them as crazy," the former RTHK talk show host said in a press conference for the Alliance for Peace and Democracy.
Chow described police as the "thin blue line" maintaining order in the city, without which Hong Kong would descend into anarchy.
On Wednesday, six local press unions requested a meeting with security minister Lai Tung-kwok and police chief Andy Tsang Wai-hung, after some journalists reported being punched, dragged and pulled by officers while covering clashes on Lung Wo Road despite showing their press cards and holding recording devices.
Earlier, chief superintendent Steve Hui Chun- tak reiterated that the force respected press freedom and urged journalists to stay safe and cooperate with officers at operation scenes.
7.50pm: Police public relations bureau senior superintendent Kong Man-keung responds to questions on why anti-triad officers have been sent to protest sites. 
He denied that a manpower shortage was the reason for the deployments. Kong explained that the officers, with their expertise in criminal investigation, could make quick arrests when necessary.
No roads have been reopened over the past 24 hours and the total length of occupied roads in the city remains at 2.3 kilometres.
Eight bus routes are suspended due to the blockades and another 218 routes have been diverted.
7.35pm: Spotted a silver lining amid the protests? A Chinese umbrella exporter has filed for an initial public offering in Hong Kong, Reuters reports.
China's third-biggest umbrella maker Jicheng Umbrella Holdings is seeking funds to build a new factory, according to a prospectus filed on Wednesday, Reuters said.
The city became the umbrella maker's third-largest market in the first half of the year, the documents said.
Hong Kong's pro-democracy protests have been dubbed the "umbrella movement" or "umbrella revolution" after protesters used the gear to protect themselves from tear gas and pepper spray fired by the police.
7.15pm: Causeway Bay: Protesters are anxious about losing their camp on Yee Wo Street as police have cordoned off part of the site due to a billboard fire. Protesters had moved their tents and opened a barricade to clear the way for emergency services.
The blaze has been extinguished, and dozens of policemen and firemen remain, sealing off one lane of the street. 
7pm: Legco security panel chairman Ip Kwok-him says the committee will hold a special meeting on October 27 to discuss how police handled the protests, and Commissioner of Police Andy Tsang Wai-hung will be invited. 
Separately, Democratic Party security affairs spokesman James To Kun-sun called the suspension of seven officers said to be involved in the alleged beating of Ken Tsang a "belated but positive step". But To said a criminal investigation should still be launched.
Meanwhile, more accusations emerged from the pro-government camp about the Ken Tsang incident. Ann Chiang Lai-wan, of the Beijing-loyalist DAB party, cited unsubstantiated claims, which she said were circulating online, that Tsang was pouring urine from a ledge on Lung Wo Road before he was caught by officers. The has reported Tsang was pouring water.
The day's heated debates even prompted Liberal Party lawmaker Tommy Cheung Yu-yan to break into song about how policemen are feeling amid the protests.
Cheung's song, titled Belief Without Complaint, is set to the tune of You Raise Me Up, and includes the lyrics: "All people are complaining, because all kinds of twisted arguments are emerging. There are screams for resignation, but they don't think of how to mend the situation. Insults are based on bias. But smiles are needed to encourage each other."
6.45pm: Civic Party lawmaker Alan Leong Kah-kit reacts to CY Leung's overtures to students, suggesting the proposed dialogue might be one-sided.
"What CY Leung has in mind is, obviously, to lecture the students, instead of having a genuine dialogue," he says.
"But I would hope that the Federation of Students would … say yes to the dialogue [because] it is important for [Leung's] lack of genuineness to be exposed to both the Hong Kong public and the world by this so-called dialogue." 
Ronny Tong Ka-wah, also from the Civic Party, welcomes the prospective talks.  "[It] would hopefully cool down the temperature a little bit, so that both sides can talk about issues perhaps more rationally," he said.
Tong suggested that instead of continuing to argue about the 2017 chief executive election, officials should seek a breakthrough on how to implement universal suffrage in the Legislative Council election in 2020.
6.40pm: More on the arguments between protesters and police in Mong Kok. Here is a video of an officer giving an emotional speech over the alleged beating of a protester yesterday. The translation is written below.
#HK police inspector gave emotional speech after alleged police beating case, emphasizing "one doesn't represent all". The inspector said in the video, "In the past days, I saw them working under great pressure. They are exhausted but still restrain themselves to protect citizens. No matter what you think, this is an indisputable fact." (video by SCMP's Chris Lau) #OccupyHK #OccupyCentral #UmbrellaMovement
6.30pm: The Hong Kong Police Force's website is currently offering an offbeat souvenir linked to the recent protests, featuring their now infamous tear-gas warning sign.
Its online souvenirs gallery, run by its sole licensed vendor Yorkview Company Limited, offers a set of seven cartoonish figurines of paramilitary officers in riot gear. Three figurines – two with shields and one with a loudspeaker – surround another that's holding up a black banner with the words: "Warning. Tear Smoke."
The set of seven costs HK$450 and weighs 0.5kg, according to Yorkview's website. A set of four figurines (without the officer holding the banner) costs HK$250.
As of Thursday, the two packages rank as the online shop's top-selling items. An employee reached by phone said the seven-figurine set was quite popular. "Today we've already had 11 people buy it online," she said, adding that the number was unusually high. "I think they are first-time customers."
A seller on Taobao, China's biggest online shopping retail website, sells the sets to mainland buyers for 499 yuan (HK$632) plus shipping fees. So far, however, it appears that the product has yet to find a buyer on Taobao.
6.05pm: Mong Kok: A shouting match broke out between Occupy crowds and police after one criticised an officer over the way he handled an anti-Occupy protester.
The argument escalated when some protesters accused the police force of being corrupt, prompting insults from both sides. Other officers intervened, appealing for calm.
One inspector, using a megaphone, told the crowds, "One group doesn't represent everyone", referring to officers who allegedly beat up Civic Party member Ken Tsang.
The inspector said the police had been doing their utmost to protect the protesters. "But don't forget that police work as a team!" a protester shouted back.
The officers retreated to let things cool down.
5.57pm: A fire has broken out in a building near the Causeway Bay protest site. Firemen have arrived and are spraying jets of water. More to follow...
The blaze had hit a billboard above Yee Wo Street. Three fire trucks are now at the scene. Protesters quickly moved their tents and supplies away from the area. Part of the barricades on the street had to be removed to allow emergency services through.
5.30pm: Independent Police Complaints Council member Lawrence Ma Yan-kwok says he is concerned that ill will against police has "reached the bursting point" and the backlash might target not only officers but their families.
"For example, would children of police officers be victimised at school?" says Ma, who is also a member of the Beijing-loyalist party Democratic Alliance for the Betterment and Progress of Hong Kong.
Ma says the Ken Tsang case has been referred to the council and it will be referred to the Department of Justice if lawbreaking is found. Ma was speaking at a press conference held by the Alliance for Peace and Democracy, a group campaigning against Occupy Central.
5pm: More on the suspension of the seven police officers for the alleged beating of a protester. Police public relations bureau senior superintendent Kong Man-keung said it had taken more than 24 hours to suspend the officers as the identities of those involved could not be confirmed earlier.
He said an investigation had begun on whether there was criminality involved in the treatment of Ken Tsang.
4.40pm: Predictably, early reactions to CY Leung's declaration that the government would meet with student protesters - despite reiterating that Beijing would not bow to their demands on democratic reforms - are not very positive.
Chan Kit-shan, 38, administrator for a company in Central: "The negotiations are pretty useless. The government has already denied civil nominations and said it'll stick to what the National People's Congress decided, so it's not giving what we and the Hong Kong Federation of Students want. I know it's bleak, but I'm still hoping for the government to grant civil nominations and reverse the National People's Congress' decision. Even if the government can't do that, it should show us a significant compromise."
Tsang Chiu-Hang, 43, in the publishing business: "If the government wants to talk, the students should go and see what they can make of it. I think we always knew the chances of making the government or Beijing back down are slim, but since we're at this point, we should keep fighting so at least they know what Hongkongers want. I know it sounds like we're prepared to accept defeat, but negotiating is better than shouting at each other.
"Even if we don't get what we want, at least this has been a good political wake-up call to a lot of people in Hong Kong. Also, I was telling a friend the other day, it's nice to see at the protests that Hongkongers aren't all selfish and can still take good care of each other.
Siu Kam-To, 19, student at Hong Kong University: "What a load of crap. They're saying that they want to negotiate without any preconditions from us, and yet they just set one - the framework from the National People's Congress. If the government insists on sticking to what the National People's Congress says, then I don't really see what negotiations can achieve."
Dennis Choi, 22, a student, said Leung Chun-ying was only trying to cool down the crisis, given the mistakes that police had made over the two days.
"He is just wearing the protesters out so that in the end, when the crowd lessens, he can crack down on us hard."
Danny Choi, a clerk: "If he was serious about anwering the call of the people, the protesters would be more than happy to leave without the police clearance."
4.22pm: Seven police officers alleged to have beaten protester Ken Tsang Kin-chiu in the early hours on Wednesday, have been suspended, Senior Superintendent Kong Man-keung says at a press conference.
3.50pm: Ten Democratic Party district councilors are resigning as the government's community advisers to protest against the alleged police attack on Civic Party protester Ken Tsang.
The 10 – Yau Tsim Mong member James To Kun-sun, Tuen Mun councillors Josephine Chan Shu-ying and Catherine Wong Lai-sheung, Central and Western councillor Wong Kin-shing, as well as a councillor each from six other districts – are quitting the Fight Crime Committee's branches in their districts.
The branches are responsible for monitoring crime and law enforcement and making recommendations on crimefighting.
In a press conference on Thursday morning, To questioned why no arrests had been made over the alleged attack, which, he said had destroyed the reputation of the police force.
3.27pm: This afternoon's press conference is unlikely to impress the protesters or student groups calling for democracy.
The SCMP's Gary Cheung writes: "By reiterating that dialogue on the election of the 2017 chief executive election has to be based on Basic Law and and the decision by the National People's Congress Standing Committee, Leung Chun-ying simply repeated the government's stance that it has stuck to since the Occupy Central protests began on September 28. It will be hard to please the students and, given the fact that both sides are poles apart, it will not be easy to for them to narrow their differences, even if the talks do eventually start."
3.15pm: A few more significant lines from this afternoon's press conference:
CY Leung again rejected students' demands for public nomination of chief executive candidates. He also rejected suggestions that a "supplementary report" could be submitted to the national legislature reflecting the outcome of the talks, arguing that the government had already made its submissions from the last public consultation on the issue.
When asked what he hoped to achieve in the meeting with protesters, he said he hoped he could make them understand that Beijing's decision cannot be altered and that he wants to explore ways that the protesters and government can work together within the limits of the Basic Law and the NPC's decision.
On the protesters demands for a 'Western-style democracy", he said: "We don't find civic nominations in all western democracies".
3pm: Raymond Tam Chi-yuen, secretary for constitutional and mainland affairs, said students should see 2017 as the "beginning of a new chapter" for Hong Kong and be patient in their quest for democracy.
2.55pm: The decision of the NPC on electoral reform cannot be revised, Leung says, adding that the government is willing to speak to protesters about what can be done within the framework laid down by Beijing. "Politics is the art of the possible", Leung says.
He stressed that the Sino-British Joint Declaration does not contain the words "univeral suffrage".
The wording of the declaration reads: "The chief executive will be appointed by the Central People's Government on the basis of the results of elections or consultations to be held locally."
More follows...
2.50pm: Leung says the protests had "severely affected" Hong Kong society, and that police had shown "maximum tolerance" in dealing with demonstrators. More follows...
2.40pm: Chief secretary Carrie Lam says the goverment shelved last Friday's planned meeting with protesters because it was unacceptable that they were using the occasion to incite more people to join a mass sit-in. More follows...
2.35pm: CY Leung says the government is working on three areas: holding and maintaining a dialogue with protesters - which could come as soon as next week; restoring order in Hong Kong and getting traffic flowing across the city; and starting the second round of consultation on electoral reform "with a view to taking forward our constitutional development" in the fourth quarter of this year.
He says he hopes dialogue with the Federation of Students can resume as soon as next week as conversations through middlemen are ongoing, adding that a university vice-chancellor could chair the dialogue. He says a one-time negotiation will not be sufficient to bridge political differences, suggesting several round of talks could take place.
Negotiations, he says, have to be based on Basic Law and and the decision by the National People's Congress on the election of the next chief executive.
Leung says the objective of the dialogue is to seek consensus on how to implement "one man, one vote" for the 2017 chief executive election.
More follows...
2.25pm: Chief Executive CY Leung says at a press conference the government is willing to enter into talks with the Federation of Students. More follows...
2.05pm: Some police officers are managing to maintain a sense of humour in Mong Kok as they patrol near the Occupy site.
"OK! Your concern has been heard. Time for lunch. You'd better go to a yum cha place before all the seats are taken," one officer tells an anti-Occupy protester as he breaks up an argument.
Seeing a crowd gather as an anti-Occupy protester yells, another police officer jokes: "What's there to see? It's exactly what happened yesterday and the day before."
Although those who oppose the Occupy movement occasionally come to challenge the occupiers, the atmosphere remains peaceful with the two sides remaining civil during most arguments.
1.55pm: Former Hong Kong governor David Wilson will be among prominent members of Britain's House of Lords to debate recent developments in Hong Kong in Parliament on Thursday.
The 60-minute debate in London will feature eight speakers, all with links to the former British colony.
1.40pm: Secretary for Justice Rimsky Yuen Kwok-keung says both police and protesters should abide by the law, in response to questions about the alleged beating of Ken Tsang by a group of police officers yesterday,
"Both police and protesters should not do anything which goes beyond the law," he says upon arrival at Hong Kong International Airport after completing a trip to London.
Yuen says there are established mechanisms to handle complaints against alleged misconduct of police officers. The justice secretary says the complaint could be handled by the Independent Police Complaints Council and if necessary, by judicial process. "I'm sure we can handle the matter in an independent and impartial manner," he says.
Yuen says the government has been sincere about engaging in dialogue with the Federation of Students. "But we hope the students would give goodwill by not insisting on something which can't be realised," he says, referring to the students' demand of the retraction of the National People's Congress Standing Committee's framework on the 2017 chief executive election.
1.30pm: Pro-government lawmaker Leung Che-cheung suggests in a Legco debate that an umbrella is a more "aggressive" weapon than "useless" tear gas and pepper spray.
Leung says that in the classic Wong Fei-hung kung fu movie series, the hero Wong "uses an umbrella" as a weapon to fight his arch-rival and villain Kin, played by actor Shih Kien.
"It is basic common sense that an umbrella can be an aggressive weapon, but many lawmakers are just completely ignorant about history," Leung says.
"The umbrella can be used as shelter from the rain and the sun, as a walking stick, or as a stick to [protect yourself] from stray dogs … It's aggressive. But tear gas and pepper spray are useless weapons … because they cannot make protesters fall, they just come back time after time, and the police only defended their cordon after firing tear gas."
1.20pm: The government announces that Chief Executive Leung Chun-ying, Chief Secretary Carrie Lam, and Secretary for Constitutional and Mainland Affairs Raymond Tam will meet the press at Government House at 2.15pm.
Stay tuned to the live blog for what could be a major announcement.
1.10pm: A green-fingered protester who has planted more than 30 pots of tomatoes and vegetables at the Admiralty Occupy site says her struggle for democracy has its roots in the controversial development plan for new towns in the northeastern New Territories – a plan that passed despite protests by villagers and other groups.
"If you don't understand why we're fighting for democracy, just look at what happened there," says Emily Wong Lai-Ming, an animator in her 40s who has been part of Occupy Central for the past few weeks, spending several nights in a tent with her child.
"There's a lot of land in Hong Kong that needs to be preserved. Of course development has its benefits but we can't build over everything. How sincere is the government when it comes to listening to what people have to say before starting a development? Are the committees real checks or just rubber stamps?"
Wong started growing her own food – and doubting the government's intentions – after visiting a family-owned farm that has existed for generations but lies squarely at the centre of the New Territories development plans.
"Now Hongkongers feel helpless about a lot of things: sky high housing prices, food that's not safe ... and they'll complain but it's like you're in a black hole and there's no one to pull you up. But gardening is simple. Sure, it relieves stress and you make your own food, but what's better is that it shows that you can reduce the world to air, food and water."
When the Occupy movement ends, Wong plans to give the plants to whoever is interested, so more people can learn about agriculture in Hong Kong and how to grow their own food.
12.55pm: Protesters plan to hold an "Umbrella Marathon" tonight, starting from the so-called Lennon Wall in Admiralty at 9pm.
12.45pm: Protesters face a new enemy in Mong Kok, as occasional wind picks up speed to blow empty tents away.
Volunteers in charge of the camp have to readjust the tents from time to time and reposition them after they are blown away.
12.30pm: Civic Party lawmaker Ronny Tong Ka-wah urges lawmakers and officials to change their attitude and stop heating up the social atmosphere during a debate in Legco over whether it is the police or Occupy Central organisers who have brought chaos to the city.
"We are facing the most serious challenge sine the 1967 [riots], and I thought that after all the storms we have seen over the years, the wise people will find a better solution to solve this," Tong says.
"It's a pity that I have only seen an egocentric attitude that power can solve everything. I have not heard much [insights] in this chamber either, on how to solve the social divide … We must lower the temperature, because only by doing that, we might have the chance to lower the temperature outside.
"In the exclusive interview [with TVB last week,] Leung Chun-ying seemed to have forgotten that he is the chief executive, and shirked all his responsibility on the police commanders. But what we are facing is a deep-rooted problem … it's not a police-citizen relationship problem, not a public order problem, and not a transport problem … Has anyone tried to solve this political problem with political means?"
He says that many people have been ignoring the nuances of the situation in the city saying that they are "eroding social unity and increasing [the] social divide".
"I don't want to use Regina Ip as an example … but she said 'there is political screening everywhere!' I don't know if she needs to take exams for her politics [masters degree at Stanford], but she's bound to fail if she cites such a theory," Tong countered.
Noon: From Twitter: a banner hangs near the Occupy site in Mong Kok …
11.30am: Tourism sector lawmaker Yiu Si-wing says Occupy Central could cause hotel occupancy from October to December to drop to a 10-year low.
"Hotel booking for October to December is lower than expected, while many are asking for their booking to be cancelled – so the occupancy rate of some relatively large hotels could drop to about 50 to 60 per cent in the next two months [compared with a year ago]," he says.
For the first two weeks this month, outgoing travel sales also decreased by 20 per cent, compared with a year ago.
"There are 1,700 travel agencies in Hong Kong, and more than 90 per cent of them are small and medium enterprises … by the end of the year, if they do not have enough cash when they have to pay their bills, many of them could close down," Yiu warns.
11.15am: A minor row breaks out in Mong Kok between police and protesters after officers let a man accused of spitting at the protest camp go with a warning. "No one trusts you any more," a protester says to the policemen. "You're just like those cops [who allegedly assaulted Ken Tsang]," says another.
"We warned this man that if he came and did it again, we would give him a ticket," a policeman explains to protesters. "However, if he spat at a protester, we would arrest him immediately because that's a case of assault."
The officer says his job has not become more difficult since the Ken Tsang incident, because it has been difficult since the start of the protests anyway.
"It might give the protesters one more excuse," he says. "But the hardest thing is there seems to be no more mutual trust [between police and members of the public] any more."
11am: Pro-government lawmaker Ip Kwok-him, who chairs the Legislative Council's security panel, criticises protesters for creating "a serious social divide" as Legco debates the protests.
"Where is the peace that Occupy Central organisers were talking about?" Ip asks. "The protesters chanted 'Save our Hong Kong by ourselves', but in fact, this is now 'Destroy our Hong Kong by ourselves'. They said Occupy Central is blooming everywhere, but in fact, there is fighting everywhere."
Former security minister and New People's Party chairwoman Regina Ip Lau Suk-yee also accuses pan-democratic lawmakers of misleading the public.
"Public nomination is not an international standard, it is mainly found in many totalitarian states such as Russia, Angola, Kazakhstan and Guinea Bissau. There is nothing as a 'one size fits all' [political system]," she says.
She also reiterates that the police have been doing a good job.
But Democratic Party lawmaker Sin Chung-kai disagrees. He says on September 28, the protest in Admiralty only spread to Harcourt Road after police officers tried to stop people from going to Tim Mei Avenue, the only protest zone at that time.
"The police's operation failed," Sin says.
10.45am: Some 50 protesters are queuing in line for food at the Civic Passion tent in Admiralty.
Truth Wong, 65, has donated breakfast to protesters for the past three days. She's been coming with a friend, pushing a small cart loaded with a box of fresh rice crepes that they buy early in the morning. They combine sliced cucumbers, tomatoes, peanut sauce, soy sauce, oil and yeast flakes to make a savoury snack.
Wong lives in Kowloon and says the ingredients probably set her back around HK$200 each day. She says it's a small contribution to the democracy movement compared to the protesters camping at the site.
"My generation should have taken care of this, and I'm ashamed that we've left it to the younger generation to wrap up," she says.
She says she's proud of the maturity shown by students at the protest sites, saying they have cleaned toilets without being asked. She also says she's heartbroken at the images of an alleged police beating of a protester released yesterday.
"The government is going to lose this struggle either way, because it exposed its ugliest side," she says, adding she'll be back again tomorrow at 9am with more rice crepes.
10.40am: Professor Lau Siu-kai, a former head of the Hong Kong government's Central Policy Unit and now vice-president of the Beijing-backed Chinese Association of Hong Kong and Macau Studies, says the protests are "mainly caused by internal factors in Hong Kong", contrary to Beijing's branding of the Occupy movement as a "colour revolution" backed by foreign powers.
He says it is evident that Western political leaders have supported the Occupy movement in a more high-profile way than before and that Western institutions such as the National Democratic Institute in the US had supported local pan-democrat organisations.
However, he does not believe foreign political forces are playing a key role in the movement.
"They would not be allocating too many resources here because the chances of toppling the Hong Kong government are low," he said on RTHK, drawing comparison with revolutions elsewhere, such as Ukraine and Tunisia.
10.30am: How would you rate the overall performance of police during the Occupy protests?
10.15am: A section of the eastbound lane in Yee Wo Street on Causeway remains occupied by protesters this morning. Some 20 people and 20 tents are in the occupied area. The scene is peaceful and quiet.
Meanwhile in Mong Kok, some 100 protesters are hanging around along Nathan Road, greeted by the occasional soothing breeze. Among them is Wong Yeung-tat, founder of activist group Civic Passion.
Scores of tents are still anchored firmly to the ground and as the breeze strengthens, protesters scramble to reinforce their shelters.
About a dozen police officers can be seen, mainly stationed at the junction of Argyle Street and Nathan Road.
10am: The US says it is "deeply concerned" by reports of Ken Tsang's alleged beating by police, calling for a "swift, transparent and complete" investigation of the incident.
"We renew our call for the Hong Kong government to show restraint and for protesters to continue to express their views peacefully," State Department spokeswoman Jen Psaki said. Psaki hailed Hong Kong's "well-established tradition of respect for the rule of law and internationally recognised fundamental freedoms" and said they were crucial to the city's success.
9.30am: Harry's View on Thursday:
Click here for a timeline of Harry's cartoon takes on the city's democracy movement.
9.15am: Legco resumes its debate on the police's handling of the Occupy protests, including the use of tear gas on September 28 and the alleged attack on protester Ken Tsang yesterday. More to follow.
9am: Police launch a fresh appeal for protesters to cooperate after demonstrators scuffled with officers as they arrested a man on Lung Wo Road in the early hours of this morning.
Police used pepper spray (which they describe as "OC foam") during the incident, in which they say three officers were injured.
Here's the full text of their statement:
At about 1.10am today (October 16), police officers saw a man on the central divider of Lung Wo Road near Tamar Park kicked a bottle which hit a private car travelling on the road. Police then arrested the 38-year-old man for disorderly conduct in a public place. During the arrest, a large crowd of protesters attempted to obstruct police and surrounded the police.
Police issued repeated advice and warnings but were ignored. The protesters attempted to charge the police and therefore police discharged OC foam to disperse the protesters. During the incident, another 24-year-old man was arrested for assaulting a police officer. A total of three police officers were injured.
Police appealed to the protesters not to obstruct and charge the police. Police reiterated that any acts endangering public order and public safety will not be tolerated.
8.30am: Hong Kong lawmakers react to alleged police beating of a Occupy protester:
8am: The South China Morning Post's front-page today:
7.45am: Excerpts from the Post's coverage of the Occupy movement today:
Protests reignited by shocking images appearing to show unarmed man being beaten by officers
The video, which is several minutes long, has sparked a storm of controversy with hundreds gathering outside government and police headquarters last night in protest.
Middlemen shuttling messages between the sides
The Post has learned that at least three middlemen are trying to resolve the political impasse, one of them a prominent academic.
Image problem for police as video of officers beating protester is beamed around the world
It is understood that Detective Chief Inspector Joe Wong Cho-shing – a high-flier thought to be in line for promotion to superintendent – was in command of a team put together for Occupy duties comprising officers from his own unit and Kwun Tong district's anti-triad squad.
The casual chat room comment that sparked 45 arrests and allegations of police brutality
The line, inserted around noon, read: "Fight again on Lung Wo Road tonight". The writer signed off as Pei-Yi-Sau, but the person's real identity is not known.
Apple Daily seeks ban against anti-Occupy protesters outside its headquarters in Tseung Kwan O
The protesters have gathered outside Apple Daily's office in Tseung Kwan O every night since October 12 in an effort to obstruct the delivery of its newspapers.
Mainland liaison office rebukes Taiwan over 'irresponsible comments' on Hong Kong protests
Taiwanese President Ma Ying-jeou has expressed his support for demonstrators in the city, and last week he urged Beijing to move towards democracy.
Protesters must give up this battle to continue their war for democracy
Editorial: "However much we share the democratic aspirations, there is a limit to people's tolerance."
7.15am: What the local papers' front-pages are saying:
Apple Daily: Seven evil cops beat protester for four minutes
Oriental Daily: Protesters block a road a day, once again leaving HK Island traffic paralysed
Ming Pao: Protester vows to pursue legal action as seven cops involved in alleged beating
Sing Tao Daily: Tycoon Li Ka-shing urges Occupy students to go home
7am: Here's what happened earlier in the night: 
Admiralty 
A group of protesters attempted to reoccupy Lung Wo Road shortly before midnight, but were stopped by police. Another group gathered near City Hall where they attempted to slow down traffic by pretending to tie shoelaces and picking up intentionally dropped coins.
One student protester who asked to be identified as James said he didn't expect to be pepper sprayed at Lung Wo Road. "No warning was given. An officer in blue uniform even told me to remove my face mask as he worried I might feel hot. I wasn't expecting they would use pepper spray," he said.
Protesters and police clashed again shortly before 2am in Admiralty. Pepper spray was used at least twice to disperse the crowds blocking police officers at Tamar Park. 
Police said two people were arrested: One 38-year-old man was arrested for disorderly conduct in a public place after he hit a civilian car with a bottle at Lung Wo Road and another 24-year-old man for assaulting a police officer. 
Police said three officers were injured. 
Around midnight, 52 social workers filed complaints at police headquarters in Wan Chai. At 12.30am, some 40 others were queuing and waiting for their chance to go inside the police station.
By 3.45am, the more than 300 protesters who had gathered outside police headquarters had dispersed peacefully . Arsenal Street between Hennessy Road and Gloucester Road has been re-opened to traffic.
Mong Kok
Some 200 protesters in about 70 tents continued their protest at the junction of Nathan Road and Argyle Street.
A team of 10 volunteers spent more than an hour building a 10-metre tall scaffolding structure at the junction to hang a large banner.
The team were briefly stopped by police when they were transporting bamboo poles to the site because police suspected that the poles had been stolen. They were finally allowed in after displaying a receipt for the bamboo.
Protesters later disassembled the structure after concerns emerged that their work might give police a pretext to clear the occupied area.
One new structure that was left standing was a makeshift Christian chapel: a tent and a five-metre high cross made of bamboo poles. Foldable stools have been placed nearby where congregations are set to take place at 9pm every night. 
"It's just a place where people can find some calm and peace from the stress of civil disobedience," said Occupy supporter Thomas But, one of the founding members of the St Francis Chapel on the Street, which now even has it's own Facebook page.
It all started with a portrait of Jesus placed at a barricade on Nathan Road. "Then a congregation began and people started donating things and before we knew it a church formed.
"Everyone is welcome to join the regardless of whether they are yellow ribbon, blue ribbon or green ribbon."
Some 20 people have been participating in prayer groups at Occupy Mong Kok regularly, he said. Guest pastors have also been invited to give sermons.
He said if there were any civil disobedience movements in the future he would also bring the concept of mobile street churches to them.
Tseung Kwan O
Anti-Occupy protesters, many wearing face masks, again defied a High Court order in the night to Thursday in an attempt to delay the newspaper's delivery.