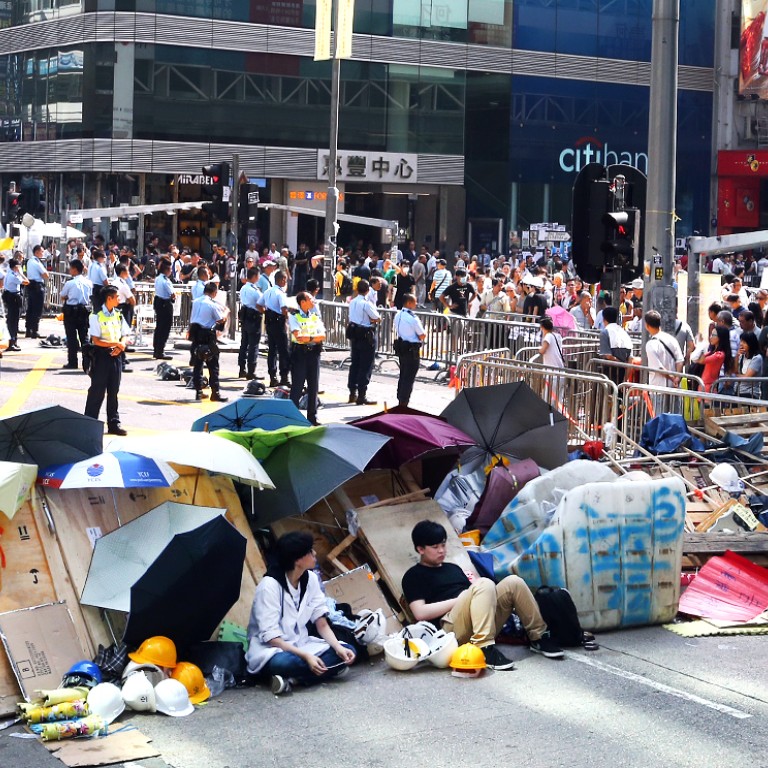 New

|
US hits back at claims that 'external forces' are backing Occupy Central
Spokesman for US consulate general rejects accusation Washington is manipulating activities of protesters in Hong Kong
Those who accuse foreign countries of backing protests in Hong Kong are "distracting from the issues at hand", the United States said as it hit back at claims that Washington is meddling in the city's internal affairs.
The remarks made by the US consulate in Hong Kong come just one day after Chief Executive Leung Chun-ying noted that "external forces from different countries from different parts of the world" had taken part in the Occupy movement, which entered its 23rd day today.
"This is not entirely a domestic movement and it is getting out of hand," Leung told ATV's on Sunday.
Scott Robinson, spokesman for the US consulate general, rejected the accusation that Washington is manipulating the activities of any person, group, or political party in Hong Kong.
"What is happening in Hong Kong is about the people of Hong Kong, and any assertion otherwise is an attempt to distract from the issue at hand, which is the people of Hong Kong expressing their desire for universal suffrage and an election that provides a meaningful choice of candidates representative of the voters' will," Robinson wrote in an email to the .
US diplomats regularly meet with a broad cross-section of Hong Kong society both in the city and in Washington and do not support any particular political party or person, Robinson said.
The statement also reiterated Washington's support towards Hongkongers' aspirations and backed the city to implement universal suffrage in accordance with the Basic Law.
"We believe that an open society, with the highest possible degree of autonomy and governed by the rule of law, is essential for Hong Kong's stability and prosperity," Robinson said.
Meanwhile on Monday, police condemned parents for allowing their children to participate in democracy protests in Mong Kok, calling the act "extremely irresponsible and dangerous".
"As some protesters act more and more radical, anyone bringing young children to high-risk areas may put their safety at risk in case of confrontation," police said in a statement.
"The parents or adults concerned may have breached the laws of Hong Kong."
Police said they would take "appropriate action to protect children from unnecessary harm", without elaborating on what actions would be taken.
The stand-off between protesters and police in Mong Kok remained largely peaceful on Monday afternoon.
An unarmed pro-democracy protester who was allegedly kicked and hit by police officers will ask for a court order requiring the disclosure of the officers' names this week after police failed to respond to his written request, his lawyer said.
Michael Vidler, lawyer for Civic Party member Ken Tsang Kin-chiu, said he wrote to the Police Commissioner at High Court Judge Thomas Au Hing-cheung's suggestion last Thursday. Earlier, Vidler had said that they would give police until this morning to reply to the request for disclosure.
"Despite having the suggestion of the court, and having referred to that fact, the [police] commissioner and his legal representatives don't have the courtesy to extend a reply," Vidler said.
He also criticised Commissioner of Police Andy Tsang Wai-hung for worsening the damage to the reputation of the force brought about by the alleged assailants. "[He] compounded that with his apparent attempt to cover up their behaviour," he said.
Vidler said that Tsang's legal team would ask for the judicial review hearing to take place as early as possible, adding that they would also ask for interim relief, namely the provision of the officers' names. He said that Tsang would need the names to pursue private prosecution against individual officers.
Meanwhile, Chan Cho-kwong, chairman of the Junior Police Officers' Association, said his organisation had set up a concern group with the Police Inspectors' Association to provide financial aid, counselling or legal advice to any colleagues who needed help due to their recent heavy workload.
There were no plans to raise funds for the seven officers involved in Tsang's case yet, Chan said. Chan dismissed rumours that funds were being raised to hire lawyers for the officers. Financial aid would only cover living expenses, he said.
Jeffie Lam, Thomas Chan, Joyce Ng