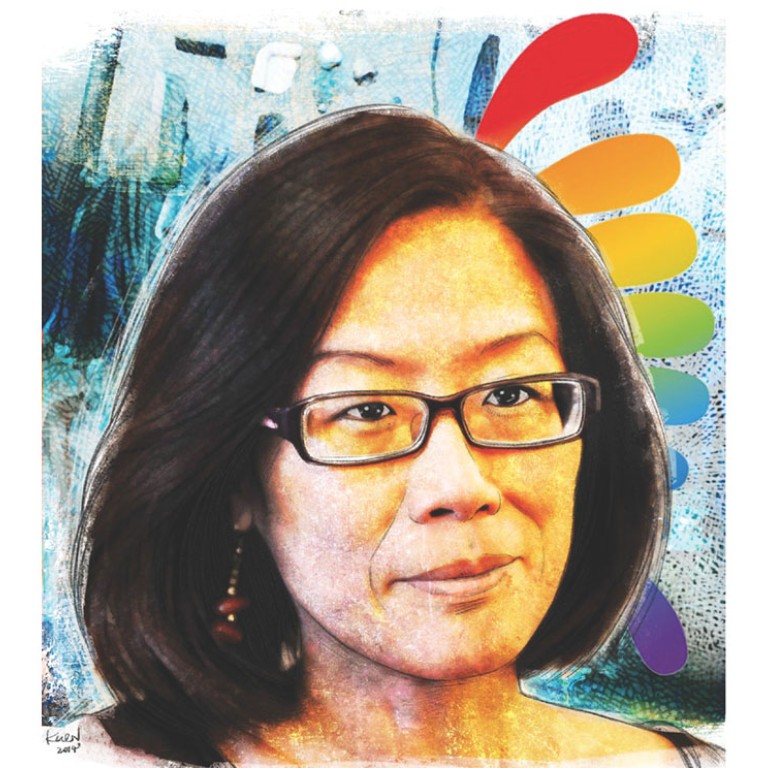 Taiwan ready to take centre stage in cultural festival after 'gutter oil' woes: Lu Chien-ying
Island's top official in the city says her 'heart aches' over the tainted oil scandal. She hopes the yearly arts festival will repair some damage
It's a tough time to be putting on a Taiwanese cultural festival in Hong Kong, but the official in charge of the island's bureau here wants to take people's minds off the recent "gutter oil" scandal - and, perhaps, restore some trust.
Lu Chien-ying, director of the Kwang Hwa Information and Culture Centre, says she is still struggling to comprehend the food safety scandal that rocked the island, and Hong Kong. She says her "heart aches" over it.
"The incident is so incongruous with the values of Taiwan that I and my fellow citizens have worked hard to build and uphold. It really hurts," she says.
"For a place without strong backup and resources like Taiwan, we have to count on our credit that is based on diligence and love for our land. That's all we've got. So the choice for the population of 23 million is whether we go for a change every five years or we embrace a much broader roadmap," she says.
Lu admits that the "gutter oil" scandal has damaged the island's image, especially among Hongkongers. "I can only speak as a member of the Ministry of Culture and present all the best Taiwan can offer as a way of restoring the trust of the Hong Kong people in us. And I hope this year's Taiwan Cultural Festival [in Hong Kong] will be a platform to do that," she says.
In September it was revealed that Taiwanese firm Chang Guann had allegedly imported lard oil - produced from pork fat - with "gutter oil" recycled from food waste and leather processing, and sold the final product as cooking oil to food firms in Taiwan and Hong Kong. More than 1,000 firms are thought to have been affected by the scandal, including Starbucks, 7-Eleven and Maxim's Group in Hong Kong.
Lu, a former journalist and dance critic, is the second director of the Kwang Hwa centre since it was placed under the new culture ministry set up in 2012.
The centre got a boost when Lung Ying-tai, who was a visiting scholar in Hong Kong from 2004-12, became the first culture minister. For two years in a row, Lung travelled to the city to take part in the Taiwan Cultural Festival, an annual programme of Taiwanese music, film and arts events that has been held in Hong Kong since 2006. "It is Kwang Hwa's duty to serve as a platform for my fellow, kind-hearted Taiwanese to tell their true stories," Lu says, referring to the theme for this year's festival, "The Stories We Live By". The month-long event begins on Friday.
"My journalistic training helps me to observe from multiple perspectives. Culture, for example, is about more than just song and dance. It reflects modes of thinking and value systems.
"I hope to identify the common language of Taiwan and Hong Kong through the festival programmes my team has put together since 2013," she says.
One of this year's features is heritage - and how tradition is given new relevance in Taipei.
"With Taipei Story House, a historic home restored in 2003, we try to explore the city's memory, what stays and what disappears. I believe each city encounters its own course of development and has to handle change," she says.
No one would be better to tell the tale of this Tudor-style heritage site to a Hong Kong audience than its patron, Chen Kuo-tzu. The Hong Kong-born retired barrister has lived in Taiwan since 1975.
"The Taipei city government designated Ms Chen to take over the former tea merchant's lodge, which has a history of over 80 years. Now it is home to exhibitions of all kinds so it's like a story within a story. Chen will tell you all about it in her native Cantonese during the festival," Lu says.
Kicking off the festival is a play featuring Peking opera with a 21st century, Taiwanese twist. - based on the life story of the opera star - opens at the Cultural Centre Grand Theatre in Tsim Sha Tsui on Friday.
"If you're looking for a traditional play, nothing beats those in Beijing and Shanghai. But our Guoguang Opera Company brings a fresh perspective - modern Taiwan combined with this traditional art form," Lu says.
"The result is original and the reception in Beijing and Shanghai was pretty positive."
The composer and conductor is another Taiwan-based Hongkonger, Chung Yiu-kwong, who is general director of the Taipei Chinese Orchestra.
Chung will be busy during the festival. As well as the play, he will also lead his band in a concert of the latest works from Taiwan, including his own compositions. They include music and animation set to the legendary 12th century painting .
"These performances will showcase the new possibilities developed over the past six years under Chung's leadership, such as management, audience and programme development," Lu says. "They show how traditional art forms can be turned into vibrant cultural capital through dialogue with our everyday lives and language."
And on November 9, the festival heads outdoors, with an acappella concert on Centre Street, in Sai Ying Pun. Local and Taiwanese vocal groups, including Kimbo, a well-known Taiwanese aboriginal singer, will perform popular songs in new arrangements to "look at the past in a new light".
"Outdoor performances have become an important part of the culture in Taiwan. Performers tend to look for their audience, say, in front of a temple or in a park or school," Lu says.
"Even prestigious acts like the Cloud Gate Dance Theatre insist on putting on four outdoor shows a year, and they have done so for 18 years," she says.
Sai Ying Pun will provide the "old Hong Kong" backdrop needed for the show, and a contrast with Dadaocheng, a historical district in Taipei.
"It's the most popular tourist area [in Taipei] at the moment - many people visit. We hope to link these two historic areas with this outdoor singing show, which we plan to film," Lu says.
And the ultimate aim, she says, is to build a cultural bridge between the two places, through the arts. "Hong Kong people are always on the road. It would be nice for them to pause and have a look at themselves and their own culture - and ours, too," Lu says.
Lu Chien-ying
51

Director, Kwang Hwa Information and Culture Centre (since 2013)

Bachelor's degree in journalism, Chinese Culture University, Taipei
Master's degree in art criticism, City University London

Director, Taipei Artist Village (2001)
Chief editor, magazine (2004)
Founder, Meimage Dance Company (2010)
Director, Creative Centre, Industrial Technology Research Institute, Taiwan (2011);
This article appeared in the South China Morning Post print edition as: Taiwan gets ready to take centre stage