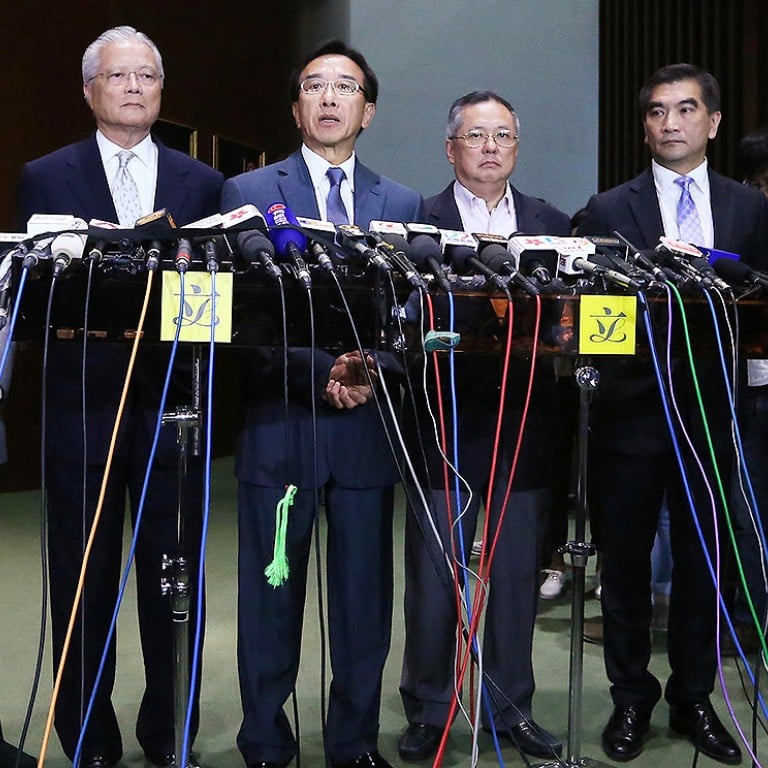 Update

|
Defiant James Tien repeats call for CY Leung to quit following CPPCC expulsion
Expelled from CPPCC, Tien gives up party leadership, but sticks to call for CY to consider quitting
The Liberal Party's James Tien Pei-chun has insisted Chief Executive Leung Chun-ying should consider quitting to encourage political reconciliation - hours after the nation's top political advisory body expelled him for making just that demand.
But he held out the possibility of supporting Leung if the chief executive made an effort to ease political tensions by appearing at Occupy Central sites and speaking directly to protesters.
Tien resigned as leader of the party he co-founded after the Chinese People's Political Consultative Conference confirmed his removal.
He did not regret asking Leung on Friday to consider resigning, he said. Tien had been asked by reporters to respond after the former chief executive and CPPCC vice-chairman Tung Chee-hwa said he was "satisfied" Leung was doing "a good job".
Watch: James Tien: I see no reason for me to retract the statement
"Lawmakers are [staging] a non-cooperation movement, while … students, Occupy protesters and anti-Occupy people are disrupting social order," Tien said. He made the proposal "so Leung's successor could start a dialogue with pan-democrats".
Tien insisted: "Nothing has changed since then, therefore I see no reason to retract it."
In Beijing, Chan Wing-kee of the CPPCC standing committee said 267 members voted yesterday to expel Tien. Two voted against and three abstained.
At the meeting, CPPCC chairman Yu Zhengsheng said Tien "remains a target [in efforts] to unite" the Beijing-loyalist camp, according to Chan. Yu also told the members that, while they could criticise Leung, they must do so "constructively".
CCTV reported Tien was disqualified for "seriously violating the CPPCC's charter and resolution", which took effect in March and requires delegates to "support the chief executive in governing Hong Kong".
Liberal Party chairwoman Selina Chow Liang Shuk-yee said she did not think that the pro-business party would lose support from the commercial sector and its supporters.
Chow quoted Zhang Xiaoming , director of the central government's liaison office, as saying Beijing still regarded the Liberals as part of the pro-establishment camp.
Tien said his remarks were mild compared to his previous criticism of Leung.
"Maybe … Beijing has interpreted the political situation differently since Occupy began," he said, referring to Beijing's growing concerns about alleged foreign interference and the possibility of a "colour revolution".
He also ruled out running for chief executive in 2017. The 67-year-old said he had been planning to retire from the political scene after 2016.
"Being a chief executive is very difficult, as everyone can be your boss, such as those in the sports and religious sectors, tycoons and Beijing," he said. "I am used to being a boss. I am not capable and not interested in serving bosses."
Tien said that now he was free of the duties of party leadership and CPPCC membership, he could speak more freely. But he maintained he opposed Occupy and said the Liberals would not become an opposition party.
This article appeared in the South China Morning Post print edition as: Liberal leader defiant as he resigns