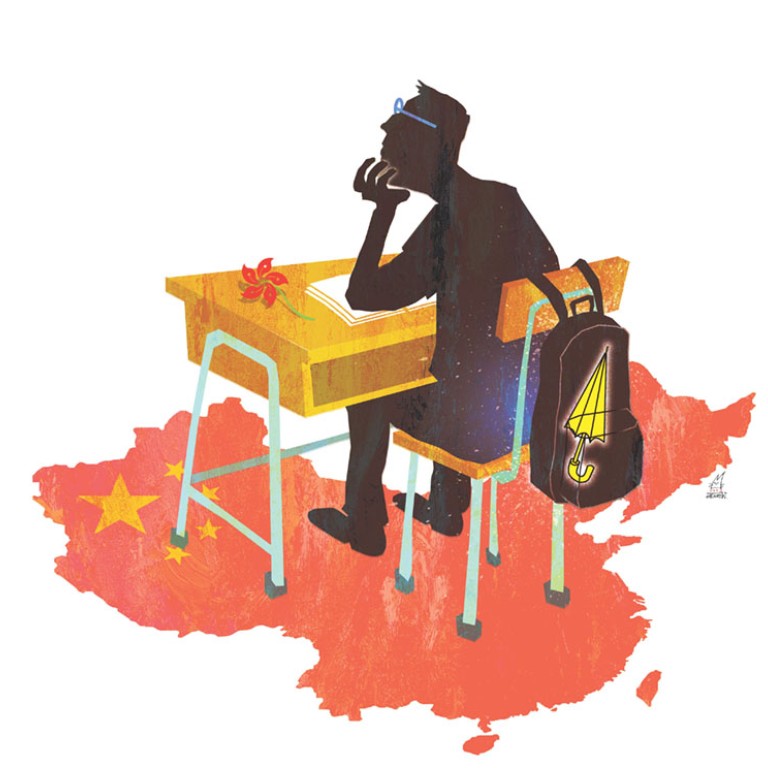 The students from Hong Kong who daren't voice open support for Occupy
Students careful who they talk to about pro-democracy protests on Guangzhou's campus, where showing support risks widening gulf with mainland classmates
For Leo, one of about 5,000 Hongkongers studying at Jinan University in Guangzhou, the democracy movement feels achingly distant but its effects ripple through his daily campus life, widening the gulf with mainland students.
Leo often travels home on weekends to visit his family and has seen the street skirmishes up close.
He strongly supports the protest but, back on campus on weekdays, he's careful about how he shows his interest. He shares photos about the movement with mainland friends but they express little interest, he says.
Organising a social activity, even one as benign as a Christmas get-together, is frowned upon by the campus administration, so a gathering with a political bent is out of the question.
"Many of us [Hongkongers] support and understand the students who remain in Admiralty, Causeway Bay and Mong Kok," said Leo, whose full name cannot be used due to fears of possible reprisals by the school. "So far, we haven't felt a taboo on talking about it on campus. But the conversations are usually only among the Hong Kong students."
Jinan has the most international student body of any mainland university. Nearly a third of its 35,320 students come from Hong Kong, Macau, Taiwan or overseas countries.
While everyone may sit together in lecture halls, there are fault lines running through the social life of the campus. Hong Kong students say they are friendly with their mainland classmates but remain isolated. They live in separate dormitories, and immerse themselves online in their own media culture, dominated by TVB dramas and Hong Kong newspapers.
"We have different habits, experiences and beliefs compared with our classmates from the mainland. The mainland students are smart, practical and [rooted in realities]," said Alex, another Hong Kong student at Jinan. "They only care about job opportunities and preparing for civil servant exams or overseas studies."
In the eyes of some Hong Kong students, the Occupy movement has put into starker relief than ever the differences between them.
"Some are curious and come to ask what's happening in Hong Kong when they see the pictures we spread through WeChat," Leo said. "But they just view the movement as useless political and social unrest. They say 'take care', but that's it. Few want to know anything more about why so many young Hong Kong people have taken to the streets."
When approached for their opinion on the movement, two mainland students said it was best to call the propaganda office of the university.
To avoid becoming unpopular with classmates or teachers, the city's students consciously avoid taking a stance on Occupy, said Yau Chun-man, the head of the Hong Kong section of the Students' Union.
They would never consider putting up politics-themed artwork or posters in campus buildings. "After all, we are studying at a university in the mainland. It's not Hong Kong," Yau said. "Many of us just want to be neutral."
Jinan is a popular choice for Hongkongers seeking higher education. According to official data, about 70,000 high school pupils graduate in Hong Kong each year, but only about 25,000 find a place in the city's universities and colleges. Others are forced to go overseas or seek places in mainland universities.
The tuition and living costs on the mainland are affordable and parents like the relatively short time it takes their children to go home. The university is about 120km from Hong Kong.
Yau said it had always been hard for students from the city to get approval to hold any campus activities, let alone one expressing support for such a sensitive political movement.
"University authorities raised objections when we wanted to hold a Christmas party and introduce Hong Kong companies to recruit our graduates. We were told the activities were either 'too religious' or 'too commercial'. In the end, we had to repackage the events as a dance party and a Hong Kong alumni reunion party."
It's not unusual for science or business majors to pass over political affairs. But even in the university's journalism department, interest appears muted. "No one made it a homework topic or brought it for class discussion," said Fred, another student in the programme at Jinan.
"Some of our Hong Kong classmates used it for news-writing exercise, but never handed the pieces into teachers. We worry that it could be evidence against us in future.
"Students from the mainland say they do not have a channel to read or watch news from Hong Kong. But actually we are a good way for them to learn more. But few have come to us for the actual details," he said.
"They read state-run media editorials every day and hold opinions about the movement that are highly consistent with the authorities'.
"One of our teachers talked about the incident once in class for about a minute. He said the movement had badly damaged Hong Kong's economy and they had no right, reason or power against the central government," he said. "All the students from the mainland agreed with him."
Alex said he mostly avoided talking about the rallies on campus but he would argue his views with mainlanders in chat rooms.
Mainland students believe Hongkongers are ungrateful, have betrayed the motherland, and are simply jealous about the mainland's economic achievements, said Alex, adding: "I can't help but get into arguments with them online … in the end, I gave up. They don't know the truth but have already judged Hong Kong."
This article appeared in the South China Morning Post print edition as: Occupy control