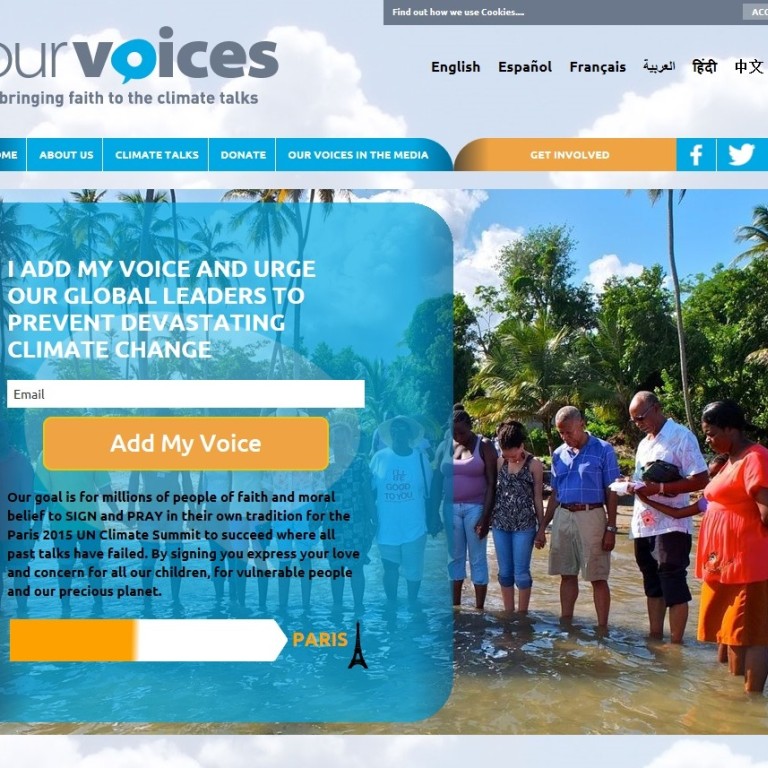 Religious leaders bring faith to bear on saving earth at climate change forum today
Interfaith forum today highlights morality in politics-dominated debate on climate science
Spiritual and religious leaders will gather for an interfaith forum today to examine what climate change means to the faith community and kick off Asia's chapter of an online "prayer petition".
The petition was created in May on Our Voices, a global internet-based "prayer platform", to urge world leaders to consider the "moral dimensions" of climate change and arrive at a "meaningful climate agreement" when they met for UN climate talks in Paris next year.
"Climate change is not just about politics and science. It concerns humanity," said Ciara Shannon, Asia coordinator for Our Voices, which will be launched in Asia today via Hong Kong.
The interfaith forum will feature representatives from the Bahai, Brahma Kumaris, Buddhist, Christian, Hindu, Islamic, Jewish and Sikh communities.
It comes after Brazil, complaining it had not been consulted, refused at a New York climate conference in September to join more than 30 other countries in signing a pact committing to end deforestation by 2030.
The Paris summit, lined up for late next year, is to yield a legally binding treaty on cutting greenhouse gas emissions after 2020.
Though climate science and religion have never been closely connected, things are changing as religious leaders around the world, including in Hong Kong, try to put morality and ethics at the heart of what has largely been a political debate.
Shannon said the objective of the Our Voices event was to bring faith to the climate talks and offer believers a means to express their desire for a better world.
"We face an unprecedented, systemic, humanitarian risk and we should share our responsibility to be part of the solution."
The Reverend Catherine Graham of St John's Cathedral in Central, which is hosting the forum, said that as people of faith, they had a responsibility to take stewardship and "look after God's creations".
Gurmel Singh, manager and teacher of religion at the Khalsa Diwan Sikh Temple in Wan Chai, agreed. "God is present in every natural and living thing and everything reflects the will of God," he said. "We [as Sikhs] have a responsibility to keep this environment beautiful and healthy."
Temily Tianmay, who will represent the local Bahai community to speak today, said different religious groups were starting to realise the power of faith. "Our faith teaches us that man has been created to carry forward an ever advancing civilisation," she said. "We must constantly change to improve this."
Last year, the Intergovernmental Panel on Climate Change, which runs under UN auspices, said it was at least 95 per cent certain that human activities had been the main cause of climate change since 1950.
A UN report that will be the main guide at the Paris talks has also cited climate change as possibly having "irreversible" effects on human society and nature.
Dr Alexandra Cook, associate professor of environmental philosophy and ethics at the University of Hong Kong, saw a link between climate science and religious issues.
Citing physicist Sir Isaac Newton as an example, Cook said "17th- and 18th-century investigators of natural phenomena typically claimed they were trying to understand natural laws that had a divine origin".
She added: "Environmentalists typically debate how effective it is to make people feel guilty in order to get them to act. But if your religious belief system already requires you to care for the earth … then maybe that is an effective way to motivate some people to positive action."
This article appeared in the South China Morning Post print edition as: Religious leaders bring faith to bear on saving earth